Jose Fernandez: Gone Way Too Soon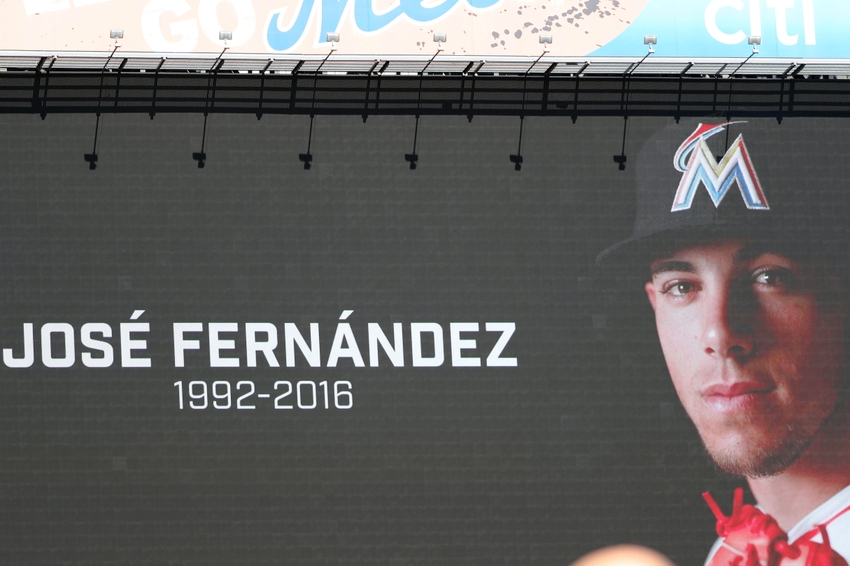 24-year-old Miami Marlins ace Jose Fernandez was one of three men to lose their lives due to a horrible boating accident in the wee hours of Sunday morning.
Sunday mornings are usually the one day during the week that I sleep in. So after struggling to get out of bed, I made my way downstairs for my pick me up cup of coffee. As I traditionally do, I checked my phone to see what may have transpired during the early hours when I'm still fast asleep. And that's when I saw notification after notification–Jose Fernandez was dead.
It was as if all the air had been sucked right out of my lungs. I stood in the middle of the kitchen in disbelief. I turned to relay the information to my father but he already knew.
You see my father raised me to appreciate the game of baseball. So even though I may not root for the Miami Marlins, I looked forward to each and every time Fernandez would take the mound. To possibly witness history whenever big No. 16 unleashed his four-pitch arsenal was a thing of beauty.
Even now after learning of the horrific details of Fernandez's passing, speaking in the past tense about a man who had come so far–yet had tons more to accomplish in not only baseball–but life– seems like a bad dream I'm just waiting to wake up from.
Lorenzo Veloz of the Florida Fish and Wildlife Conservation Commission confirmed that Fernandez was killed when the 32-foot Sea vee Center Console fishing vessel he was riding in–which can reach speeds between 55 nd 65 mph–struck a jetty as it approached a channel near the Port of Miami.
Veloz also confirmed that Fernandez did not drown, as some have speculated–was not driving at the time of the accident–and that alcohol or drugs did not play a role in what transpired.
Commissioner Rob Manfred acknowledged Fernandez's short but impactful contribution to baseball.
"All of baseball is shocked and saddened by the sudden passing of Miami Marlins pitcher Jose Fernandez. He was one of our game's great young stars who made a dramatic impact on and off the field since his debut in 2013. Our thoughts and prayers are with his family, the Miami Marlins organization and all of the people he touched in his life," said Manfred.
An expectant first-time father-to-be with girlfriend Carla Mendoza, Fernandez was said to be genuinely happy–ready to mature into the person his family, friends, teammates, and fans always knew he could become.
Still, only 24, Fernandez didn't have much of a childhood, after three unsuccessful attempts to flee Cuba, ended up with him serving a year of jail time before the age of 14.
Then at just 15, as he and a group of refugees attempted to leave the communist country–headed for Mexico, the boat he was on came under heavy fire from the Cuban Coast Guard. Fernandez's mother, Maritza, fell in the water, and he saved her from drowning.
Three years after that harrowing experience, the Marlins selected Fernandez with the 14th pick in the first round of the 2011 amateur draft. And just two years later, he would reach the big leagues, registering a 12-6 record, with a 2.19 ERA, and 187 Ks en route to winning the NL Rookie of the Year Award.
Fernandez underwent Tommy John surgery in May 2014–yet 2016 (16-8, 2.86 ERA, 253 Ks in 182.1 IP) would see him return to the form that many in baseball circles predicted would earn him one of the largest free agent contracts in baseball history for a pitcher–after the conclusion of the 2018 season.
When a person passes away at such a young age, there are two huge elements which remain.
The first are the inevitable questions–why him–why now. Fernandez risked everything to escape Cuba–to create a better life for him and his family. Why must his story end now? Was there anything Fernandez could have done differently to avoid this tragedy? Why was he even on a boat in the middle of the night, only hours after his team finished playing?
Secondly, there is the legacy that he'll leave behind. It's often said that the mark of a man is how people speak about him after he's gone. Well if that's true, then the overwhelming outpouring of admiration, love, and remorse from those in and around the game of baseball signals the fact that Fernandez was an amazing person whose impact far exceeds the dimensions of a baseball diamond.
Rest in peace, Jose. You will be missed.
More from Yanks Go Yard
This article originally appeared on