Joe Maddon: Mr. Motivator Wants Chicago Cubs To Win 100 Games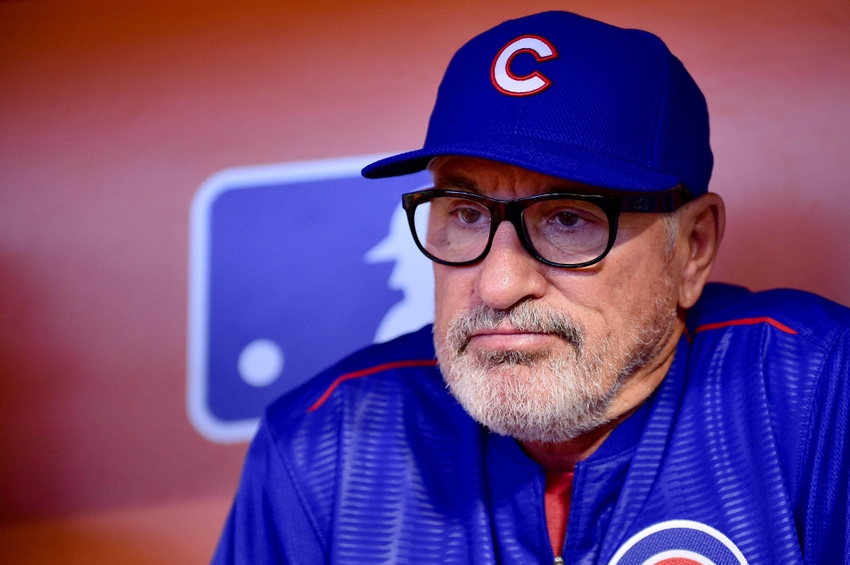 Joe Maddon is so much more, but if nothing else he a motivator and by extension a true leader. With nothing else to prove during the regular season, he manufacturers a goal for his Chicago Cubs. "Hey, what the heck guys. Let's win 100 games." Except they'd almost have to roll over and die NOT to do it. What's up with that?
If ever there was a more perfect fit for a team and a city than Joe Maddon, it's hard to imagine that  person would be alive today. With those horn rimmed glasses and scruffy "What, me shave?" beard, at first glance you'd have to assume he was a wayward professor who just stumbled out of a bar and can't find his way home.
But Joe Maddon has found a home. He maneuvered and twisted fate to get there by manipulating everything and everyone in Tampa in order to slide into Chicago. Taking over a team that last won a championship when no more than a handful of people living today were alive, Maddon has his team poised to enter the playoffs as the odds on favorite to win the whole thing.
Except according to Maddon, that wouldn't be enough. The Chicago Cubs have to win 100 games too. Here's how he explained it to MLB.com, "Ninety is special," Maddon said. "When you think 90 wins, that should get you to the dance. When you get a chance to do 100, that is really special. I don't know how many times it's happened here. It indicates your tenacity per day to do something like that."
More from Call to the Pen
The sly but very effective and somewhat entertaining manipulation is most evident when you realize that the Cubs have already won 98 games. So that means they would have to go 1-7 in their remaining eight games to NOT make 100 wins. Is that even possible for this team?
So maybe it's just that Joe Maddon has run out of goals for his team to achieve during the regular season, but it doesn't mean he can't keep trying to dream another one up. We shouldn't be surprised though. Because that's who Joe Maddon is and his players wouldn't want him to be anything else.
The Cubs will get Maddon his 100 wins and quite possibly a whole lot more this year. Time and time again, the playoffs have proven to be a crapshoot for teams that have finished at the top of everything during the regular season.
The Seattle Mariners, for example, won an astounding 116 games in 2001, only to fall to the Yankees in the ALCS. Joe Maddon knows that and it's stuck in the back of his mind that it could easily happen to his team as well. All it might take is for maybe a premier pitcher like a Jon Lester to have that one bad start out of ten, for instance, while the fourth starter for the opposition throws the game of his life, and the Cubs go home to wait till next year.
So while it's kind of humorous when Joe Maddon puts the 100 wins thing out there, this is the definition of the man he is. That's what leaders do.
This article originally appeared on