Jim Harbaugh wears glove at World Series game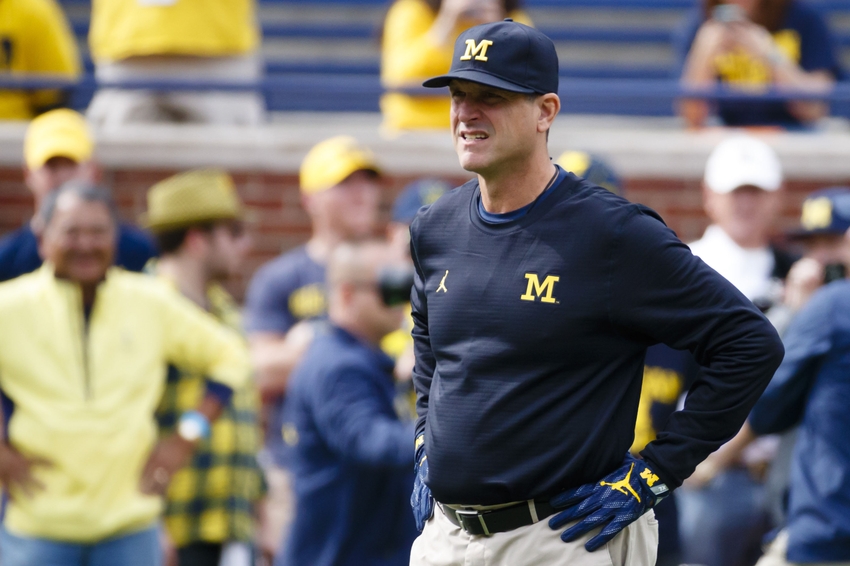 As the Cleveland Indians look to capture their first World Series title since 1948, Michigan Wolverines head coach is at Wrigley Field rooting for the Chicago Cubs. 
Life is pretty good if you're Jim Harbaugh nowadays. His Michigan Wolverines are currently second ranked in the country and they just defeated in-state foe Michigan State 32-23. As the Wolverines enjoy their off day, Harbaugh decided to show up to Wrigley Field for a vital game five.
Not only is Harbaugh in attendance tonight, he brought his dad and a glove to the game.
People on social media have been clowning Harbaugh's glove for several reasons. First of all, the glove looks very cheap. Nothing against cheap gloves, but considering Harbaugh is a millionaire, you would expect for him to have a much better-looking glove. Secondly, it appears that Harbaugh's never played catch with this glove because it doesn't look broken in at all.
Luckily, the odds of Harbaugh getting a ball hit his way are pretty slim, even though he's sitting very close to the field. For our rooting pleasure, we're hoping someone fouls a ball Harbaugh's way, but maybe that's not a good idea on second thought.
Nonetheless, nothing else will matter if the Chicago Cubs extend this series to a sixth and seventh game. As the whole world should know by now, the Cubs haven't won a World Series in over 100 years.
Yes, 100 years.
When they showed Harbaugh on the jumbotron, Cubs fans booed him. At first, it was a bit confusing but when you realize the crowd is probably full of Illinois and Northwestern fans, it makes perfect sense. All in all, Harbaugh and the fans in the crowd all have one thing in common. They want to see the Cubs break the curse.
On the bright side, the Warriors blew a 3-1 series lead, so maybe the Indians will as well. Only time will tell.
This article originally appeared on