Jeurys Familia: New York Mets Need Director for Domestic Violence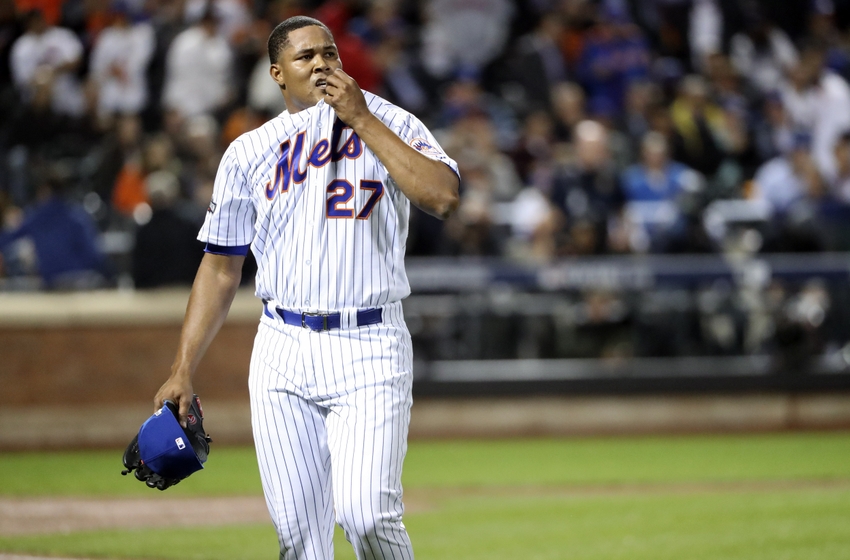 With the recent arrest of Jeurys Familia on charges of domestic violence, it would appear on the surface at least that the New York Mets have an affinity for men, and I use the word loosely, who act out in this manner. Both the Mets and Major League Baseball should be preparing to act with the same amount of force as used on the victim, not only in this case, but in all instances of this kind.
The best way to describe the hypocrisy that lies behind the actions of New York Mets reliever Jeurys Familia is to offer this 30-second spot which appeared as a public service announcement. In the starring role, you guessed it, is Jeurys Familia. Have a look…
Jeurys Familia is 6'3″ tall and weighs 240 lbs. He also has the ability to throw a baseball between 95-100 mph at a batter standing a mere 60'6″ away from him. In his entire big league career, Familia has hit only five batters with one of these potentially deadly pitches. But that's only because he has the determination to control each of his pitches.
What Happens When Jeurys Familia Goes Home?
What happens to this control and determination when he goes home, though? Does he see the world in a different light because the penalty for hitting a batter (he gets on base) is no longer there, and he can lay odds that there will not be any repercussions for his actions? Is that it?
And does he feel that way because he knows that he's been engaged in domestic violence before and he's gotten away with it because he always says "I'm sorry" and he takes a pittance of his salary to buy a pearl necklace for his victim, who hopes beyond hope that this will be the last time? Exactly what goes through the mind of a person like Jeurys Familia?
More from Call to the Pen
The name of the victim is being withheld and none of the reports I've read say who placed the call to the police, or under what circumstances the police arrived at Jeurys Familia's home in Fort Lee, New Jersey on Monday.
And while we all understand the Constitution of the United States and the rights that are afforded to someone like Jeurys Familia, and we can only assume that both the Mets and MLB will hide behind that cloak because the case is what they call "pending", there are actions that at least the Mets can and should take immediately.
All Eyes Should Be on the New York Mets
What the Mets should be thinking about is that two of the 25 players on their roster are now tainted by domestic violence charges. They just indicated that they would be picking up their option on Jose Reyes, who the Rockies gave away to the Mets following his case of domestic violence. This is not the kind of image you want or need to have as a major league franchise. And the Mets have enough on-the-field baseball decisions to deal with without having this bane tacked on.
And when the case is adjudicated, MLB needs to step up with at least a year's suspension for Familia if he is found guilty, and even if he accepts a plea bargain. These men who call themselves men have no place in baseball for sure, or any other sport for that matter. (Are you listening Mr. Goodell and Mr. Mara?)
Because if you can control yourself on the field, as Jeurys Familia has proven he can, then you certainly should be able to exercise the same control with your family and loved ones.
This article originally appeared on