Japanese Baseball: Shohei Otani Named Best Pitcher and Best DH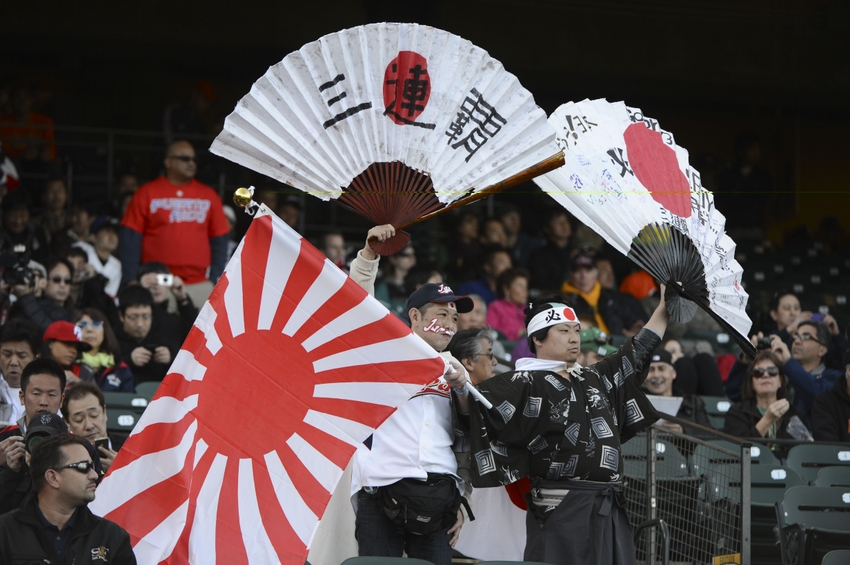 For the first time in the history of the NPB, a player was named the league's best pitcher and best designated hitter. That player was Shohei Otani.
Imagine getting the production at the plate from David Ortiz with the pitching excellence of Clayton Kershaw, all from one player. In the Nippon Professional Baseball Organization (NPB), that player is Shohei Otani. As his team's designated hitter, Otani hit .322/.416/.588, with 22 home runs in 382 plate appearances. As a starting pitcher, he was 10-4 with a 1.86 ERA and 174 strikeouts in 140 innings. He was so good as a hitter AND pitcher that the rules were changed to allow him to be selected as the best player in the league at two different positions.
Shohei Otani made the NPB Best Nine team at pitcher & DH. Rule was altered earlier in the year to allow pitchers to win at DH #NPB

— Jason Coskrey (@JCoskrey) November 25, 2016
In the NPB, the Best Nine selections are like MLB's All-Star Game starters. Each league in the NPB has selections for the best players at each position. This year, in an unprecedented accomplishment, Shohei Otani was named to his league's Best Nine at pitcher and DH. He received nearly double the number of votes as the league's second-best pitcher and more than triple the votes of the second-best DH.
Otani had a season for the ages. We speculated that he may be a two-way player for Japan in the upcoming World Baseball Classic next spring, something we haven't seen before. Earlier this year he set the Japanese record for fastest pitch when he hit 101.9 mph on the radar gun. The record he broke was his own, set earlier in June. He also hit a ball that never came down in a game in the Tokyo Dome. That shot likely would have been a home run in an open air stadium but went for a ground-rule double in the dome.
After four years in the NPB, Otani is a career .275/.347/.491 hitter and has a 39-13 record with a 2.49 ERA and 1.07 WHIP as a pitcher. And he's just 22 years old. His hitting has been less consistent than his pitching. He seems to have an every other year pattern of hitting, going from an OPS of .660 to .842 to .628 to this year's, 1.004. As a pitcher, he struggled when he was 18 with a 4.23 ERA, but has been getting better and better the last three years, posting ERAs of 2.90, 2.24, and 1.86.
As you can imagine, Otani is being discussed by big league teams. What team wouldn't want him? According to MLB Trade Rumors, he won't be coming to the U.S. this winter. The club he plays for, the Hokkaido Nippon-Ham Fighters, doesn't have an incentive to make him available right now. They would get $20 million for the posting fee, but he's more valuable to them as a player than the $20 million.
Also, under the current rules, any MLB team that signs him would be subject to a 100% tax on the amount his bonus exceeds that team's signing pool. That would cut into the amount Otani would make. Another impediment is that many of the teams that would normally have the most to spend—the Yankees, Red Sox, Dodgers, Cubs, Giants, Blue Jays, Angels, Rays, Diamondbacks, and Royals—can't give out more than $300,000 to international players during this signing period because they went over the limit during the last signing period.
So we won't be seeing Otani playing for a major league team next year, but perhaps it won't be too much longer. He's on the Japanese team that will play in the WBC. Japan won the classic in 2006 and 2009, but lost in the semifinals in 2013. Manager Hiroki Kokubu plans to use Otani as a pitcher and designated hitter, saying, "He's a top player both as a pitcher and hitter. We are going to have to talk about what we want to do with him. But he's the rare player who can do both, and we want to take advantage of that if it's not too much of a burden for him." Look for Otani when the WBC starts next spring. Japan opens against Cuba on March 7.
More from Call to the Pen
This article originally appeared on