CC Sabathia is wearing a sweet pair of Jordans for Jackie Robinson Day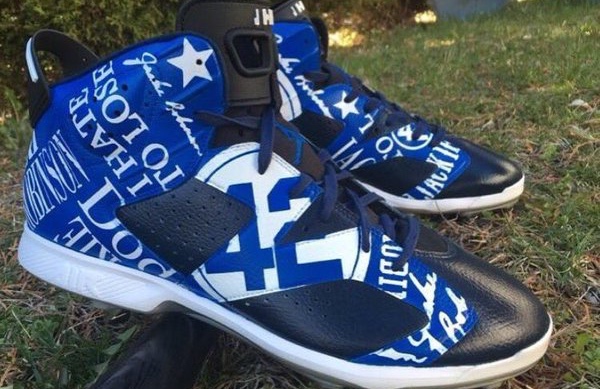 Teams across MLB are celebrating Jackie Robinson Day on Friday with every player wearing No. 42 to honor the baseball legend. It's a great tradition for MLB, and a fantastic way to pay tribute to one of the most historic players to step foot on a baseball diamond.
New York Yankees pitcher CC Sabathia is taking his tribute a step further and is thanking the late Robinson in his own way with a sweet pair of custom Jordan cleats. Sabathia isn't the starter for Friday's game against the Seattle Mariners, so his shoes won't be seen by many, but he shared a photo on Twitter, and they're incredible.
Today's cleats in honor of Jackie Robinson #Jackie42 pic.twitter.com/60BLuspbOJ

— CC Sabathia (@CC_Sabathia) April 15, 2016
Other players across the league will also be wearing custom shoes for this special day. Among them are Joba Chamberlain, Aaron Hicks and Justin Bour, who are all sporting custom adidas cleats.
Speechless @adidasBaseball #JackieRobinsonDay thank u Jackie for all u did on and off the field pic.twitter.com/kYJ5lmbJ9U

— Joba Chamberlain (@Joba_44) April 15, 2016
Jackie Robinson day cleats. #42 @adidasBaseball pic.twitter.com/44GNrHLAC0

— Justin Bour (@bour41) April 15, 2016
Jason Heyward of the Chicago Cubs will also be on the field with his own pair of custom cleats from Nike, which are almost as slick as Sabathia's.
Jackie Robinson Day via @nikebaseball #swingman pic.twitter.com/KKJ8HkfITW

— jheytwotwo (@JasonHeyward) April 15, 2016
Yasiel Puig isn't going to be wearing it on the field Friday, but he did share a photo of himself wearing a cool Brooklyn Dodgers Starter jacket, too.
My jacket to honor Jackie. Thank you for changing the game #BrooklynDodgers #JackieRobinsonDay #42 @Starter pic.twitter.com/OBUOUATSLv

— Yasiel Puig (@YasielPuig) April 15, 2016