It's Time For The Yankees To Be The Yankees Again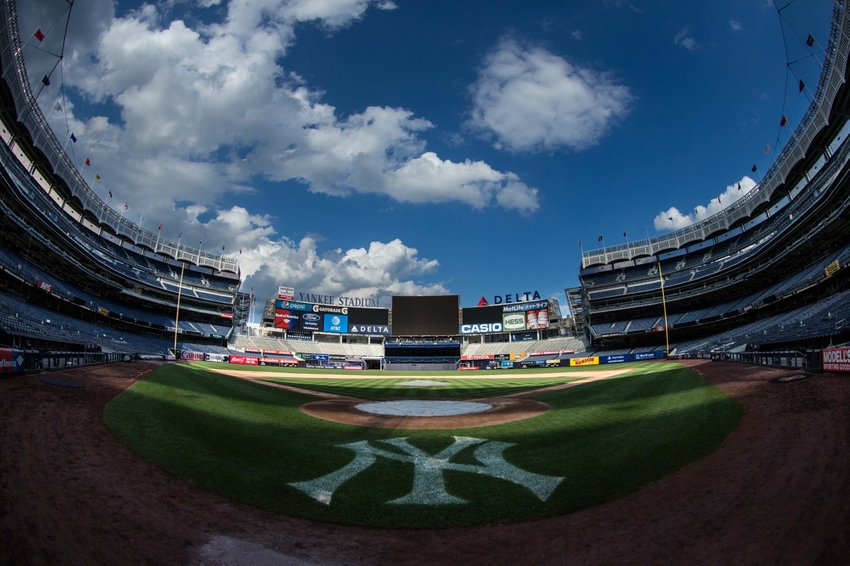 Sometimes, it almost feels like the Yankees have been shocked into inaction and embarrassment because of the reputation they earned as the wildly extravagant free spenders of the 1980s and 90's. But now they are in a position where all of that money is coming off the books. And it's time for the Yankees to reload and be the New York Yankees again.
It's safe to assume that the Yankees are receiving calls every day from clubs that would like to get their hands on two or three of the prospects the Yankees inherited from deadline deals last year. But it's not likely that Yankees GM Brian Cashman is seriously listening unless it's the Angels and they want to talk about Mike Trout . And Cashman is more likely to be turning the calls around to see if the team that's calling might be interested in taking Brett Gardner or Chase Headley off his hands.
But all that talking is mostly just that because Cashman doesn't have to trade to add talent this year. Because there's another route that the Yankees can go to accomplish the same goals.
At the moment, the New York Yankees payroll for 2017 stands at $136 million and change. This places them fifth among all major league teams (the Tigers have the highest payroll).
For All That Talk About Money……
More from Call to the Pen
Cashman just unloaded $17 million when he sent Brian McCann to Houston . And if he can dump Headley and/or Gardner on somebody, he can save up to $25 million more, depending on how much of their bloated contracts the Yankees have to eat when they are traded. This is also the final year of the infamous Alex Rodriguez contract that will save them another $25 million starting next year. Ditto the contract of C C Sabathia and his $25 million that also goes off the books next year.
Add to that the sad but likely development of Mashahiro Tanaka exercising his option to leave for the West Coast after this year to be closer to his homeland in Japan, and another $22 million goes in the bank.
Translation: The Yankees have money to burn. And the partners can rest easy because none of these expenditures touch profits. They're back in the (free agent) saddle again. So with that in mind, here are three sensible signings the Yankees can initiate right now.
Yankees And Ardolis Chapman
It's been advertised that it's a given Ardolis Chapman will once again be a Yankee next season. Well, he isn't one yet and it's hard to believe other teams aren't pursuing him, including and maybe especially his current team who need him just as badly as they did before they won a World Series. Move now and get the deal done. Five years and $95 million should do it.
Yankees And Rich Hill
Next is starting pitcher Rich Hill . At 36, the Yankees will probably overpay for his long term value, but that will be true for any team that signs him. And for some reason, he's been tagged as the Golden Boy of this year's pitching crop. But unless you go back into the trade market, he may be "it".
Yankees Aiming For The Jackpot…..
Finally, and this is the big one. Instead of going after Carlos Beltran and paying him the equivalent of the McCann salary you just disposed of, why not sign the cream of the crop, Edwin Encarncion .
It'll take a whole lot of cash to do it, but at 33 this guys built for longevity. Last year, Chris Davis scored a 7-year deal worth $161 million from the Orioles. Their numbers, except for one "career year" that Davis had, don't compare. And unless I've missed something, I haven't heard that Encarncion is asking for seven years. But even if he is, the Yankees can afford just one of those back loaded contracts that bit them in the butt last time.
And unlike the insulting offer of $80 million the Blue Jays made, Encarncion will eventually sign a contract that begins with a 1.
Trade market no, except for adding by subtracting a single in the case of Headley and Gardner. Free agent market yes. The money is there. But are the Yankees there?
This article originally appeared on