It's Not Too Early For The Phillies To Acquire An Impact Player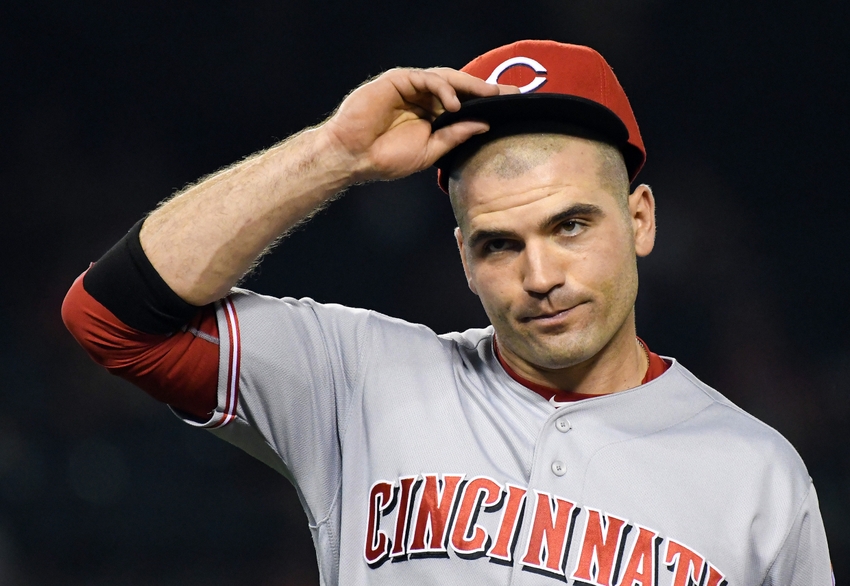 There's a ton of discussion about whether or not the Phillies should add a big name to their extremely young roster, either via trade or free agent acquisition.
Many of the people who think they should stand pat and not acquire an established star argue that it's not the right time, that they're not far enough along in their rebuild to take this leap. They're wrong.
Adding a Joey Votto or a Dexter Fowler could drastically help this team as it attempts to get itself back into title contention. Players like that possess the ability to impact the line up in a meaningful way and their influence could resonate on many of the young hitters, aiding in their development.
And there's been some precedence.
In 2010 the Nationals shocked the baseball world when they added former Phillie Jayson Werth to their dismal yet hopeful team. They were a young team filled with talented young players like Ian Desmond and Ryan Zimmerman.
More from That Balls Outta Here
Younger players like Wilson Ramos and Danny Espinosa were on the way with even younger guys like Bryce Harper and Steven Strasburg right behind them.
They had the "home-grown pieces" to build around even if some of those pieces hadn't yet made their major league debut, yet alone had an impact.
They brought in Werth on a seven-year $126M contract, because they were anticipating the fruitful years ahead of them, not because they needed him for 2011. They saw the guy they wanted and they got him, independent of the timing.
They could've been looking ahead at the following year's free agent class as well. Surely the timing would've been better in that they would have a better sense of their needs and their younger players would be a bit farther along. However the best that class had to offer was an old-getting-older Carlos Beltran and a far less talented player in Michael Cuddyer.
No, they saw the player they wanted and they proceeded to acquire him, even if it the timing wasn't right.
They were a 69-93 team the season before they acquired Werth. They were a 80-81 team in his first year and a 98 win team the year after. They were the sixth worst team in the National League in OPS in 2010 but by 2012 they were fourth best.
They were right on the money with their anticipation of their needs.
Obviously the Nats success wasn't all on Jayson Werth. He didn't single-handedly carry the team to the League Division Series in 2014. But he was a part of it, and by most accounts a huge part of it.
In spring training of 2013 Bryce Harper said of Werth, "Jayson was ready to take me under his wing. He taught me a lot of things. He has been in this game a while… He knows a lot of things about pitchers and what they are going to do. He has been good with everybody else. He is really a leader on this team. We all know that. He is one of the best guys in the league when it comes to leadership."
Harper illustrates exactly what the Phillies need, and exactly what Werth brought to him and his teammates when they needed it, not afterwards.
In strict terms of what Werth has brought to the Nationals with regards to actual on-field performance, he may not have earned the contract they gave him. The Nationals have paid him well over $100M for the six years he's been there and he's only managed a total of 9.1 bWAR.
You could easily make a strong case that he was severely overpaid. But there are so many intangibles that he's brought to that Nationals team that it would be very hard to argue he's hasn't been worth every penny. Indeed, it's highly doubtful the Nats complain about it, and very probable they'd do the same thing if given the chance.
The Phillies front office would be wise to learn from the Nationals example. If they're put in a position where they can acquire a player they think has the potential to profoundly impact the team for the now and for the foreseeable future, they should strongly consider it.
This article originally appeared on