Is R.A. Dickey really what the Atlanta Braves need?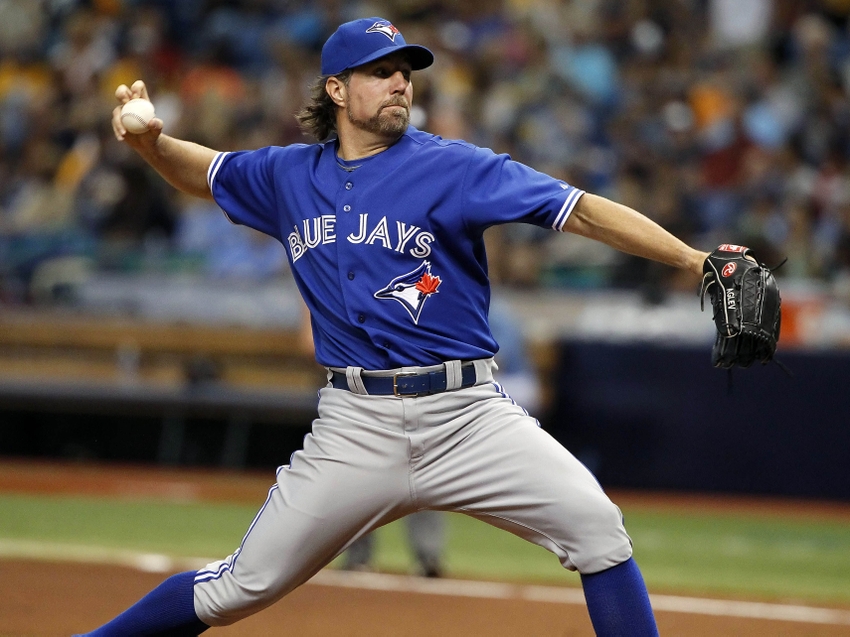 The Atlanta Braves have signed R.A. Dickey, but is he really a solution to their starting pitching woes?
It was a rather quiet morning in the Twitter universe on Thursday before the first big free-agent acquisition of the MLB offseason was officially announced. Per the Atlanta Braves' Twitter account, the Braves have signed 41-year-old veteran right-hander R.A. Dickey. The financial details behind the contract have yet to be revealed, but it's a one-year deal with a club option for 2018.
Since his 2012 Cy Young award winning season, Dickey has put together a cumulative ERA of 4.10. The numbers have not been dynamite, but what Dickey has the ability to pitch a lot of innings. The veteran knuckleballer has averaged 205.5 innings pitched per season over the last seven years. Considering the Braves' starting pitchers threw just one complete game all season long, a pitcher such as Dickey capable of throwing at least six or seven innings will take pressure off Atlantas' bullpen.
Dickey joins a starting rotation that struggled immensely throughout the majority of 2016. The Braves were 24th in the MLB in ERA with a team average of 4.51 and were 25th in quality starts with 64.
Dickey's last four seasons have not been nearly as successful as they were during his tenure in the National League from 2010 through 2012. Over the course of that three-year stint in the NL with the New York Mets, Dickey posted a sub-3.00 ERA while recording 39 wins. 20 of those wins came during his 2012 Cy Young season. Dickey moved to the American League after 2012 and has been there ever since with the Toronto Blue Jays.
This low risk, medium reward move by the Atlanta Braves is a smart one. Dickey's probably not going to warrant another Cy Young bid, but he'll certainly assist a starting rotation that severely failed at staying in games. Even at the ripe old age of 41, Dickey has proven he's still capable of delivering quality starts every now and again, which is something that is desperately needed down in Atlanta.
This article originally appeared on