Indians Carlos Santana: Fantasy Value Heading into 2017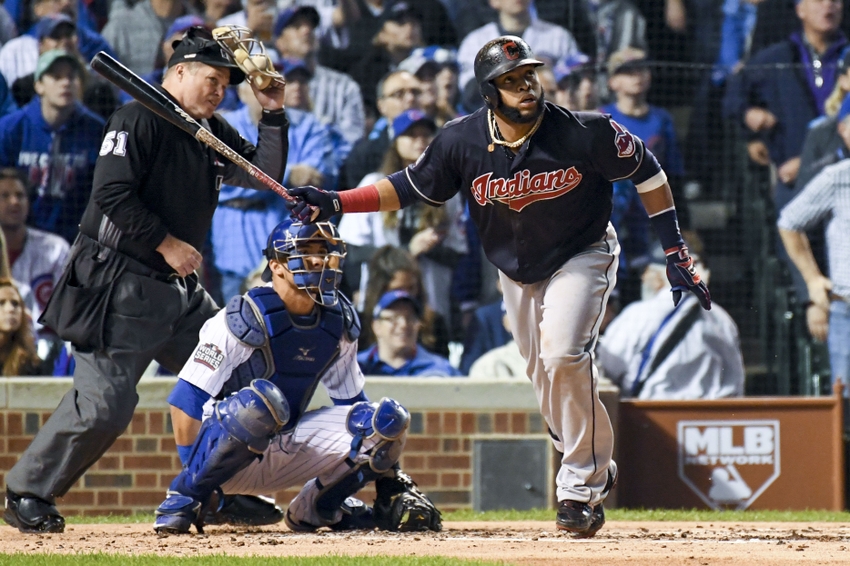 Carlos Santana is quietly having a career best season for the Indians. But, what does his fantasy value look like heading into 2017?
Carlos Santana is an interesting player. He has never for hit for a high AVG in his career, yet he has morphed into an on-base machine for the Indians. For years fantasy owners loved him when he qualified as a C, but since he was moved out from the plate, he had lost some of his fantasy luster. However, in 2016, Santana reestablished himself as a stud performer.
Carlos Santana posted a, .259/34 HR/87 RBI/89 R/5 SB/.865 OPS line, setting career high marks in the homer and RBI departments. He was an absolute force the entire season, and was a great value pick for owners that nabbed him in the mid to late rounds. His ridiculously good eye at the plate even warranted the Tribe to slot him in the leadoff spot, where he did not miss a beat.
Since 2011, Santana had walked at least 91 times a season, while striking out over 100 times per season as well. This season though, he garnered 99 BB, while only striking out 99 times. He is an OBP monster, and a player that can mask an ugly AVG with his run production numbers.
Clearly the two stat upticks that jump out are the 30+ HR, and respectable .259 AVG. If not for a .217 AVG in May, Santana would have easily eclipsed the .260 mark. Santana is a switch hitter, but saw no big difference with his splits, outside of 30 of 34 HR coming against RHP.
Digging deeper into his batted ball data, his 41% FB rate was the highest of his career. He is still an all pull hitter, 53% the last two seasons, but his 36% Hard contact rate help springboard his 30+ HR.
It remains to be seen if the Indians will slot him into the leadoff spot again next season, but it does present it share of fantasy pros and cons. On one hand, his RBI potential is capped atop the order. But, if the Indians can maintain a deep lineup, which they should be able to do, he could post 90+ RBI while chipping in 90 R.
Carlos Santana saw most of his time at the DH spot, but did play 30 games at first, qualifying him for the position. When drafting first basemen, it is all about run production. Santana has the skillset to be a top-10 fantasy 1B, yet is usually passed over.
An early fantasy projection would be around a, .255 AVG/30 HR/90 RBI/90 R/5 SB/.850 OPS line. In leagues that reward OBP or OPS, Santana is a borderline top-50 pick. It is time to stop overlooking Santana, and begin to rank him within the top two tiers of first basemen. Believe in Carlos.
More from Fantasy Baseball Crackerjacks
This article originally appeared on