How Much Third Base Production Should the Atlanta Braves Pay For?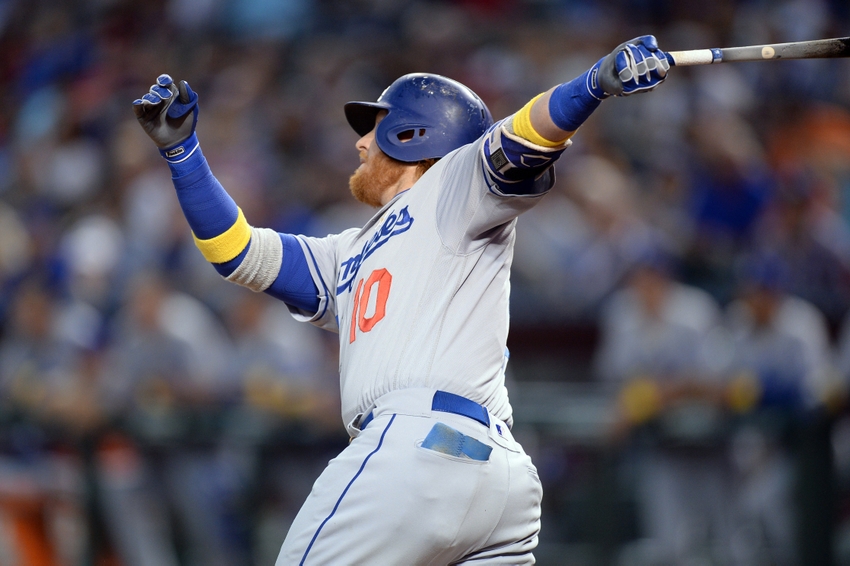 Talk about obtaining a third baseman for 2017 has quieted during the second half of this season with a resurgent Adonis Garcia responsible for quelling the chatter.  But does he provide enough?
For at least two seasons, fans have been concerned about the Atlanta Braves' offense.  Suddenly that part of their game is looking almost – dare I say – formidable.  But there are still challenges ahead.
Pitching and catching are now the biggest concerns – Ryan spoke about the pitching situation over the weekend; we've looked at catcher multiple times and multiple ways.  But this writer is wondering if the team can afford to ignore some possible upgrades outside the battery.
The news that got this thought started is that the Dodgers' Justin Turner appears to be willing to test free agency this off-season.  He would certainly be the most productive third baseman available for a 'cash only' deal.
So the question posed today is this:  how much production should Atlanta look to pay for out of the hot corner.  Let's take a look.
Methodology
For this exercise, I intend to paint Adonis Garcia and the other free agents in the best possible light.  For him, that means excluding his entire first half of the year.  Critics might argue (successfully, even) that whole-year stats are still part of him and his production.  Others would counter that he 'figured it out' during the Spring, and that the second half represents his offensive – and defensive – capabilities going forward.
Obviously there's no way to know the answer ahead of time, but let's at least go with the horse we know and use the numbers he's currently putting up as a baseline.  I believe that most would agree that Garcia is not likely to get a lot better than he is right now… with his 32nd birthday coming 2 days before the Braves open SunTrust Park.
Garcia's numbers will be compared to the "best half" numbers of the available free agent third basemen.  For most of them (*) their first half performances will be used (which paints each of them in the best possible light as well).
We'll show 3 charts in an effort to demonstrate the differences:
The basic numbers – the best half for each free-agent to be this season.
The same numbers, scaled up to a 150 game "season", which honestly could be an ambitious pace for any of these players to maintain for a full year
The differentials from Garcia's numbers… i.e., how much better or worse each of these free agents are under this 'best case' scenario.
The Big Data
Here's chart one:  the basic numbers of the best half of the 2016 season for each player.
Again, the asterisk designates those players whose (better) first half numbers were used.
This second chart shows the numbers of the first chart scaled up to 150 games.  For Garcia, this might be the best-case scenario you might ever expect to see if he were to keep up his current pace for an entire year.
Finally, the differentials chart.  How much different (+/-) are the numbers of the others from those of Garcia?
This is a bit difficult to read, and I apologize for that, so let me hit the highlights:
Only Turner would be expected to hit more homers than Garcia – close to double his output
Only Turner would be expected to drive in more runs… and it isn't that close for the rest, either.
Garcia puts the ball in play more than most, though he would be prone to the double play
Prado and Valbuena could be marginally better in total fWAR, though Prado does so via better defense.
The Other Related Questions
It seems fairly clear that Justin Turner is the head-and-shoulders leader of this pack.  Beyond that, the questions that the Braves will have to ask themselves are these:
Can Garcia sustain what he's been doing?
Is a free agent like Martin Prado or Luis Valbuena (if the latter is even healthy enough after surgery) going to be worth pursuing for the kind of performance difference this third chart suggests is possible?
What type of offensive bat do you want there:  a bigger hitter (Turner, Valbuena, Garcia) or a situational hitter (Prado)?
Do they believe in Garcia's new-found defensive skills (still not league average, but closer)?
Is a multi-year deal for any of these other free agents worth the time as well as the money?
What do we do with Rio Ruiz?  Is he going to achieve these kinds of numbers?
Summing Up
In all honesty, these numbers surprised me:  Garcia's case may be more competitive than I'd thought.  Plus, he's frankly dirt cheap.
As a result, if the Braves wanted to go big, they could go for Turner and get more production.  But that might be at the expense of a stronger catching partner for Tyler Flowers, perhaps… or a better pitcher.  After all, the Braves could end up bidding against both the Dodgers and the Giants in that scenario.
My bet:  Garcia has earned himself another year while the Braves concentrate on catching and pitching.  You might feel differently – and that's understandable; particularly if you believe his second half has been a fluke.  But please do make you argument in the comments below.
This article originally appeared on