Houston Astros: Should They Go After Encarnacion or Cabrera?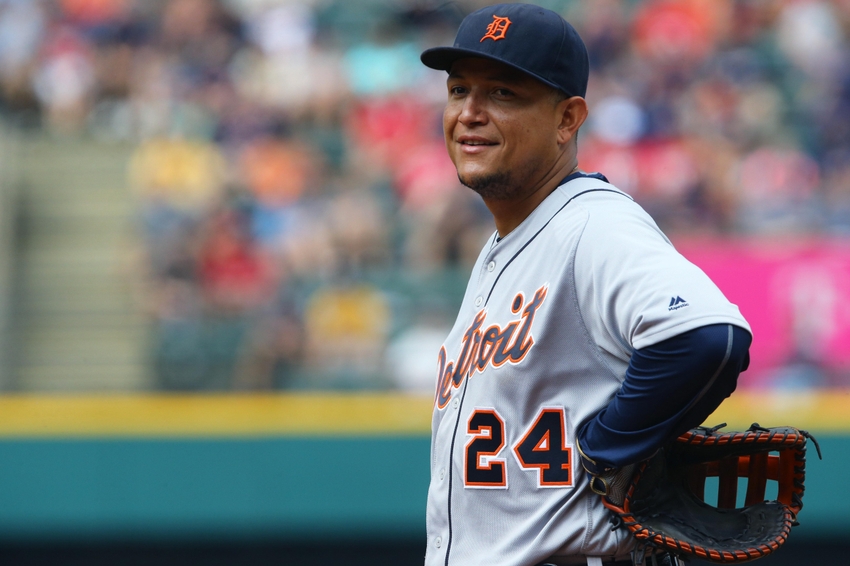 The Houston Astros are in a position to be a real threat in the American League in 2017, and this winter they are looking at making some big upgrades.
The Houston Astros, who were as recently as 2013 known as the Lastros, have been on an upswing over the past two seasons, accumulating win totals of 86 and 84 in those years. 2015 saw them break through into the playoffs and push the Kansas City Royals to the brink of elimination, a feat that only the 2014 World Series champion San Francisco Giants were able to do in the Royals two playoff runs.
With loads of optimism surrounding the club last offseason, the Astro front office made a big splash in acquiring reliever Ken Giles, but didn't do much else to drastically improve the club. They had the reigning Cy Young champion in Dallas Keuchel, a 19-game winner in Collin McHugh, and an exciting young pitcher in the form of Lance McCullers.
Keuchel seemed to have lost his touch for much of 2016, McCullers was injured for large chunks of the year, and while McHugh is a solid pitcher (3 WAR in 2016), he isn't necessarily a guy that will carry the rotation for large stretches.
The offense was just a tick below league average, coming in with a wRC+ of 99, eight points shy of their 2015 total. The club could use a boost at the plate, especially with the Boston Red Sox likely to be the favorites to represent the AL in the World Series in 2017, and right behind them, the reigning AL champion Cleveland Indians. The Astros offense isn't as good as the one in Boston, even sans David Ortiz, and their pitching staff isn't quite as formidable as a fully healthy Cleveland club.
So what do they do?
Well, rumors are that the team has their sights set on adding Edwin Encarnacion or Miguel Cabrera to the mix this offseason. Encarnacion is a free agent coming off of a 42 home run season that saw him tally a 134 wRC+ and a 3.9 WAR. MLB Trade Rumors has him projected at a 4 year/$92M contract (with the Red Sox).
More from Call to the Pen
As far as Cabrera goes, the Tigers are looking to free up some payroll, which basically means trading away some talent while they can. Their most gifted slugger for a number of years has been Miguel Cabrera, who is owed $212M through 2023 (his age 40 season) and could potentially be with a club two more seasons past that if he finishes in the top 10 of MVP voting in 2023 and 2024 with two $30M vesting options. From 2009 to 2014, Cabrera finished in the top 9 each year–taking home the MVP trophy twice–before falling to 11th in 2015.
While Cabrera is the better overall hitter of the two, the amount of money it would cost the Houston Astros, along with the cost of acquisition in terms of prospects, could make this a tricky proposition. Add in the fact that former top prospect A.J. Reed is also a first baseman, and it looks like a large price to pay for an upgrade. Reed struggled in his time in the big leagues, but not everyone starts mashing right away.
Encarnacion's financial commitment would be a lot more manageable for the Astros, and would even give them some flexibility to potentially sign Carlos Correa, George Springer or Lance McCullers to an extension.
During the rebuild, Houston was banking on their young talent producing at the big league level. Now, with a taste of success, they seem to be getting away from that little by little. Yes the team needs to upgrade to remain competitive, but depleting what was once an extremely strong farm system in the process (while not getting much in return from the players they have acquired) doesn't seem like a formula that can keep on working.
At least with Encarnacion it's just a financial commitment. With Cabrera, he'll take some prospects to acquire, and likely more than a couple of mid-level ones. After trading away talents like Vince Velasquez, Brett Phillips and Mark Appel, the team has been chipping away at their future system for sustained success. This offseason they should open up their pocketbooks, write the checks that they need to, and keep the farm system intact.
Of course, there is option number three, which would be Brian McCann becoming available if he wants to catch more often than is likely to happen in the Bronx, but still wants to see regular playing time, and is willing to waive his no-trade clause. McCann isn't quite the offensive threat that either of the other two players are, but he would represent an upgrade behind the dish over Jason Castro, who is a free agent. The Astros also need an upgrade at catcher, and adding McCann could slot Evan Gattis in the DH role more often, which would also help out the production of that spot.
There are at least three options for the Houston Astros to ponder at the moment, and each has its fair share of positives and negatives. The path that they choose this offseason could play a big role in the team's future success, and how long their window of contention stays open.
This article originally appeared on