Houston Astros: More Reshaping to Come?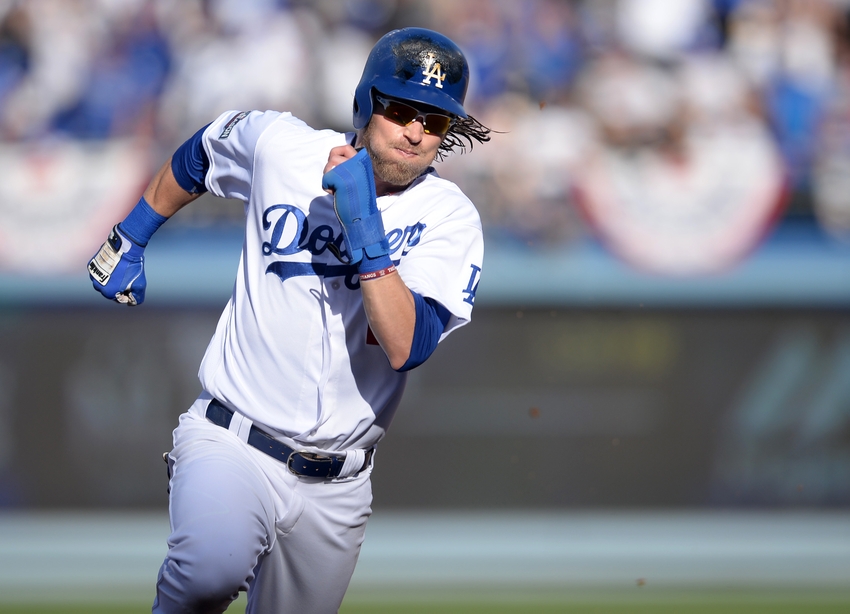 The Houston Astros made a couple of moves yesterday afternoon, trading for veteran catcher Brian McCann from the Yankees and signing free agent outfielder Josh Reddick, formerly of the Dodgers and A's. Both add some left-handed bats to the lineup, and should represent upgrades over the players that held those positions in 2016.
Former Astro backstop Jason Castro provided some big hits for the club in his five seasons, but for the most part it was his pitch framing and work behind the plate that had made him valuable. With the club trading for McCann, there will be more of an emphasis on getting offensive production out of the position, but their numbers from this season were not off by a wide margin.
McCann held a wRC+ of 103, which is just above league average, while Castro came in below league average with an 88. That's 15 percent, which isn't huge, but it could be the difference between making the playoffs and staying home.
Add in that McCann has hit right-handers better (than lefties), struck out at a lower rate, and 17 of his 20 home runs in 2016 came off of righties, and it looks like the backstop in Houston will be a platoon situation. Gattis in his own right has hit left-handers much better at a .288 clip.
In terms of wRC+, McCann held a 108 and Gattis was at 133 against their favorable split. Combined, they will form a much better offensive threat at the position, which, coupled with the rest of the Houston Astros lineup makes the addition of McCann a scary proposition.
More from Call to the Pen
Josh Reddick is a player that most Astros fans should be at least somewhat familiar with, as he has been with the Oakland Athletics since they arrived in the AL West. Traded at the deadline, Reddick finished out 2016 with the Dodgers.
In the past Reddick has hit bunches of home runs, smashing 32 in 2012 and 20 in 2015, but in the other three seasons he has been right around the 10-12 mark. It's doubtful that Reddick was added to be a power bat this lineup, however. Instead, Reddick's defensive abilities are almost assuredly what caught the eye of the Astros front office.
With a combination of Jake Marisnick, George Springer and Colby Rasmus in years past, Houston has formed one of the best defensive outfields in the game. With Reddick in the mix, that trend should continue (sans Rasmus)–and he'll certainly be an upgrade over what the team received from Carlos Gomez in his time with the team.
Reddick has struggled with left-handers, but has raked against righties so we could be looking at some sort of a platoon with Marisnick or Teoscar Hernandez in left field. Marisnick, for all of his offensive struggles, held an 89 wRC+ against southpaws last season. Add in Teoscar Hernandez as another solid option against lefties, and the Astros look to have at least four of their outfield roster spots filled. How they find everyone playing time with Alex Bregman and/or Yulieski Gurriel also likely to see a fair amount of time out in left is a big question.
Hernandez could start the season in Fresno and wait for an opportunity, or, and this one may not sit well with Astros fans, they could be looking to use Bregman as a huge trade chip this winter. Using him in a deal for someone like Chris Sale makes some sense though. Bregman has a lot of value on the trade market, which would mean that fewer players would be needed to make a deal happen, allowing Houston to keep a good amount of their depth in the minor leagues.
With Reddick signed for four years, Hernandez pre-arbitration, and George Springer signed through 2020, the outfield could presumably be set for the next few years, even without Bregman. It also would give two of the team's two big outfield prospects, Daz Cameron and Kyle Tucker, some extra time to develop if necessary.
Taking Bregman out of the lineup could hurt, given that he has only played in 49 games at the big league level and is likely to improve dramatically, but adding Sale to the rotation to pair up with Lance McCullers, Dallas Keuchel and Collin McHugh would be a bigger boon to the rotation that the loss of Bregman would be a detriment to the offense. In addition, dealing Bregman and say either David Paulino or Francis Martes, two of the team's top pitching prospects, J.D. Davis (third base) and a wildcard in Jon Singleton would provide plenty of value to the White Sox to make their rebuild fairly quick if they pan out. The AL Central is going to be ruled by the Cleveland Indians unless teams in the division make some moves, and this one could set the White Sox up to move Todd Frazier and others, while giving them a fighting chance moving forward. The Houston Astros are going to be major players this winter, and making this move would solidify that.
This article originally appeared on