Houston Astros History: Astros Have Home Rain Delay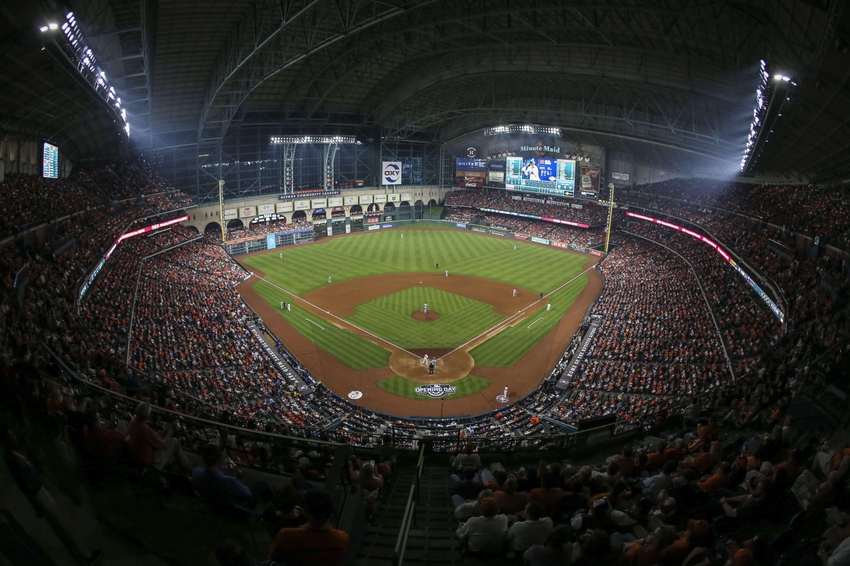 It is sort of difficult to have a rain delay when one plays their home games inside of a dome. However, the Houston Astros turned that trick on this day in 2002 when they had a 19 minute rain delay.
There are a few advantages to playing baseball in a retractable dome. During nice days, the roof can be open, allowing the joy of outdoor baseball. During inclement weather, just close the roof, and the game can be played. There is rarely a reason to fear a possible weather issue with a retractable roof.
That is part of why the Houston Astros, when building a stadium, have almost always played in domes. Aside from a game being cancelled at the Astrodome on June 15, 1976 due to flooding, rainouts or delays just did not happen. That is, until this day in 2002.
With the roof open anticipating pleasant weather, a passing shower put a damper on things. Rain began to fall shortly before game time, and the Astros groundskeeper elected to put a tarp down on the field while they worked to close the roof. All in all, the start of the game was delayed for 19 minutes before the Astros and Brewers were able to begin their contest.
More from Call to the Pen
Perhaps that was a part of the Astros lethargic performance in their 3-1 loss. The immortal Wayne Franklin and three relievers combined to hold the Astros to five hits, as no player had more than a single safety. Houston's only tally came when Jeff Bagwell led off the bottom of the second with a double, and scored after Keith Ginter threw away Jose Vizcaino's bunt single. Bagwell and Roy Oswalt had a double each for the Astros only extra base hits.
Through it all, we learned how long it takes for the roof of Minute Maid Park to close during a weather event. It takes 13 minutes to close the roof alone, and another five to ten minutes to get the people in place to do so. Because of that, the Astros had their first rain delay in almost three decades.
Chances are, this will be the last rain delay that the Houston Astros have at home in a long while. After all, playing in a retractable dome, such incidents are highly unlikely. Maybe it will be another three decades, if history is any guide.
On this day in 2002, the Houston Astros had to sit through an unlikely rain delay. Yes, even in a dome, rain delays can happen.
This article originally appeared on