Houston Astros: Class in Session, What can They Learn from the Rangers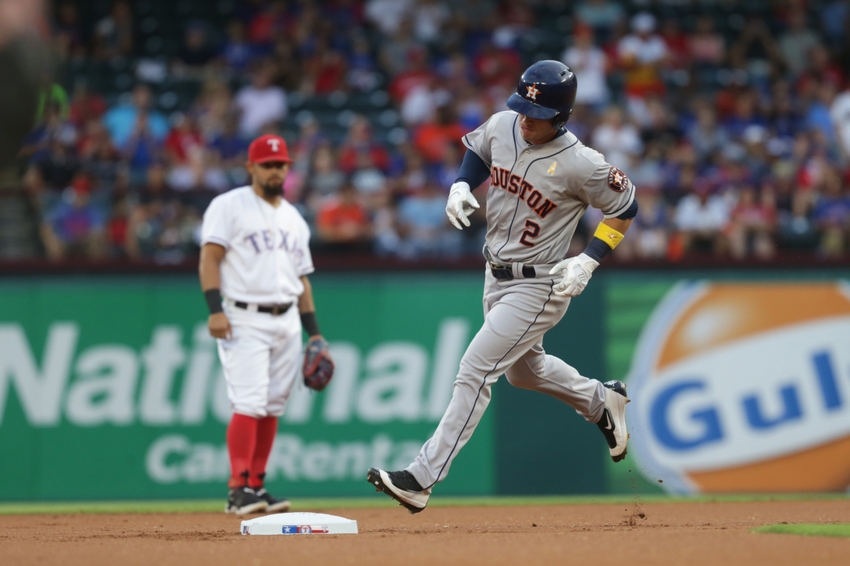 The "reign" was not long-lived as the Rangers post season came to an end Sunday night to the joy of numerous Houston Astros fans.
It was an unfortunate ending though as they gave up the winning run on a routine ground ball play. In the end, you can consider the result of their season less than desired. The Rangers made a lot of moves in pursuit of a World Series championship. Unfortunately, the moves did not flourish to glory.
What the Rangers Did
The acquisition of Jonathan Lucroy, Carlos Beltran, Jeremy Jeffress, and later the option to take Carlos Gomez all but assured the Rangers had made the moves necessary to bolster high chances at making it to the World Series. However, now that they've been eliminated, a bigger issue arises. What will they do with these free agents? How do they make up for the players they distributed to get them?
The Rangers have seven players who hit free agency heading into the 2017 season:
Carlos Beltran
The slugger will be 40 next April, and his contract will expire with the conclusion of the 2016 season. It remains unclear if he will continue to play. The Rangers dealt Dillon Tate (a top 100 prospect heading into 2016), Erik Swanson and Nick Green to acquire him.
More from Climbing Tal's Hill
Although he was not acquired through a trade this season, his market value is at a high following a great season at the plate (.285 BA, 178 hits, 22 HR, 107 Runs, 86 RBIs). He also boasted a .929 fielding percentage. This combination makes him a very desired player heading into the off-season.
The right hander under-performed in comparison to his 2015 campaign, and his future is cloudy in Texas, but the issue with losing him in the rotation is that the Rangers have given up young arms to acquire old talent. This is a very interesting free agent situation.
The first baseman was a great combination of hitter and fielder this season, and has been a large part of the Rangers infield for the past few years. It is hard to imagine the Rangers parting ways with Moreland, which may prove to hinder their ability to sign other players.
Jonathan Lucroy
In order to acquire Lucroy, the Rangers had to send away Lewis Brinson and Luis Ortiz. Apart of the deal was Jeremy Jeffress, which one can argue makes the deal worthwhile. Luis Ortiz was also a top 100 prospect heading into 2016. He provided Rangers with options in the starting rotation. He and Tate (mentioned above), provided depth to their pitching staff, and with youth on their side, they show strong upside.
The veteran pitcher bolstered one of his roughest seasons this year. And at the age of 37, gives the Rangers indications that this relationship may come to a close. His season with the club was short and his minor league appearances did not help his cause. This could be a "blessing in disguise" for the Rangers.
Astros Were a Victim of Their Own Success in 2016
Carlos Gomez
Go-Go was more of his old self during his time with the Rangers. I would not be surprised to see the Rangers retain Gomez, as they do not have much depth in the outfield. The group is young but will need veteran guidance throughout the season. Gomez could offer that. Gomez and Desmond are very tough free agent situations to read, because it would seem the Rangers will have to find a way to keep one of them, if not both.
The next steps the Rangers will have to take
The Rangers will have to work through each free agent wisely, and it will be tough to keep the keys players like Lucroy and Desmond. Both look will look to capitalize on their value after having great seasons. Restricted or not, these players can set a price too high for some clubs to handle.
What the Astros Can Learn
What we did learn from the Rangers, is that money cannot buy you a championship. However, there is more to a team's success than compiling talent. For example, the San Francisco Giants have won 3 of the last 6 World Series championships. The Giants used player development, talent acquisition and club chemistry to build a winning tradition. Most important, they have a chance to do it again this year.
The Lessons the Astros Can Apply
As the Astros work towards the 2017 season, there is a lot to keep in mind as far as off-season acquisitions. First, to avoid another Carlos Gomez situation, they will need to further analyze a player's mentality. Furthermore, the core group of players are vital to this process, as they will ultimately take the field with them. Letting this group be a part of this process is a necessity.
Equally important, the Astros should rely on their farm system to develop young talent and make them capable for big league performance. The Astros have worked hard to build a solid farm system. A farm system that provided the likes of Alex Bregman, Dallas Keuchel and many others.
Lastly, the organization must work hard to make moves at the times when the teams is in need of them.
Maintaining Perspective
All in all, the Astros show tremendous upside to give its city and its fans a contending team for years to come. It is time for the front office to be driven and opportunistic for what could be another great age of Houston baseball.
***Statistics and other pertinent information courtesy of Sportrac.com, Baseball-Reference, and MLB.com***
This article originally appeared on