Heyman: Edwin Encarnacion to Yankees is Realistic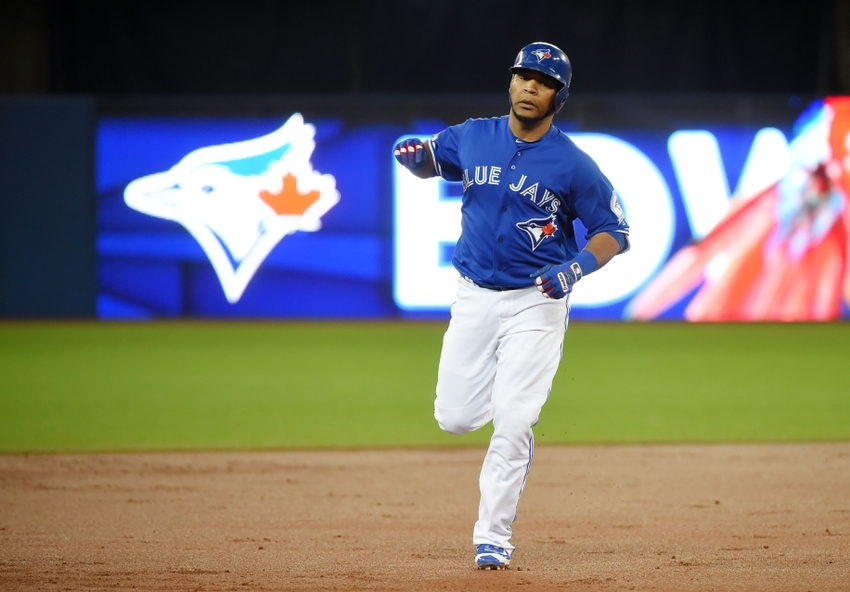 Could Edwin Encarnacion's signature 'Edwing' soon be flying around the Bronx base paths? The 33-year-old has slugged his way to a high-dollar payday, but will the Yankees pony up the cash?
Yankees fans: let's jump-start the offseason with a fun hypothetical!
Edwin Encarnacion is the monstrous power threat the Yankees need. According to Jon Heyman of FanRag Sports, baseball insiders think the two sides are a possible match. In an earlier report, Heyman said the Yankees "are expected to seek power" and observing their division rivals have multiple 30-homer sluggers was "an issue for them."
It could be a big enough issue to relegate "Mission: Get Under the Luxury Tax Threshold" to the proverbial back burner, just like the free-agent closer market is beckoning owner Hal Steinbrenner to break loose the fiscal shackles.
Any interest the Yankees have in Encarnacion makes total sense. Their offense sorely lacked power last season. The Bombers ranked 19th in the league with 183 homers — a mere six blasts greater than the Padres. Without Gary Sanchez's historical rookie performance (20 HRs in 53 games), the Yanks would've fell into the bottom 10.
Carlos Beltran was the club's home run leader with 22 (and he was traded to the Rangers on Aug. 1). Starlin Castro muscled his way into runner-up with 21, topping his previous career high of 14. Didi Gregorius and Sanchez tied for 3rd with 20.
Youngsters Greg Bird and Aaron Judge hopefully are emerging mashers. But they both come with those darned infamous question marks. Bird's abilities are TBD until he proves he can rebound from a major shoulder injury that sidelined him for the entirety of 2016, and Judge still has adjustments to make at the major-league level. He struck out 42 times in 95 plate appearances (44.2%) and put up an unsightly .179/.263/.345 slash line.
Encarnacion is a sure thing, guaranteed to bring punch to your offense. Check out his game-changing numbers for the past five years:
2012:   .280/.384/.557, 42 HR, 110 RBI, 153 OPS+
2013:   .272/.370/.534, 36 HR, 104 RBI, 145 OPS+
2014:   .268/.354/.547, 34 HR, 98 RBI, 152 OPS+
2015:   .277/.372/.557, 39 HR, 111 RBI, 148 OPS+
2016:   .263/.357/.529, 42 HR, 127 RBI, 133 OPS+
Since 2010, Encarnacion has been above league average in OPS+ and accumulated 26.4 oWAR, per Baseball Reference. His OPS+ has slowly declined over his last three seasons, but his homers and RBIs have gone up.
Age is going to be a factor for whomever Encarnacion signs with. He will turn 34 in January and is expected to seek a deal in the four- to five-year range. Also, keep in mind the Blue Jays will assuredly attach a compensatory draft pick to him.
The Yankees have the opportunity to get creative this offseason. They've hibernated from top-tier free agents in recent winters, but are on the cusp of returning to postseason contention. They have a youthful core to lead the charge and extra talent in the lower minors to reel in a supplementary big piece, should general manager Brian Cashman get an itchy trigger finger.
Adding Edwin Encarnacion is a sign-on-the-dotted-line transaction that adds potency to the offense while sparing the farm system. Also, it almost certainly plays out as a two-step process. Yanks' incumbent DH Brian McCann would likely have to find a new home to create space. Encarnacion then becomes the primary DH and splits time with Bird at first base.
Bird is scraping off the rust and still fully recovering in the Arizona Fall League. If he isn't in full swing come Opening Day 2017, Encarnacion would take over positional duties. It's not like the Yankees need him for depth, however, since they currently have Bird, Tyler Austin, Rob Refsnyder, Austin Romine and McCann (if he stays) that can field the spot.
The main reason you add Encarnacion is for his bat; depth is a byproduct. Just think of the lineup protection he would give Sanchez! Pair them together in the order and you have a front-runner for the deadliest No. 3-4 punch in baseball. Here's a lineup teaser using 2016 OPS+ calculations:
Brett Gardner, LF  (92 OPS+)
Jacoby Ellsbury, CF  (88 OPS+)
Gary Sanchez, C  (168 OPS+)
Edwin Encarnacion, DH  (133 OPS+)
Starlin Castro, 2B  (93 OPS+)
Didi Gregorius, SS  (97 OPS+)
Chase Headley, 3B  (90 OPS+)
Greg Bird, 1B  (135 OPS+ in 2015)
Aaron Judge, RF  (61 OPS+)
Of course, the Yankees aren't alone in their pursuit of power. Heyman lists the Red Sox as the American League alternative most likely to land Encarnacion given the departure of David Ortiz. The Rangers are also in the mix.
What a treat a classic Yanks-Sox bidding war would be for the aging rivalry! I'd be comfortable inking Encarnacion to a four-year pact, but knowing this competitive market a fifth year is bound to wind up on the negotiating table. That's where things get tricky. Edwin Encarnacion will get paid to hit dingers — it's just a matter of which fan base gets the enjoyment of watching the baseballs leave the yard.
This article originally appeared on