Greatest All-Time Texas Rangers at Each Position
These are the top nine greatest players at each position in Ranger history. All of these players have made an impact on the history of the organization. The list includes some older beloved greats and possibly even some current day Rangers. This list may even include some Hall of Famers.
Pitcher
Nolan Ryan is the greatest pitcher in Ranger history and one of the best in the history of the MLB. Ryan only spent five years with the Rangers, but they were fantastic seasons. Over those five seasons Ryan went 51-39 3.43 ERA in 129 starts with 939 strikeouts. Ryan appeared in one All-Star game with Texas and finished his career with the team in 1993. Ryan pitched for 27 years in the MLB and even though only five were spent in Texas, Ryan is by far the best pitcher in Ranger history.
Right Field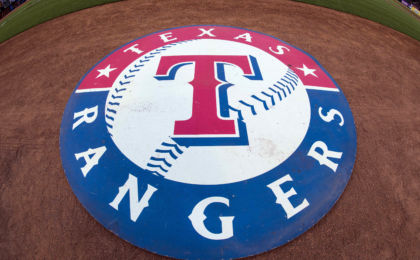 Juan Gonzalez had a great career with the Rangers that lasted 13 years. During that time Gonzalez appeared in two All-Star games. He also won the Silver Slugger five times as a member of the Rangers. Lastly, Gonzalez won two MVP awards in 1996 and 1998. During his 13 year career with the Rangers Gonzalez hit .293/.342/.565 with 372 homers and 1180 RBI. Possible steroid use doomed Gonzalez for the Hall of Fame. However Gonzalez is in the Rangers Hall of Fame.
Center Field
Josh Hamilton is back with the Rangers in 2017 to continue his fantastic career. Not including 2017 Hamilton has played in six seasons with Texas. Hamilton has five All-Star appearances, along with three Silver Slugger awards. That is not all, Hamilton also won MVP with the Rangers in 2010 when he hit .359/.411/.633 with 32 homers and 100 RBI. Hamilton has played in the post-season five times with the Rangers. He also won a playoff series MVP in 2010 when he hit 4 homers in a single series. During his career with the Rangers Hamilton is hitting .302/.359/.542 with 150 homers and 531 RBI. Hamilton will look to continue his success as a Ranger in 2017.
Left Field
Nelson Cruz did not play much left field during his time with the Rangers. Regardless he is well deserving of this spot. Cruz was a 2-time All-Star with Texas and spent eight years in a Ranger uniform. During that time Cruz hit .268/.327/.495 with 157 homers and 489 RBI. Cruz played in two World Series with the Rangers and was a playoff series MVP in 2011.
Third Base
Adrian Beltre has been to three All-Star games, won three Gold Gloves, and two Silver Sluggers since joining the Rangers. Beltre has only spent six years in Texas, but they have been the best years of his career. Hitting .308/.358/.516 with 167 homers and 563 RBI since joining Texas in 2011. Beltre has put together a fantastic career and when he decides to retire he should have a strong case for the Hall of Fame.
Shortstop
Alex Rodriguez only spent three seasons with the Rangers, but those were great seasons. Rodriguez was an All-Star all three seasons with Texas. He also won three Silver Slugger awards and two Gold Gloves with the Rangers. Rodriguez won MVP in 2003 with Texas when he hit 47 homers and 118 RBI in a single season. During his three seasons Rodriguez hit .305/.395/.615 with 156 homers and 395 RBI. The steroid talk has completely destroyed his career, but just by stats and accolades alone Rodriguez is one of the best shortstops in Rangers history.
Second Base
Michael Young spent almost his entire career in a Rangers uniform. Young played 13 seasons with the Rangers and was an All-Star seven times. Won a Gold Glove and had six 200 plus hit seasons with the Rangers. Young went to four post-seasons with the Rangers and was one of the better defensive players during his playing time. Young was inducted into the Rangers Hall of Fame and only the 20th player to receive that honor.
First Base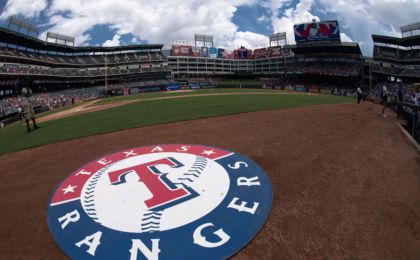 Rafael Palmeiro spent half his career as a Texas Ranger. An All-Star twice with the Rangers and even won a Gold Glove and Silver Slugger along the way. Palmeiro hit .290/.378/.519 with 321 homers and 1039 RBI in ten years with the Rangers. Palmeiro was one of the best hitters at first base during his playing time. A positive steroid test ruined the legacy of Palmeiro, but regardless he is still the best at first base in Rangers history.
Catcher
Ivan Rodriguez is not just one of the greatest Texas Rangers catchers, but he is one of the best all-time. Rodriguez was an All-Star ten times during his 13 year career in Texas. Winning the Gold Glove award at catcher ten times as a member of the Rangers. Rodriguez also won MVP in 1999 with Texas. During his 13 seasons with the Rangers Rodriguez hit .304/.341/.488 with 217 homers and 842 RBI. He was not only one of the best offensive hitters in the game, but a great defensive catcher as well. Recently inducted into the Hall of Fame, Rodriguez was one of the greatest catchers of all-time.
Recap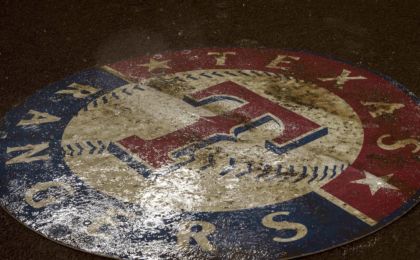 As a recap the list goes as followed: Catcher – Ivan Rodriguez, First Base – Rafael Palmeiro, Second Base – Michael Young, Shortstop – Alex Rodriguez, Third Base – Adrian Beltre, Left Field – Nelson Cruz, Center Field – Josh Hamilton, Right Field – Juan Gonzalez, Pitcher Nolan Ryan. No designated hitter was on the list. These are my Greatest Rangers of All-Time, whose are yours?
More from Nolan Writin'
This article originally appeared on