The impossible Giancarlo Stanton showed us how to 'make baseball fun again' in Derby win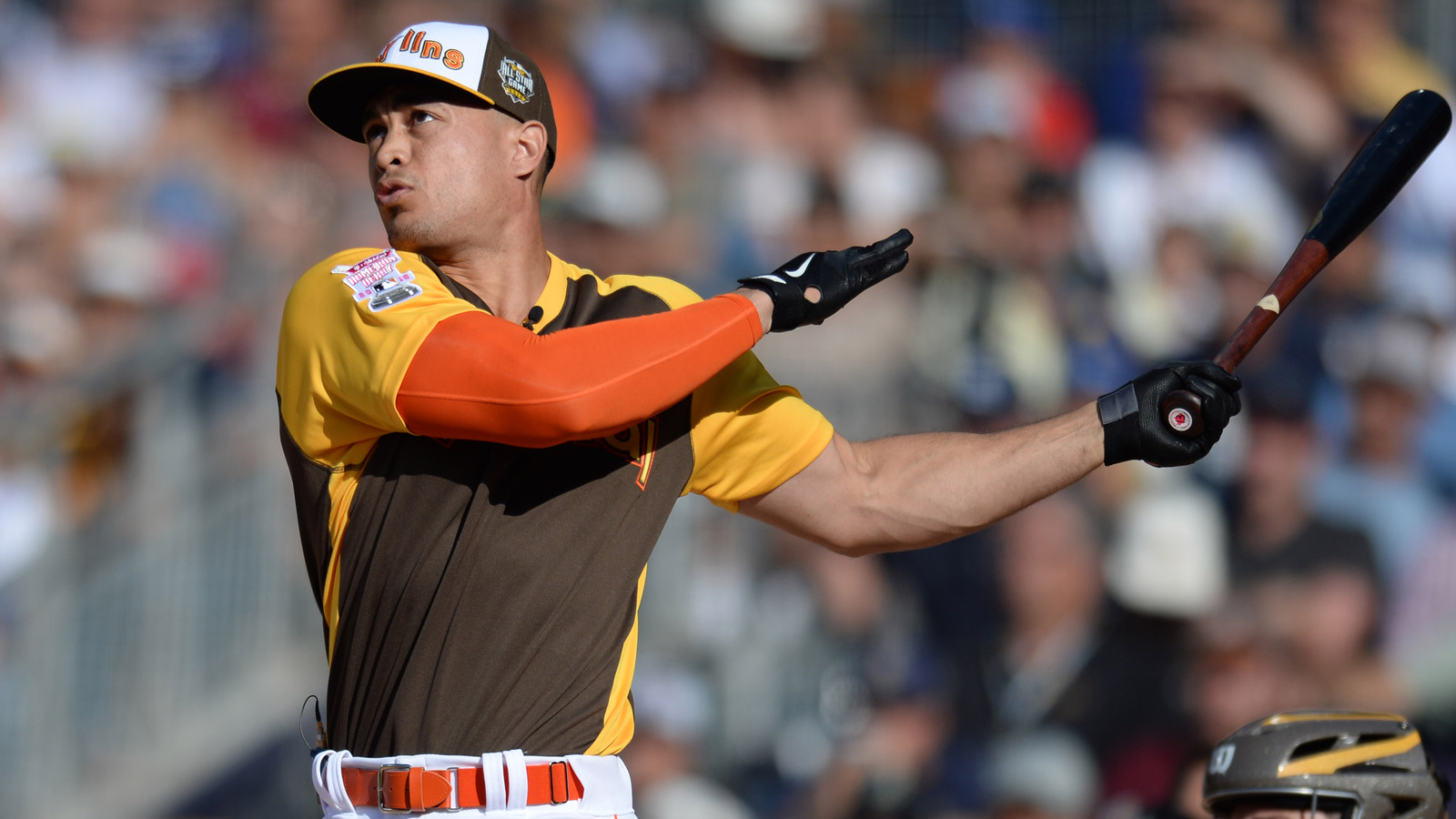 SAN DIEGO —€" Even before Monday's Home Run Derby began, Marlins reliever A.J. Ramos was extolling the legend of Giancarlo Stanton and warning anyone who dared sit near the left-field bleachers to reconsider.
Every one of Stanton's Marlins teammates has a favorite story about the 26-year-old outfielder. They speak of him as if he's a Greek god sent down from baseball's Mount Olympus to hit towering homers. In 2016, Bunyan-esque tall tales still exist, they're just told about Stanton.
Ramos' favorite Stanton legend happened against the Cubs in 2014:
Stanton, a right-handed hitter, hit a line drive the opposite way off a rolling breaking ball.
As Ramos tells it, the Cubs' first baseman even jumped up to make a play, but couldn't reach the laser beam off Stanton's bat.
It was a surefire double down the line, only the ball never landed on the field. The screamer over first base wound up over the right-field wall.
Watching the video, it's hard to see the leap Ramos swears he saw, but it's hard not to embellish a bit when discussing Stanton —€" when the ball goes off his bat, anything is possible.
"I'm afraid for the fans out there," Ramos said before the Home Run Derby started. "The dude's not human."
If the world didn't know that Sunday, they certainly found out Monday.
Frankly, it's amazing that someone wasn't seriously injured.
Stanton was hitting balls so hard in Monday's Home Run Derby —€" one homer came off the bat at 120 miles per hour —€" that Major League Baseball had to be thinking that they should have sold a hardhat sponsorship to the game.
Stanton put up one of the greatest Derby performances in history, and it'd be difficult to refute the claim that it was the best we've ever seen. Regardless of its final place in history, we'll certainly remember Stanton's moonshot-laden night alongside Josh Hamilton's 28-homer round at Yankee Stadium, Bobby Abreu's explosion in Detroit, and Mark McGwire's exploits at Fenway Park and in Philadelphia.
Stanton shattered the record for home runs in a single Derby, hitting 61 Monday night. But it wasn't just the quantity, but rather the quality that stole the show. While some of his competitors were looping balls over the fence, Stanton was connecting with frightening cracks that, for a while, inspired more fear than joy in the Petco Park crowd.
In total, Stanton hit 27,187 feet of homers Monday night —€" more than 5 miles' worth of dingers, with the average distance coming in at a stupefying 445 feet.
Stanton hit one straight out of the park Monday. He hit two balls 497 feet. He put one on top of the center-field batter's eye, and he made engineers cringe as he peppered the side of the Western Medal Supply Co. building in left field —€" would it be able to survive the barrage?
Stanton's performance was jaw-dropping and standard-setting. His top opponents, Todd Frazier and Mark Trumbo, had objectively tremendous nights —€" their performances would have been surefire winners against any other competition —€" but compared to Stanton, both looked … weak.
Yes, Giancarlo Stanton made Jumbo Mark Trumbo seem small.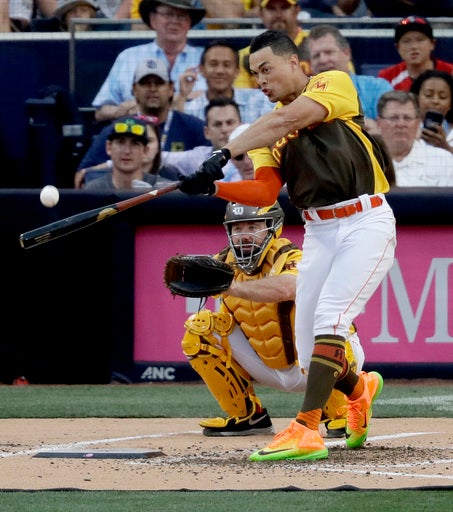 Stanton isn't an All-Star —€" not by the true definition, anyway —€" but he wanted to compete in the Derby this year, because, despite his seemingly limitless power, he turned in a dud performance in 2014, his only other time participating.
(A dud for Stanton includes hitting a 510-foot homer, by the way.)
Stanton was built for the Home Run Derby, just as Dominque Wilkins was built for the NBA's Slam Dunk Contest, and he wanted to prove it, so he traveled across the country to take part in an exhibition contest that could, if you listen to the naysayers, "ruin his swing."
He participated despite so many others declining to partake. Bryce Harper, who declared he wants to "make baseball fun again," passed on participating Monday because he wants to hit in parks that favor left-handed hitters.
Nothing says "fun" like gamesmanship in power-hitting exhibitions…
The Home Run Derby has its flaws —€" it can at times be painfully dull —€" but Stanton made every swing he took must-see TV on Monday. No matter the format of the event, as long as Stanton had a bat in his hand, baseball was unquestionably fun.
It was a performance that, once the initial shock wears off, makes you giddy. One that will be hard for anyone other than Stanton to top.
Stanton, who provided all 45,000-plus in attendance Monday, including Ramos, a new favorite tall tale, might have outdone himself.
Until the next swing, that is.