Getting to Know Ryan Merritt and Adam Plutko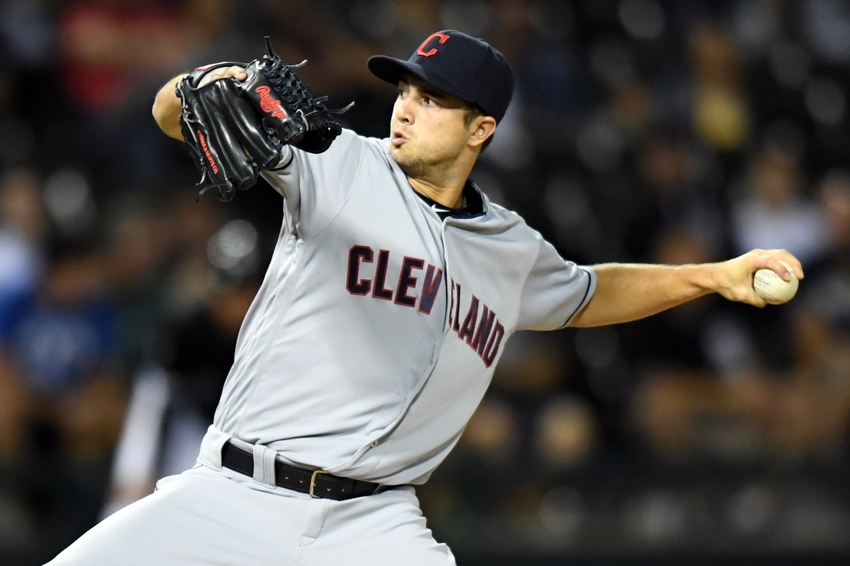 Two young starting arms earned September callups for the Cleveland Indians. So what do we know about Ryan Merritt and Adam Plutko.
Expanded rosters in September across Major League Baseball afford the opportunity of a rite of passage for young players throughout the minor leagues, as many get their first taste of the big leagues with a September callup. The Cleveland Indians are no exception, with seven players on the current active roster who have limited experience at the major league level.
Two of those players are among the most promising starting pitching prospects the franchise has, currently providing depth in the bullpen, in Ryan Merritt and Adam Plutko. We haven't seen much of them, and neither will be on the roster for the postseason, but both could play key roles for the Tribe in the future.
More from Wahoo's on First
Merritt, a 24-year old former 16th round draft pick in 2011, made his major league debut on May 30th, making a long relief appearance against the Texas Rangers on a day when Josh Tomlin was pounded. The lefty tossed 4.1 innings of shutout, one-hit ball, striking out two.
The scouting report on Merritt, according to The Baseball Prospect Book, reads like this:
Merritt is a stereotyped finesse lefty: fastball at 87-91, average curveball, average change-up, excellent control, low-maintenance mechanics, impressive pitching instincts, good record for durability.
In the time since, Merritt, the No. 29 prospect in the Cleveland organization according to MLB Pipeline, has gotten only two other opportunities, working a total of 1.2 innings and yielding a run on two hits.
2016 was the McLennan Community College product's first full season at the Triple-A level, and he was among the top starters in the Columbus Clippers' rotation. In 24 starts covering 143.1 innings, Merritt went 11-8 with a 3.70 earned run average, a 1.25 WHIP, and a 4-to-1 strikeout-to-walk ratio.
Plutko, the Indians' No. 13 prospect, received the big league call on September 20th after the season-ending injury to Carlos Carrasco. An 11th round pick in 2013 and former UCLA teammate of Trevor Bauer, Plutko is a big 6-foot-3, 200-pound right-hander who split the year about equally between Columbus and Double-A Akron.
Here's what our own Matt Bretz wrote about Plutko entering the season:
Plutko attacks hitters with his fastball that sits 90-92 though he did run it up to 94 at times at Akron. It's hardly the most overpowering fastball, but his ability to locate it can still make it a very devastating pitch. He has an amazing feel for his changeup and can be a plus pitch for him. He also throws both a slider and curveball with his slider being the better of the two breaking balls.
In a combined 161.2 innings covering 28 starts, he compiled a 9-8 record with a 3.73 ERA, with a WHIP of 1.22, and a batting average against of just .248. Where Plutko stands out, though, is in his ability to just pitch. He doesn't have overwhelming, blow-you-away stuff, but he throws strikes, as evidenced by his 130 strikeouts to just 46 walks in 2016.
The 24-year old was about two weeks removed from the end of his minor league season when the now famous call to the big leagues came, so he is still building his arm back up to make his MLB debut.
With a "bullpen day" scheduled for Saturday night's game against the Chicago White Sox, it is quite possible that both Merritt and Plutko will have their names called by manager Terry Francona out of the bullpen. Cody Anderson, who has been working in relief for the Clippers and Tribe since June, is getting the start, but will likely go no more than two or three innings, opening the door for the young guys to get some burn.
The experience that Merritt and Plutko are gaining in being with the big league club, regardless of how much they actually pitch, is invaluable to their development. As Cleveland has shown with Mike Clevinger this season, a minor league arm never knows when he'll get the opportunity to make an impact at the next level. The pair of young starters spending their September in the Indians' bullpen are in line to be the next to find out.
This article originally appeared on