#FOXSportsSalutes: Final day of Spring Training to the Troops
FORT BRAGG, N.C. —€" If education was at the forefront of Day One of FOX Sports' Spring Training to the Troops tour, then competition and adrenaline were the themes of Day Two.
Much like Wednesday, Thursday started bright and early, with current and former ballplayers and the FOX Sports Girls taking part in 6 a.m. physical readiness training, which included a gamut of crossfit-inspired exercises. But rather than heading to a boardroom after breakfast, the tour visited a perfectly good 34-foot-tall tower on post —€" and then jumped off of it.
Day 2.. 4:30 wake up again. PT at 5:30 here at Ft. Bragg NC. Bfast of champs #FOXSportsSalutes pic.twitter.com/Y3QrPrFe6v

— Mike Dunn (@DunnForAll40) February 6, 2014
Can't believe the experiences I'm having at @FortBraggNC! How high do you think I jumped from? #FOXSportsSalutes -C pic.twitter.com/AK66KQ19zE

— FS Wisconsin Girls (@FSWiscGirls) February 6, 2014
Former @Braves pitcher Chris Hammond takes a jump off the 34-foot Tower at @FtBraggNC. @FOXSportsSouth pic.twitter.com/0NSARIbj2c

— FOX Sports: MLB (@MLBONFOX) February 6, 2014
The three-story-high structure, which is used to help train Airborne soldiers before they're actually hopping out of planes and helicopters, saw nearly all of the girls and players leap in full parachute gear, only to be saved, after an initial free-fall, by an attached zipline that took them down to the opposite end of the field.
"Me and (FOX Sports North girl) Angie had breakfast with two soldiers this morning, and they gave us the advice to not look down," Morgan of FOX Sports South said. "I was serious about it, and we really did take that to consideration when they told us to tuck our heads."
"After (they told me to) leap, I couldn't do it," Angie added. "My foot on the edge was shaking, and I couldn't make that step. I don't know why because I knew it was safe. But finally I did, and after the free-fall, it was incredible."
Angie's fears were echoed by FOX Deportes broadcaster Jose Tolentino, who made the final jump of the morning despite a fear of heights.
"Before you jump, you think, 'Why would a human being jump off of a tower that is so high up into nothing?'" Tolentino said. "But then you remember, 'I'm with the best of the best,' and if the best of the best trust it, then you've got to trust it — it's really that simple. They defend my life already, so I can put my life in their hands. You know they've got your back, and really the jump becomes secondary."
Of course, Tolentino didn't escape completely unscathed. The whiplash from the jump caused his helmet to fly off, GoPro camera and all — he was the only jumper to lose his headgear — and the impact of his helmet coming off also left a scrape behind one of his ears.
"When I got over there, I asked if I was bleeding, and they told me it was just a scratch," Tolentino joked. "I was thinking, 'Well just a scratch for these guys; my ear is probably falling off,' but everything was fine, and we were all laughing. It was great."
After the tower jump, the convoy headed to Range 37, where players and girls learned to handle several military firearms, including an automatic rifle and a long-range sniper rifle.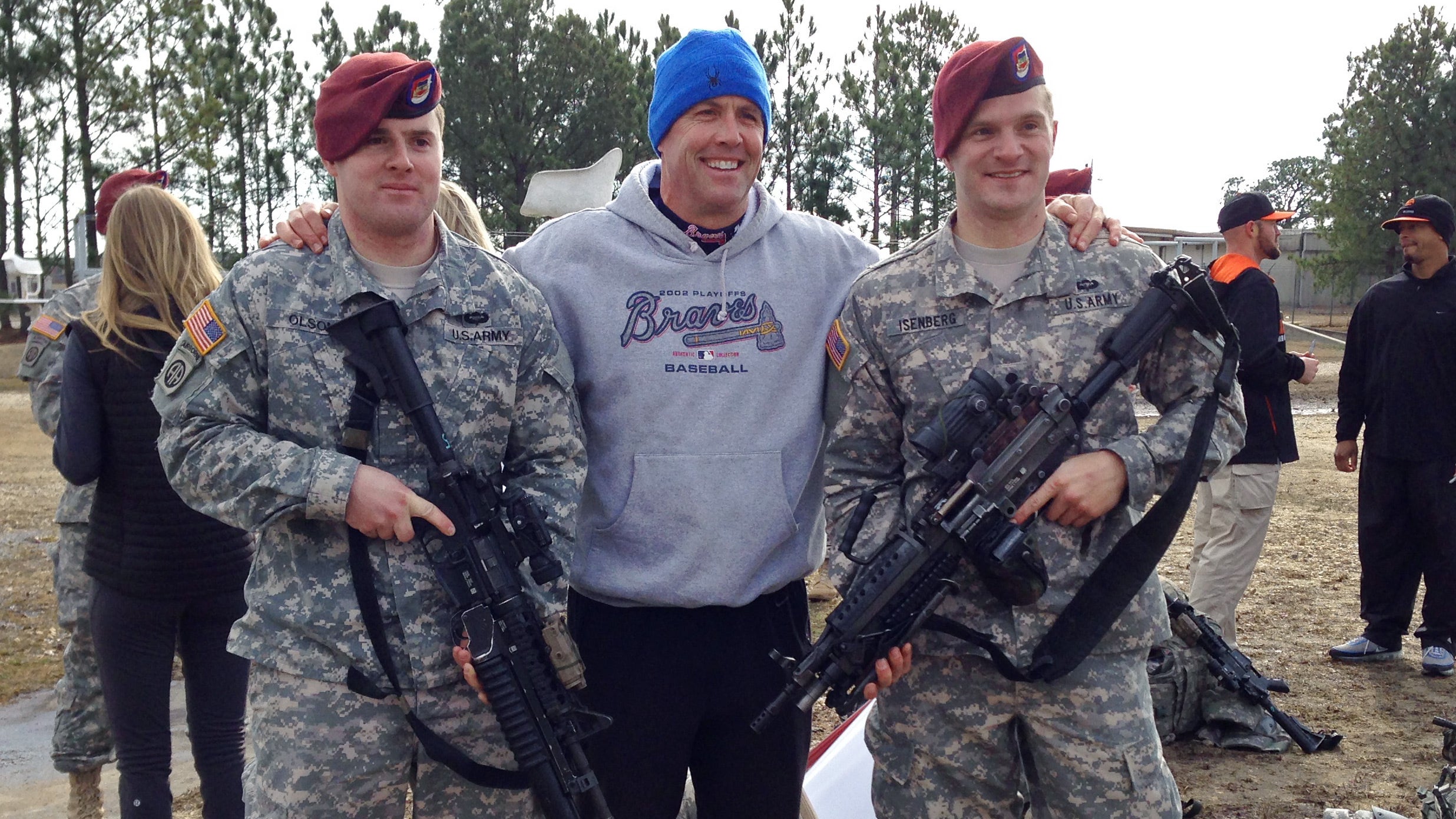 The group then watched a live demonstration of a military ambush before leaving for Ritz-Epps Physical Fitness Center for the highlight of the trip, a Wiffle Ball game between two squads comprised of soldiers, players and FOX Sports Girls — the Midnight Warriors drafted by FOX Sports Wisconsin girl Chyna and Bragging Rights drafted by FOX Sports San Diego girl Brie.
But before the teams could take the field in front of hundreds of fellow soldiers, FOX Sports Ohio girl Sara sang the national anthem to the crowd.
Sara first performed the anthem at a Cleveland Cavaliers game at the age of 14 and has been performing at Cavs and Cleveland Indians games regularly ever since. But she said Thursday's performance and her rendition of the national anthem at the 2013 Wiffle Ball game at US Army Garrison Grafenwoehr in Germany were by far the most nerve-wracking of her career.
"The reason we're singing that song is because of these guys and because of all the sacrifices that they've made," she said. "So it's always been a special song to me to begin with, but it's taken to a different level when you're here with the troops, in front of them."
Sara from the @FSOhioGirls gets things started by singing The Star-Spangled Banner. #FOXSportsSalutes pic.twitter.com/9zJ7koiSFq

— FOX Sports: MLB (@MLBONFOX) February 6, 2014
.@DunnForAll40 and the @FOXSportsGirls are ready for the 2nd annual Wiffle Ball game! #FOXSportsSalutes pic.twitter.com/chUf6JQJgq

— FOX Sports: MLB (@MLBONFOX) February 6, 2014
Sara said she makes a point, when singing the national anthem, to perform it as straightforwardly as possible —€" something she's especially conscious of when she's on a military installation like Fort Bragg.
"I don't put a lot of frills in it because I want to keep it in its simplicity, just because it's about the song, it's not about me, the person singing it," she said. "It's about the words and why we sing it, and I think keeping it simple and stripped down keeps it to that true meaning of what the song is.
"Last year, I had one of the high ranking officers slip me a challenge coin right after I sang it, and he told me, 'That's exactly how it should be sung.' I've always remembered that, and so when I sang it again today I tried to keep it simple and about the reason we are here."
Once the players finally got to play ball, the game quickly turned into a rout, with Brie's Bragging Rights team jumping out to a commanding 9-0 lead before finally winning 9-4. But more important than the final score was the experience, which brought the soldiers and their teammates together in a way few other activities on the trip could.
Hey @FOXSportsLive, look who we found at our @FtBraggNC Wiffle Ball game! @JayOnrait #FOXSportsSalutes pic.twitter.com/6e3Gh8Cj7W

— FOX Sports: MLB (@MLBONFOX) February 6, 2014
Former @RedSox infielder Royce Clayton battles the @Brewers Davey Nelson (and @josetolentino20). #FOXSportsSalutes pic.twitter.com/FIplo8O91U

— FOX Sports: MLB (@MLBONFOX) February 6, 2014
"Bragging Rights" won the Wiffle Ball Competition! -A #FOXSportsSalutes @FSSWGirls @FSD… http://t.co/y0MIDB3xEF pic.twitter.com/Nr99dCwwuQ

— FS North Girls (@FSNorthGirls) February 7, 2014
"I think you see their true colors (during the game)," Brie said. "Their competitiveness comes out, their excitement comes out, and we instantly bonded because we were all on the same team, we were all wearing the same shirts, we all had the same goal. So it definitely took our experience with these soldiers to the next level."
One of the Bragging Rights players who had the biggest impact —€" both on the field and off — was none other than Tolentino, who yanked a second-inning home run deep to left and was the team's most vocal leader on the bench.
"I was telling them, 'Hey, this is my world, so don't mess it up. We've got to win,' and that was the first time I really felt like I was giving them something," Tolentino said. "We've been with them the whole time, and now they get to be with us. All of a sudden we were all ballplayers, and it was awesome."
That sentiment was shared by seemingly everyone in the gym —€" even the gracious losers.
Kayla (@FSMidwestGirls) also has this @Royals fan covered with a jersey and @RexHudler1. #FOXSportsSalutes pic.twitter.com/CWJx5FGD2j

— FOX Sports: MLB (@MLBONFOX) February 6, 2014
Kayla from the @FSMidwestGirls has Willie McGee jerseys for these big @Cardinals fans. #FOXSportsSalutes pic.twitter.com/5Q1DJFRuzr

— FOX Sports: MLB (@MLBONFOX) February 6, 2014
"It felt like we were all in it together, which is exactly what it all comes down to," Chyna said. "We're all fighting this together, and we're all supporting each other. They were so thankful to have us visit them, which blows my mind, because we were so thankful to be able to be here, we were so honored, and the game reminded us that it's all about that unity."
That said, unity only takes you so far. Chyna also realizes that neither baseball players nor soldiers can turn off their competitive spirit, and if she's able to join the team on next year's Spring Training to the Troops tour, she's not confident that the Midnight Warriors' late rally to nix the Bragging Rights shutout will be enough to keep her job as skipper safe.
"I don't know," she said. "I think they might reconsider their options."