Fantasy Baseball: The Top 25 outfielders for 2017
Jason Evans/FanSided via Call to the Pen

Fansided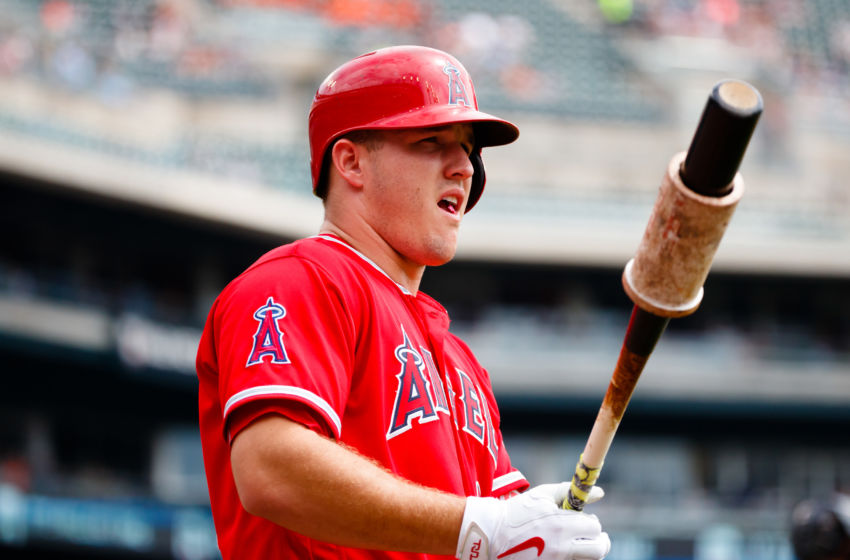 Who are the top 25 outfielders for 2017 Fantasy Baseball?
Over the next few weeks here at Call to the Pen, we are going to get you ready for your 2017 fantasy baseball draft. In this space, I've done some prospect diving, talking about prospects to target and then prospects to stash with a late pick who may help you down the road during the season.
Now it's time to get to the positional ranks. I'm going to give you top 10 rankings at all positions and then top 25 for outfielders and starting pitchers because there's just so many of them.
We've already gone over catchers, first baseman, second baseman, third baseman, shortstops and today we are going to take a look at the top 25 outfielders for the 2017 fantasy baseball season.
For each player, we will give you their stats from last season, as well as their Steamer projections per Fangraphs, to give you a rough idea of what you can expect to get from each player.
You could have as little as three outfielders in your lineup, depending on how your league is set up. Plus, if you have utility spots, you can put an extra outfielder there to give your team either more power or more speed.
Outfield has some of the best hitters in the game, including the best player in the sport (but more on him later). Having talent and depth in your outfield can make up for a shortcoming at another position offensively.
So who are in the top 25? We start with the man who led the AL in homers in 2016
25. Mark Trumbo– Baltimore Orioles
2016 stats: 159 games .256/.316/.533 47 homers 108 RBI
2017 steamer: 136 games .259/.318/.494 32 homers 90 RBI
Trumbo was a victim of a crowded first base/DH free agent market this off-season, and ended up staying in Baltimore for the next three seasons. Trumbo's best position is probably first, but with Chris Davis in the fold, that is not going to happen.
The Orioles got him for Steve Clevenger (and his twitter account) before last season and all Trumbo did was lead the American League in homers. Trumbo is a guy with tremendous power, who when right, can be a huge boost to an offense.
A big key for Trumbo was an increase in fly ball percentage to over 43%. In a hitters park like Camden Yards, elevating the ball is key, and if Trumbo can continue to do that, he should be able to provide your team with pop. He's going to strike out about 25% of the time, so if that is something you can live with on your team, go ahead and draft him and hope he continues to hit 30+ homers like he's done in the past.
24. Jackie Bradley Jr.- Boston Red Sox
2016 stats: 156 games .267/.349/.486 26 homers 94 RBI
2017 steamer: 137 games .261/.338/.439 16 homers 66 RBI
Part of the Boston Red Sox youth movement earlier in the decade was letting Jacoby Ellsbury leave as a free agent (cue every New York Yankees fan crying) and letting some of the younger prospects play like Bradley and spreading the wealth around. Bradley finally started paying some dividends offensively in his age 26 season.
It was a tale of two halves for Bradley though.
In the first half, he hit .296 with a WRC+ of 142 (league average is 100). The second half? He hit just .232 with a WRC+ of 90.
What you have to decide when you target Bradley in your fantasy baseball drafts is which is the real Bradley? The first or the second half? To me, it's probably somewhere in the middle. He is a guy with some pop (he added 30 doubles last season) but doesn't steal much (just nine last year)
Bradley shouldn't be the first outfielder on your team, but he could be a nice second or third outfielder as you round out the roster.
23. Michael Brantley– Cleveland Indians
2016 stats- 11 games .231/.279/.282 7 RBI
2017 steamer- 101 games .291/.359/.442 10 homers 53 RBI
If you really want to roll the dice and get a guy, who if healthy, is an excellent all-around option, you could roll the dice and hope Michael Brantley recovers from his shoulder injury. Brantley just couldn't make it all the way back last year and only appeared in 11 games. Now, with Brantley coming back along with the addtion of Edwin Encarnacion, it's an exciting time to be an Indian fan.
If Brantley is healthy, he is a guy who can give you 20 steals, 20 homers and 40 plus doubles. Brantley is behind so far in camp, but with this being a WBC year, Spring Training is a little bit longer which will give him more time to recover and get back.
You can also treat Brantley like a prospect in that he may not be ready to answer the bell Opening Day, but could be back in May for example, like a prospect being called up later on in the season.
Give it a shot and stash him. If it works, great, if not, dump him and pick up someone who is on a roll or breaking out.
22. Stephen Piscotty– St. Louis Cardinals
2016 stats- 153 games .273/.343/.457 22 homers 87 RBI
2017 steamer- 143 games .268/.333/.429 17 homers 70 RBI
The Cardinals were finally able to give Piscotty a full time shot in the outfield in 2016 and he rewarded them with some solid production in his first full season. He just turned 26 and also had a WRC+ of 115 and 35 doubles last season.
With Dexter Fowler now in the fold at the top of the order, it could lead to more RBI opportunities for Piscotty.
His K rate last year was around 20% which isn't bad. He was able to generate some more medium and decreased his soft contact rates from 2015. I think he has a great chance of matching and even exceeding his production from last season. The Cardinals have a way of drafting and developing guys and Piscotty seems to be that next guy
21. Kyle Schwarber– Chicago Cubs
2016 stats- no hits in five plate appearances
2017 steamer- 123 games .264/.353/.490 27 homers 73 RBI
Schwarber is a guy who when he hits them, they stay hit. He displayed that in the 2015 NL playoffs and when he made the unexpected comeback during the 2016 World Series for the Cubs, he looked like their best hitter and really transformed the lineup.
The big question with Schwarber is how much and where is he going to play. The Cubs have two catchers in Willson Contreras and Miguel Montero who are much better defensively. Schwarber isn't exactly Andruw Jones defensively in the outfield, but they are going to have to put him there in order to get his bat in the lineup and then probably take him out late in games for defense.
Schwarber, like Brantley, is going to be a bit of a fantasy baseball lottery ticket because we just don't know how much Joe Maddon is going to run him out there. When he is out there, he's going to provide a ton of power though.
20. Justin Upton– Detroit Tigers
2016 stats- 153 games .246/.310/.465 31 homers 87 RBI
2017 steamer- 145 games .260/.338/.474 27 homers 84 RBI
Upton signed a big money deal last off-season with the Tigers and has the option to opt out and re-enter the free agent market at age 30. Upton's September really saved what was not exactly his best season. Upton hit .292 with 13 homers and 28 RBI as the Tigers fell just short of making the playoffs last season.
Upton's walk rate decreased while his K rate increased by 3% each last season. If he can reverse that, he can easily reach those Steamer projections and even exceed them. His soft contact rate spiked 6% as did his pop up rate.
Now that Upton will be used to playing in Detroit, I think he has a chance to put up better numbers this season and Steamer tends to agree with that as well. He's one of the few players ever to put up 25+ homers in three straight seasons for three different teams. Playing on the same team in consecutive years should be something that helps Upton. Of course having a healthy Miguel Cabrera and Victor Martinez will help too.
19. Adam Jones– Baltimore Orioles
2016 stats- 152 games .265/.310/.436 29 homers 83 RBI
2017 steamer- 144 games .270/.312/.462 28 homers 85 RBI
The 31 year old Jones is one of the most consistent players in baseball and in terms of having him on your fantasy baseball team. Jones had had 20+ and 80+ RBI every year since 2011. Jones also has played in at least 135 games every year since 2010, so you'll know he'll be out there every day for you.
Jones slugging and WRC+took a dip last year as Jones WRC+ was below 100 for the first time since 2008. He did hit leadoff a ton last year, something Buck Showalter doesn't necessarily want him to do in 2017, which could help those power numbers go back up.
Another thing that could help is Jones pulling the ball more. Jones pull percentage dropped to just 40% which was his lowest since 2008 even though his flyball rate increased. If that can get adjusted, some of that power may return.
18. Jose Bautista– Toronto Blue Jays
2016 stats- 116 games .234/.366/.452 22 homers 69 RBI
2017 steamer- 123 games .249/.369/.485 27 homers 78 RBI
Bautista fought through injuries last season and didn't produce the kind of numbers that you are used to seeing from the 36 year old slugger. Because of that, he ended up having to take a one year deal with two options attached to it and is going back to Toronto with a little bit to prove.
Even with missing the time he did, he still had a WRC+ of 122, which is well above average in the power department. One of his issues though was the amount of soft contact he made. It was over 20% for the first time since 2011.
If he is fully recovered from his injuries, I think the power and production will be there, more than what Steamer projects. Bautista could see a little more time at DH with Kendrys Morales at first and Steve Pearce in right now that Edwin Encarnacion is gone.
17. Billy Hamilton– Cincinnati Reds
2016 stats- 119 games .260/.321/.343 3 homers 17 RBI 58 steals
2017 steamer- 127 games .248/.303/.343 7 homers 42 RBI 56 steals
If you want some elite speed on your fantasy baseball team, look no further than the guy who's probably the fastest in the game in Billy Hamilton. Hamilton had a career high in OBP last season and if he can ever get it above or close to .400, he may be higher on this list.
Hamilton is someone who will give you at least 50 steals on you fantasy team and if that is what you are looking for, you'll be hard pressed to find someone better.
You don't necessarily expect him to drive in runs, though 17 in 119 games is quite low and should jump up this season. His walk rate increased by about 2% and that's exactly what you want to see him do. As long as he can reach first, he cause all sorts of problems.
Keep an eye on how much the 26 year old reaches base. If the OBP improves, he could have a much better season than the projection.
16. A.J. Pollock– Arizona Diamondbacks
2016- only appeared in 12 games due to injury
2017 steamer- 138 games .281/.341/.440 16 homers 63 RBI 24 steals
The 2016 Diamondback season derailed right before it started when Pollock fractured his elbow right before the season started. He came back and then had to be shut down again after injuring his groin and wound up seeing just 12 games of action.
There are some risks in taking Pollock. He's played in over 130 games two out of the past four seasons. If he can stay healthy, you'll have a guy who can do everything for your fantasy team. Steal bases, provide pop and drive in runs.
His 2015 season showed what kind of potential he had and he'll be entering his age 29 season, which is right in his prime. I think Pollock, if healthy, will be more like the 2015 version where he hit over .300 with 20+ homers and almost stole 40 bases. He could be the NL comeback player of the year.
15. Nelson Cruz– Seattle Mariners
2016 stats- 155 games .280/.360/.555 43 homers 105 RBI
2017 steamer-141 games .264/.335/.498 33 homers 95 RBI
The 36 year old Cruz had his third straight 40 homer season and continues to be one of the elite power bats in all of baseball. I can't see him playing much outfield this season with all of the moves the Mariners made this off-season and that could help Cruz so he doesn't have to play the field.
Cruz will walk around 9% of the time and strike out around 24% of the time. He doesn't have the speed he once did, but you want Cruz to pop the ball out of the yard and get around 25 doubles as well, and that's certainly something Cruz should do this year for your squad.
I think the stats will lie somewhere between the steamer projection and what he did in 2016 and even if he does that, you'll be very happy that you drafted him.
14. Gregory Polanco– Pittsburgh Pirates
2016 stats- 144 games .258/.323/.463 22 homers 86 RBI 17 steals
2017 steamer- 140 games .265/.333/.433 18 homers 70 RBI 19 steals
Polanco was one of the top prospects in the game when he came up during the 2014 season to give the Pirates some pop out of right field. He struggled in his first season, got a little better in 2015 and took that leap forward during 2016, topping the 20 homer mark for the first time and has brand new extension that kicks in this season as the Pirates locked him up for the next five years with two option years.
Polanco will now play left thanks to the Pirates reshuffling of the outfield. On top of his 22 homers, he had over 30 doubles for the second straight season.
His stats are trending in the right direction, and I think Polanco should put up his first 20/20 season which makes him a valuable commodity in fantasy, and he won't turn 26 until mid September.
13. Yoenis Cespedes– New York Mets
2016 stats- 132 games .280/.354/.530 31 homers 86 RBI
2017 steamer- 136 games .264/.322/.482 28 homers 85 RBI
Few players can transform an entire franchise but Cespedes did that for the Mets during their 2015 run to the World Series. He is their best position player and the best hitter on the team to own for fantasy purposes.
I think Cespedes playing full time in left field will help the 31 year old stay healthy for the entire season and make him more like the player of 2015 where he hit 35 homers and drove in 101 runs.
One thing you have to like about last season for Cespedes was he got more patient. His walk rate went to a career high 9.4% while his K rate dropped. People have thought that Cespedes wouldn't be as good or locked in with a big money contract. The Mets gave him one this off-season, as he was the only free agent to get over $100 million. This may be a bit of a prove it year for him, and I think he responds well.
12. Andrew McCutchen– Pittsburgh Pirates
2016 stats- 153 games .256/.336/.430 24 homers 79 RBI
2017 steamer- 142 games .283/.378/.470 21 homers 80 RBI
Part of the reason the Pirates didn't make the playoffs for the fourth straight season is that their alphas didn't perform like alphas. One of them was Andrew McCutchen who saw a big drop in average, OPS and WRC+, way down from his recent MVP level performance.
He did look like he started to get it back in September when he hit .285 with 12 homers and 36 RBI to really help his overall numbers. His K rate spiked over 20% for the first time, so that is something to watch as well.
McCutchen would have been much higher on this list before last season and will move to right this season after having his worst defensive season of his career. I think his numbers will improve this season with the position switch. Right field should be easier on him defensively and it should help his offense get better as well.
11. George Springer– Houston Astros
2016 stats- 162 games .261/.359/.457 29 homers 82 RBI
2017 steamer- 140 games .258/.356/.461 26 homers 76 RBI
Springer excelled for the Astros at the top of the lineup last year and should be there again this season, which will keep his RBI numbers down but with the kind of offense the Astros should have, should keep his run scored total around the 116 he did last year if he can be durable this year.
Springer is another outfielder changing positions, this time moving from right to center with the additions of Josh Reddick, Carlos Beltran and Nori Aoki to the club.
His walk rate and K rate stayed the same from last year, and he started to pull the ball more last season, which could help his power numbers continue to spike, especially with how Minute Maid Park is constructed. He only stole 9 bases in 19 tries last year, something to watch this season.
10. J.D. Martinez– Detroit Tigers
2016 stats- 120 games .307/.373/.535 22 homers 68 RBI
2017 steamer- 138 games .273/.337/.486 26 homers 84 RBI
Martinez may be the best waiver claim by a team this decade as the Tigers got him for nothing and he's evolved into one of the best right-handed power bats in the game today. Martinez is entering is walk year and won't turn 30 until September.
His numbers would have been better had he not fractured his elbow last season and that may have prevented the Tigers from making the playoffs last season.
He was able to increase his walk rate while decreasing his K rate and increasing his power. That's what you want. He's able to keep his pull percentage and hard contact rate over 40% which is something to look for in power hitters as well.
I expect big production from J.D. and he should be someone who can help carry the offensive load on your fantasy team this season.
9. Ryan Braun– Milwaukee Brewers
2016 stats- 135 games .305/.365/.538 30 homers 91 RBI
2017 steamer- 125 games .280/.346/.492 24 homers 75 RBI
Braun has had an interesting past with an MVP win and steroid suspension, but Braun has put together back to back solid seasons over the past two years, including last year when he hit over 30 homers for the first time since 2012.
The 33 year old may not be a Brewer for the entire season, but he's been a solid player and is the face of their franchise right now.
Braun increased his walk rate while dropping his K rate to his lowest point since 2011. He'll also get you some steals as well. He went 20/20 just two years ago.
His groundball rate increased, but his pull percentage did as well, which may have helped his power numbers. He's in a great hitting environment, but he's going to need some help behind him in that order. Nonetheless, Braun should still be a solid pick this season.
8. Giancarlo Stanton– Miami Marlins
2016 stats- 119 games .240/.326/.489 27 homers 74 RBI
2017 steamer- 119 games .268/.363/.557 34 homers 88 RBI
Stanton has the ability to hit the ball literally out of every yard. He has the ability to be an MVP candidate every season. He also has the ability to be injured and make you feel like you aren't getting enough out of a premium pick.
Stanton's K rate and walk rate were about the same as 2015, but his chase rate rose. It's just his numbers were similar to 2015 except he played in 45 more games in 2016.
He is entering his age 27 season as the face of a young Marlins team that has some offensive talent around him (more on that later).
Stanton has only played in more than 140 games twice since 2011. You have to decide when you draft and use that premium pick on him if it's going to be worth it, since he will end up missing time at some point.
7. Carlos Gonzalez– Colorado Rockies
2016 stats- 150 games .298/350/.505 25 homers 100 RBI
2017 steamer- 140 games- .285/.344/.511 29 homers 94 RBI
CarGo is entering his contract year and does not show much signs of slowing down. The 31 year old played in over 150 games in back to back seasons for the first time in his career this past season.
Playing in Coors is something that helps Gonzalez, though it may just be that he is more comfortable playing at home. He hit ..320 with 18 homers 64 RBI and a .966 OPS. On the road, he hit .276 with seven homers 36 RBI and a .744 OPS.
His walk rate and K rates were about the same as they have been throughout his career.
I think the Steamer projection is certainly one that is reasonable. As long as Gonzalez is healthy, you can expect 25-30 homers out of him along with about 90-100 RBI. Having him as your top outfielder on your team isn't a bad way to go about filling out your roster.
6. Christian Yelich– Miami Marlins
2016 stats- 155 games .298/.376/.483 21 homers 98 RBI
2017 steamer- 141 games .294/.373/.456 16 homers 71 RBI
Yelich broke out in the power department last season, posting a career high in homers, RBI and WRC+. The 25 year old is displaying the ability that made him a first round pick back in 2010. Yelich will find himself playing centerfield for the Marlins this coming season.
He should get into the double digits in terms of stolen bases this year and has posted 30+doubles each year over the past three. One reason to explain the increase in power is that his pull percentages and hard hit percentages were the highest of his career.
Steamer doesn't appear to buy in, but I think Yelich's numbers are closer to last season than the projections. Sometimes it just clicks for a guy and Yelich has all the talent in the world. The question is whether or not he can make it last moving forward while playing centerfield full time.
5. Starling Marte– Pittsburgh Pirates
2016 stats- 129 games .311/.362/.456 nine homers 46 RBI 47 steals
2017 steamer- 129 games .289/.342/.447 14 homers 62 RBI 32 steals
Marte has emerged as one of the best outfielders in the game, and in terms of fantasy baseball, one of the best assets you can have on your team. He didn't produce the home run numbers he did in 2015, but he had a better OPS and WRC+ than 2015. Plus, he's going into his age 28 season.
Marte has power, like we discussed, plus the ability to hit .300 and steal over 40 bases.
The move to center is something to keep in mind for Marte. It does put more of a toll on your body, so how will Marte handle the transition?
Marte's BB and K percentage stayed about the same from 2015, however, his pull percentage dropped seven points and was identical to his percentage of taking the ball up the middle. If he can increase that pull mark, he should be able to produce more some more homers for you.
He is a guy you are going to have to get pretty early on in drafts, but you will be pretty glad that you did.
4. Charlie Blackmon– Colorado Rockies
2016 stats- 143 games .324/.381/.552 29 homers 82 RBI 17 steals
2017 steamer- 142 games .288/.366/.460 20 homers 67 RBI 23 steals
Blackmon broke out offensively last year posting career highs in all major offensive categories except steals. For a guy you usually expect to steal 20 bases, you got close to that except with 30 homers, a pleasant fantasy surprise, but one you'll have to pay for this season if you are a person who targets him over the past few seasons ( like I try to every year)
Coors didn't have a big effect on his numbers either. At home, he hit .335 wih 12 homers 47 RBI and a .939 OPS. On the road? .313 with 17 homers 35 RBI and a .926 OPS.
His walk and K rates were around his 2015 levels as was his pull percentage. Blackmon is more of a power threat than Starling Marte which is why I rank Blackmon here. You can't go wrong with either of them as building blocks for your team.
3. Bryce Harper– Washington Nationals
2016 stats- 147 games .243/.373/.441 24 homers 86 RBI 21 steals
2017 steamer- 139 games .286/.413/.531 30 homers 91 RBI 15 steals
Maybe Joe Maddon ruined his season with all those walks. Maybe he was injured last season. Who knows. The point is, Harper did not have a great followup to a 2015 season that was one of the best EVER for a 22 year old.
You have to remember that Harper is entering his age 24 season, some guys are just rookies at that age.
Harper hit into some bad luck last season. He had a BABIP of just .264 which is over 100 point drop from 2015. He did set a career high in steals with 21.
If Harper can finish 2017 between 2015 and 2016 that's an elite player in fantasy and one you will more than be happy with spending a late first or early second round pick on and someone who can help carry your offense this year. I would look for Bryce to bounce back this season.
2. Mookie Betts– Boston Red Sox
2016 stats- 158 games .318/.363/.534 31 homers 113 RBI 26 steals
2017 steamer- 146 games .310/.366/.516 25 homers 93 RBI 21 steals
Betts emerged in his age 23 season as one of the best players in the game and showed why the Red Sox wanted him to be a part of their core for the long haul. The power, speed and run scoring potential for Betts make him an obvious first round pick in fantasy baseball drafts this season.
Betts saw all of his numbers increase in his second full season in the majors. His walk rate slightly decreased, while his K rate did drop as well. His hard contact went up a couple points while his pull percentages remained the same.
You cannot go wrong with this guy as your first round pick. Our number one pick you will only own if you have the first overall pick in your fantasy draft this season.
1. Mike Trout- Los Angeles Angels
2016 stats- 159 games .315/.441/.550 29 homers 100 RBI 30 steals
2017 steamer- 146 games .303/.419/.568 33 homers 101 RBI 19 steals
Trout is the best player in the game and the best player to own in fantasy. I have the number one pick in the draft, I am taking him as soon as it starts and not even blinking.
Speed? 30 or more steals in three of his five seasons. Power? Three 30 homer seasons and four 30+ double seasons. His WRC+ have been above 165 every year of his career. He's scored over 100 runs every season of his career. He's also walked over 100 times twice in his career.
Trout increased his walk rate by four percent and cut his K rate by three percent last season.
So there you have it. The top 25 outfielders in fantasy baseball this season. Anyone too high or low? Snubbed? Leave a comment and let us know.
This article originally appeared on