Don't Be Blinded By Beard, Marlins Fans: It's Not The Issue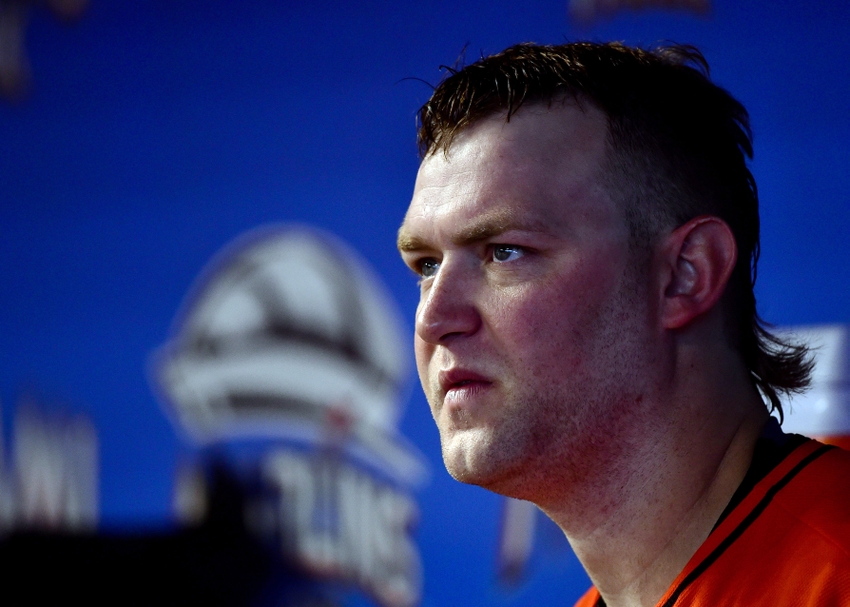 In the above picture, you see the face of a man who just tossed six innings of one-run ball without surrendering a walk after being acquired just before the 2016 MLB Trade Deadline.
In the eight starts since, Andrew Cashner has done just about everything possible to make the Miami Marlins wish they had just trotted Marlins Man out there instead.  Since that dominant no-decision debut, the veteran righty has posted a 1-4 record, surrendered 6 ER or more three times, and made it through the sixth inning once. By any estimation, he's been a profound disappointment.
Of course, one other groundbreaking event happened that I should have mentioned straight away. One that will explain away all of his poor performances, and have teams lining up around the block to secure his services this offseason.
The Marlins actually made him shave. SHAVE!  
Such a crime. Such a waste. Look at the luscious mane. Long ago, it should have been declared a national forest. Clearly that was the moment that sent his production off the rails. Just look at that scintillating 4.76 ERA he'd posted with the Padres up to that point.
Are you clean shaven right now? Good, go outside and throw a baseball. Tell me that doesn't feel at least twice as awkward as doing that with big, bloody blister does.
Apparently though, Andrew "Just Call Me Samson" Cashner does harbor some strong feelings about keeping that beard. So much so, that he's indicated that a team's facial hair policy will be a "big deal" in free agency this offseason. He goes on to specifically state he'd consider resigning with the Marlins if they scrapped the policy.
There's just one flaw in his carefully crafted negotiating strategy: Andrew Cashner is not good at baseball.
Put another way, his name isn't Jose Fernandez. If you factor in return on the dollar, it isn't even Mike Dunn, the other notable player to be shaved back in March. Cashner will cost at least $7 million next season, possibly more due to a weak market for starting pitching.
Has he done anything to make you want to see a low budget franchise such as the Marlins wrap up such a big chunk of their available dollars in him? If you were to snap your fingers, and have every pitcher in the organization back at full health right now, does Cashner make your Top 5?
I gotta tell ya, after watching Jose Urena this past month, I'm not sure that he does.
So as a member, like many of you, of that small community of true Marlins fans amidst a sea of local and national skepticism, I have some concerns that the team will take a big PR hit when they don't resign Cashner this offseason.
Want your voice heard? Join the Marlin Maniac team!
It's already started. The Marlins were recently lambasted in an ESPN article for the ineffectiveness of their major 2016 trades. And yea, this week, those San Diego imports feel a little bit useless. But writer Jerry Crasnick includes Cashner's facial policy views as a reason for criticizing the trade.
Don't get me wrong. There's a lot not to like, historically anyway, about how the organization is run. This feels forced though, undeserved. The beard isn't the problem folks. The problem is that Cashner has done nothing since coming over to justify keeping at the price he'll likely command.
My vote? Scrap the policy- then still pass on offering him a contract. Make it clear to everyone it's all about baseball. After all, back in March, a much more important pitcher did mention he wasn't too thrilled with losing his beard. Keep him happy, and let ESPN go back to just criticizing the Marlins for being cheap.
This article originally appeared on