Dodgers Split Doubleheader in Dramatic Fashion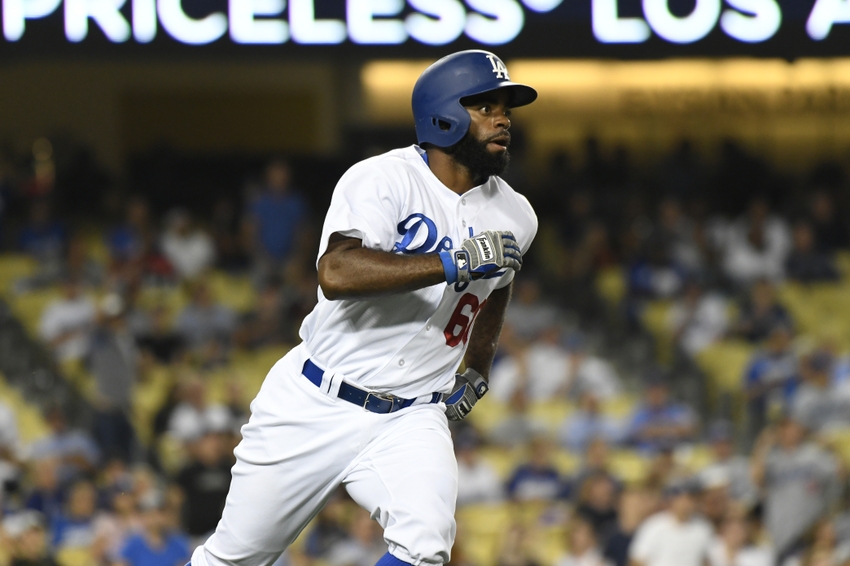 The Dodgers looked like they were going to get swept. Then, I had to rewrite this whole stupid recap.
Before the Dodgers headed over to Coors Field, some brilliant writer at this site said this (spoiler: it was me).
The Dodgers travel to Colorado for a three game set in Colorado. As always, I don't care if they get swept out there, as long as no one gets hurt.
Close enough.
Following a pathetic offensive performance on Monday, the Dodgers were rained out yesterday. This led to a day-night double header today, on what should have been their getaway day. The Dodgers dropped game one 7-0 and were on the verge of getting swept before pulling off a 10-8 victory in the finale.
Game One- Offense
On Monday, the Dodgers were an inning away from getting shut out for the first time at Coors since 2012. They scored in the ninth on Monday. This gave them the opportunity to get shut out in game one today.
The Dodgers had three runners in scoring position in game one. Adrian Gonzalez led off the second with a double, but Rob Segedin, Enrique Hernandez and Carlos Ruiz failed to bring him home. In the sixth, Howie Kendrick and Justin Turner singled to put runners on the corners, but Gonzalez and Segedin each struck out. Their final chance to score was in the seventh, when Hernandez walked and Charlie Culberson singled him to second. Again, with one out and two on, the next two Dodgers failed to put a ball in play, as Yasmani Grandal and Kendrick struck out.
Coors Field is a very hitter friendly ballpark. In order to activate the hitter friendliness, you have to, you know, put the ball in play. The Dodgers struck out eight times, four of which came with two on base. Hitting with runners in scoring position is one thing, but not even putting the ball in play helps no one.
Game One- Pitching
The offensive struggles were magnified by a rough go of it by the Dodgers' pitching. Ross Stripling actually had a half solid outing. Stripling allowed three runs in six innings. He allowed nine hits and only struck out two, but Stripling got himself out of trouble and kept the Dodgers in striking distance. For a rookie making his first Coors start, can't really ask for much more.
Casey Fien pitched the seventh and did Fien-y things. Someone (probably from Dodgers Digest) called Fien "Pedro Baez that doesn't miss bats", and that's pretty accurate. Fien allowed a solo homer in the seventh, the eighth he's allowed in just under 25 innings.
J.P. Howell got the eighth inning and made things worse. He allowed two singles, a double and a triple to give the Rockies three more runs.
Game Two- Offense
The offense broke out to begin game one, as Chase Utley led off the game with a homer to center.
The Dodgers struck again in the second, which began with a Grandal leadoff walk. He moved to second on a ground out, and scored when Andrew Toles drilled a double to right-center.
The offense went silent until the eighth, when back-to-back doubles by Gonzalez and Grandal made it 8-3. A walk and a single made it 8-4, and another walk loaded the bases for Kendrick. Kendrick hit a sac fly to make it 8-5, but Utley grounded out to end the threat.
The offense completed the comeback in the ninth, as Seager walked and Grandal singled. With two outs, Josh Reddick had the chance to be the hero, and he singled to score a run. Pederson walked to load the bases, which brought Toles to the plate. Andrew Freaking Toles (probably not his real middle name) hit the Dodgers fifth grand slam of the season to give them a 10-8 lead.
Game Two- Pitching
Rich Hill was supposed to start game two but he was scratched. He took his warmup tosses yesterday in preparation for his start, which never came. Rather than having him warm up again and risk reaggravating his blister, the Dodgers scratched him. He was reportedly fighting to make his start and is a likely candidate to start over the weekend at home, but the Dodgers kept him from starting today. Probably for the best, as a curveball-reliant pitcher at Coors coming off an injury seems like a bad recipe.
Bud Norris got the start instead. It did not go well. Norris walked two in the first inning and gave up a run-scoring single. He issued another walk, which allowed Stephen Cardullo the chance to hit with the bases loaded. On Monday, Cardullo singled for his first career hit. In game one, he hit his first career homer. In the first inning against Norris, Cardullo hit his first career grand slam.
A double play gave Norris a 1-2-3 second, but the Rockies struck again in the third thanks to bad defense. Gerardo Parra hit a one-out single to right, and Josh Reddick overran the ball allowing him to move to second. After a ground out, Norris got a grounder to Corey Seager that should have ended the inning. Instead, the ball went under his glove and Parra scored from second.
Norris was lifted for a pinch hitter after three unsuccessful innings. Roberts called it a bullpen game before the game started, so that was probably to be expected.
Grant Dayton relieved Norris and allowed only a walk in two innings. Jesse Chavez also threw a scoreless inning. Joe Blanton did not throw a scoreless inning, as he allowed a triple and a homer to give the Rockies an 8-2 lead Luis Avilan tossed a perfect eighth, which ended up being vital in their comeback. With a lead, Kenley Jansen got the ninth and struck out the side to end the game.
Other Stuff
The whole series was terrible until the last two innings. It's easy to be high on Toles' heroics right now, but the Dodgers still played horrible baseball for 25 innings. That being said, there could be some extra emotional boost with how they won the finale.
The Giants beat the Diamondbacks, so the Dodgers lead is a game and a half. The Dodgers are off tomorrow and the Giants travel to Wrigley for a four-game set with the Cubs. When the Dodgers return to play Friday, they'll either be one or two games up in the West. The Dodgers will open up a series against the Padres with Julio Urias on the hill.
Most importantly, the Dodgers are still mostly as healthy as they were when they got to Coors. Corey Seager had a wrist scare but it seems to not be an issue. Depending on Hill's blister, it seems the Dodgers survived Coors. They don't have to go back to that place until next season (unless the Rockies make a miraculous run), so that in itself is a huge win.
More from Dodgers Way
This article originally appeared on