Dodgers Rockies Game Two Preview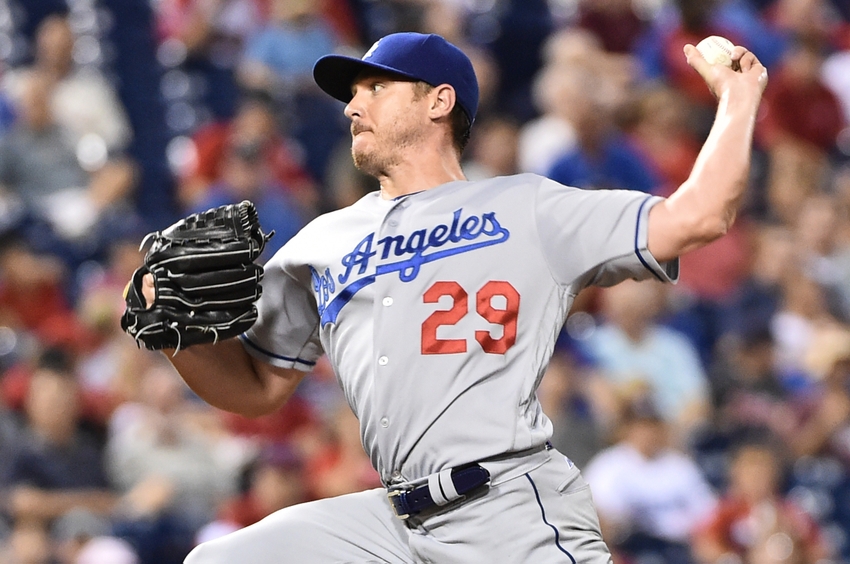 The Dodgers look for a third straight win in another audition start for the postseason.
Brett Anderson wasn't at his best yesterday, but he got through five and kept the Dodgers in the game enough to come back and take game one. The bullpen was dominant, Yasmani Grandal crushed the baseball and the Dodgers shrunk their magic number to three.
If the Dodgers take care of business and get some help from the Padres, they could clinch the West tomorrow. But first, they need to take care of the Rockies tonight.
Dodgers Starter
Much like Anderson last night, Scott Kazmir will return from the DL to make a start. Kazmir has missed about a month with a neck issue+setback, but returns tonight for his shot to make the postseason roster.
Kazmir's struggled for the most part this season, but he's had flashes of dominance. In 25 starts, Kazmir holds a 4.59 ERA/4.47 FIP in 135 innings. While his numbers aren't great, Kazmir was one of two constants in the Dodgers' rotation early on in the season (along with Kenta Maeda). He tossed at least five innings in 20 of his 25 starts.
Kazmir made two starts against the Rockies this year. The first came at Coors, and it didn't go very well. He allowed six hits and four runs in five innings and got a no-decision in that game. His second game came at Dodger Stadium, and he struck out 10 and allowed three hits and no runs in six innings.
Anderson Kazmir is an extreme longshot to make the postseason roster in any capacity, let alone start a potential must-win game. However, it would be irresponsible to not at least see what he can provide. He'll probably have two shots at it, and if he deals, the Dodgers might have a tough decision to make. Told you I would copy+paste that from yesterday's preview.
Rockies Starter
Is it just me, or does it feel like Jon Gray has started 30 games against the Dodgers this season?
Gray has only started four games against the Dodgers, but two of those came last month. He has allowed eight runs in those four games, but all those runs came in the first two outings. He had two scoreless outings against the Dodgers in August, both of which came at Coors.
He's been pretty solid against everyone. Gray has a 4.42 ERA but a 3.48 FIP. Unlike last night's starter Tyler Chatwood, Gray doesn't have crazy home/road splits. His ERA is actually .26 HIGHER on the road than it is at Coors.
Gray is a solid strikeout/walk pitcher, with a 25.8 percent K rate and an 8 percent walk rate. He's coming off back to back starts against the Padres with extremely weird results. At pitcher heaven Petco Park, Gray allowed five runs in four innings. In his last start at pitcher hell Coors Field, Gray threw a 113 pitch complete game shutout with 16 strikeouts.
Dodgers Lineup
Tonight's Dodger lineup:
Utley 2B
Seager SS
Turner 3B
González 1B
Grandal C
Reddick RF
Toles LF
Pederson CF
Kazmir P

— Los Angeles Dodgers (@Dodgers) September 23, 2016
Andrew Toles gets his second consecutive start in left. Howie Kendrick has been fine out there, but Toles has more than held his own in a small sample and gives the Dodgers some much-needed speed in their lineup.
In roster news, Chris Taylor is at the stadium and will likely be recalled soon. That will give the Dodgers 39 active players. The lone 40-man player not on the active roster is Brandon McCarthy, who will reportedly be activated before season's end.
Most importantly, tonight is Vin Scully night. If all goes well, next week will be very Vin-heavy at this site, so stay tuned for that.
First pitch is scheduled for 7:20 tonight. The delay is for Scully ceremonies, which begin at 6:30. All of this can be seen on SNLA, but for this weekend and next weekend's games, the game will also be shown on KTLA.
More from Dodgers Way
This article originally appeared on