Dodgers Joc Pederson: Can He Become a Viable Fantasy Threat in 2017?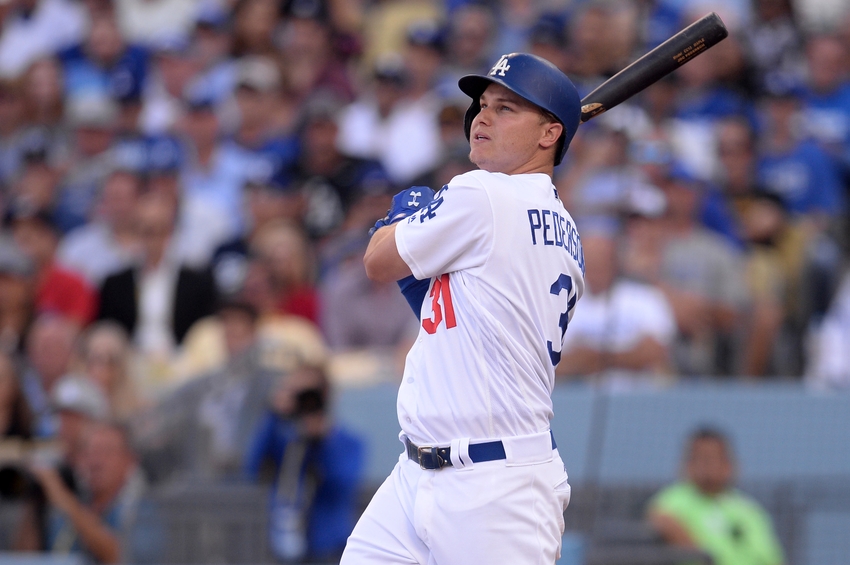 Joc Pederson propelled the Dodgers to the NLCS after homering late against the Nationals. But, could 2017 finally be the season he puts it altogether and becomes a viable everyday fantasy threat?
Joc Pederson has all the talent in the world. His raw talent is unquestioned, but he seemingly has not been able to put it altogether over one season. After his breakout this postseason, could 2017 be the year?
Pederson has 51 HR over his first two big league seasons. Yet, as great as the power has been, he has lacked in nearly every other category across the board. After a .210/170 K season in 2015, he rebounded this season to post a, .246/25 HR/68 RBI/64 R line. He cut his K total by 40, and notched 26 2B in the process.
While he did show improvement this season, the red flags still exist. Pederson still struck out over 100+ times in nearly 100 less at-bats than in 2015, and he still cannot pick it up and hit it versus LHP.
There is this current theme throughout baseball where platoons reign supreme. Somehow the Dodgers expect Pederson, who is still only 24-years-old by the way, to somehow learn to hit LHP without facing them. He had a ghastly .125 AVG against them, but in only 64 at-bats.
This situation kills his development, and fantasy value alike. The weekly production was just not there for owners to capitalize on, as it was nearly impossible to know when he would get enough playing time and produce at the same time.
With all those concerns in mind, there is still enough here for fantasy owners to give him another shot in 2017. At Dave Roberts and the Dodgers request, Pederson greatly improved his contact rate this season. He improved it from 66% in 2015, to 75% in this season. That near 10% increase was behind the AVG uptick, and the XBH jump.
Pederson has tinkered with his swing, it is still way too long, but he can negate some of that by continuing a more contact efficient approach. This does not mean he will start to turn into a slap hitter anytime soon, but it does show his willingness to get better.
In terms of playing time, one would have to think that Yasiel Puig and Andre Ethier are on their way out. Puig has been better since his demotion, but how many chances can the team give him? Ethier should have been dealt awhile ago, and while he can be bought out after the 2017 season, do not be surprised to see him dealt this offseason.
Josh Reddick will be a free agent as well, and he has not exactly lit up with the Dodgers since coming over. None of these options are CF by trade, but by eliminating some of the logjam, Pederson should be left alone in CF more next season.
Joc Pederson will remain an enticing fantasy option next season, especially coming off a season of improvements. Keep in mind as well, that Pederson finished in the top-6 of AVG HR distance last season at 412.1 ft., ranking him ahead of the likes of Mike Trout, Paul Goldschmidt, and even Mark Trumbo.
If the Dodgers let Pederson try to figure it out versus LHP, and he continues to improve his contact rates, look for him to finally put it together next season. He has legitimate 30 HR/100 RBI upside, making it hard to pass him up yet again.
Keep an eye on what the Dodgers do in the offseason, but Joc Pederson should once again be a mid round OF selection next spring.
More from Fantasy Baseball Crackerjacks
This article originally appeared on