Dodgers Diamondbacks Game Two Preview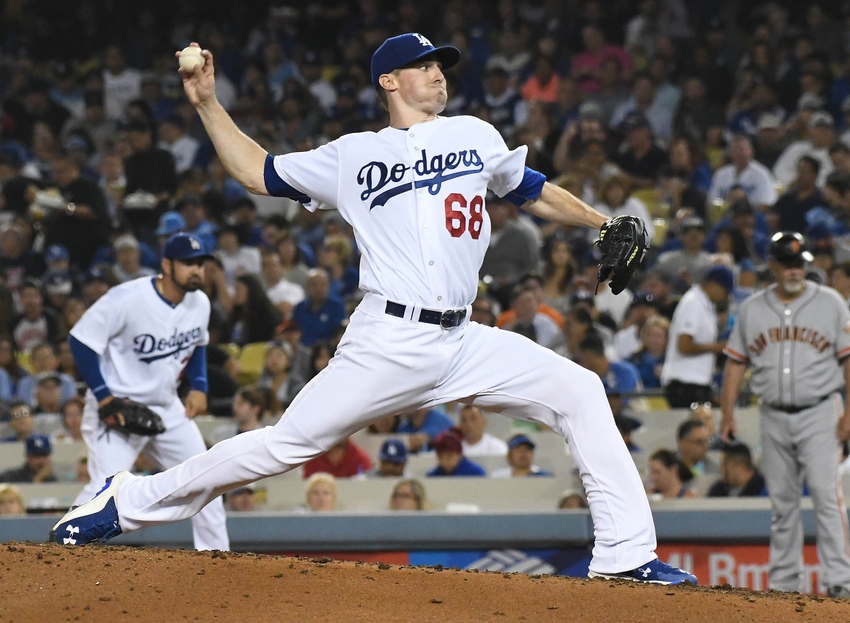 The Dodgers look to continue their hot hitting against another iffy Diamondback starter.
Last night's game was something else. I've always loved Zack Greinke and it hurt me to see him get booed by Dodger fans, but I'd be lying if I said I didn't enjoy the Dodgers lighting him up.
The Dodgers hitting five dingers was awesome. Kenta Maeda throwing a gem was awesome. Corey Seager, whom Grienke was a huge fan of, coming a triple shy of the cycle was awesome. And the Giants losing to put the Dodgers up four games was a cherry on top.
Do that again, Dodgers.
Dodgers Starter
Ross Stripling will make his 14th start of the season today. Only three pitchers have started more games for the Dodgers this season. Stripling has quietly been a very solid back-of-the-rotation option, with a 4.15 ERA/3.86 FIP. He's had a couple clunkers, but for the most part he'll give the Dodgers 5/6 innings of three run ball. With the amount of injuries the Dodgers have had, that holds a ton of value.
The Dodgers have lost Stripling's last four starts, with Stripling getting the loss in three of them. The offense has been shut out in each of his last two starts, so some run support for him would be nice today. He's not an exciting pitcher by any means, but he's a young, cheap, team controlled arm that should give the Dodgers some nice rotation depth moving forward.
The second start of Stripling's career came against the Diamondbacks at Dodger Stadium. He held Arizona to two runs and five hits in six innings. Stripling made a relief appearance against Arizona in a blowout win in July, and allowed two runs in 3.2 innings.
Diamondbacks Starter
Exhibit A of "why I love the Dodgers front office" is on the mound for the Diamondbacks today. There were people that wanted Shelby Miller in Dodger blue this year. For the right price, I did too. The Diamondbacks did not trade the right price. They traded a good starting outfielder (Ender Inciarte). That in itself, to me, was an overpay. They "threw in" one of their top pitching prospects (Aaron Blair) and their 2014 number one draft pick Dansby Swanson. For literally Shelby Miller.
Miller's past seasons indicated he was a very quality number three starter that showed flashes of being a number two. You don't trade that package for literally Shelby Miller.
Miller allowed 10 runs in his first 11 innings as a Diamondback. His next two starts didn't go too well either, as he tossed 3.2 combined innings, allowing four runs. His first quality start came in his seventh outing, a six inning, two run start in Atlanta. After his 10th start, Miller had a 7.09 ERA and hit the DL with a hurt finger. He came back for four starts and went five or more innings in each of those, but allowed 19 runs in 23.2 innings. The Diamondbacks sent him to the minors and recalled him at the end of August. He started in San Francisco and held the Giants to two runs in six innings, to bring his ERA on the season down to 6.81 for the season.
For Inciarte, Swanson and Blair. Thank you, Dave Stewart.
Miller is a career NL pitcher and has been in the Dodgers' division this season, but he somehow hasn't faced LA since the 2014 postseason. He won the Kershaw-hanging-curveball-to-Matt-Adams game that we've all Eternal Sunshine'd out of our memory.
Dodgers Lineup
Tonight's Dodger lineup:
Utley 2B
Seager SS
Turner 3B
González 1B
Grandal C
Reddick RF
Pederson CF
Toles LF
Stripling P

— Los Angeles Dodgers (@Dodgers) September 6, 2016
Pretty normal, except Howie Kendrick gets the day off. Andrew Toles starts in left, his first start since his Coors Field heroics a week ago.
Pedro Baez was recalled from Tulsa today, giving the Dodgers another arm in the bullpen. Brock Stewart will also be called up to start the finale tomorrow.
First pitch is scheduled for 7:10 PST and will be shown on Sportsnet LA.
More from Dodgers Way
This article originally appeared on