Detroit Tigers: Will Verlander, McCann, Kinsler or Iglesias Win a Gold Glove?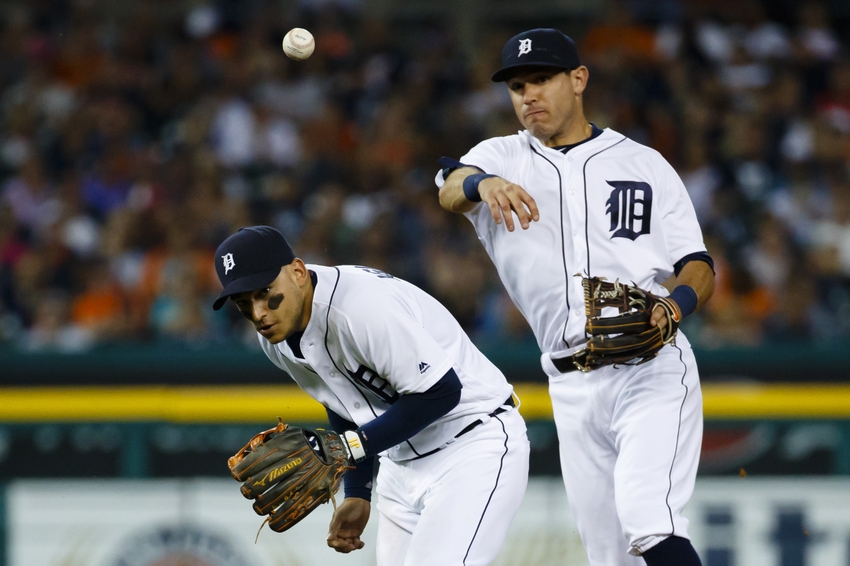 Detroit Tigers players Justin Verlander, James McCann, Ian Kinsler and Jose Iglesias were all named as one of three finalists for the Gold Glove at their respective positions. Will any of the four win the award?
Detroit Tigers rosters have generally been built around slugging, offensive-minded players. Sluggers like Prince Fielder and Victor Martinez have helped the Tigers find success, however the team hasn't always been the best fielding unit.
Things changed in some aspects in 2016 as the Tigers utilized an improved fielding unit.
The team has featured one of baseball's elite double-play duos in Ian Kinsler and Jose Iglesias, but James McCann, Miguel Cabrera and J.D. Martinez have all shown the potential to be above-average defenders in the past.
Kinsler, Iglesias, McCann and Justin Verlander were all announced by MLB.com as finalist for the Rawlings Gold Glove awards.
None of the four nominated Tigers have won the award before, but one can argue that Kinsler and Iglesias have certainly been deserving of the fielding honor in the past.
Here's a breakdown of the quartet of Detroit players and where they stack up against their fellow competitors.
Will any of the four Detroit Tigers players win a Gold Glove this year?
Justin Verlander
Position: Pitcher
DRS: 5
rSB: 2
Competition: Toronto's R.A. Dickey and Houston's Dallas Keuchel
This year's finalists for the American League Gold Glove at pitcher certainly have a history of taking home silverware.
Keuchel has won the award for the American League's best pitcher in both 2014 and 2015, while also taking home the Cy Young last season.
Meanwhile, Dickey took home the National League Cy Young in 2012 while pitching for the New York Mets. The veteran starter also won a Gold Glove in his first season with Toronto, back in 2013.
This is all without mentioning Verlander's considerable trophy cabinet. The future Hall of Famer has taken home just about every individual award possible with a Cy Young, an MVP award and Rookie of the Year honors on his resume.
Among the finalists, there isn't much separating the three.
Close Race
A DRS (defensive runs saved) of five may not seem like much, but Verlander finished tied for third in the league in the category. Dickey (six DRS) and Keuchel (seven DRS) finished just ahead of Detroit's resident ace.
In terms of rSB, a stat for pitchers and catchers relative to the running game, Verlander and Dickey finished tied atop the league leaderboard with a +2 number. Keuchel finished just behind the duo with at +1.
The trio are closely bunched in terms of advanced statistics, leaving no clear favorite. Dickey may have a slight edge based on the numbers, but it's slight at best.
However, given that the voting process, it's anyone's game. According to MLB.com, "Major League managers and coaches, voting only within their league and unable to vote for players on their own teams, account for 75 percent of the selection process. The other 25 percent goes to the sabermetrics community."
James McCann
Position: Catcher
Def: 14.2
DRS: 9
rSB: 7
CS%: 45%
Competition: Kansas City's Salvador Perez and Anaheim's Carlos Perez
If it weren't for Salvador Perez, James McCann would probably be a shoe-in for the Gold Glove among American League backstops.
McCann's Def, or defensive runs above average, of 14.2 is significantly higher than the next highest-rated catcher, Matt Wieters. Wieters checks in with an 8.4 Def number. However, Perez tops the list with a 15.5 Def, leaving McCann in second and Wieters in third among American League catchers.
It is a similar scenario in terms of DRS, or defensive runs saved. Perez checks in first with 11, while McCann ranks second with nine runs saved. Detroit's backup does lead the way in rSB (seven) with a number that outranks Perez' output (six) in the category.
While Carlos Perez of the Angels turned in a quality season behind the plate, it seems like a two-horse race at this point between McCann and his Kansas City counterpart.
Given his strong numbers and competitive fields elsewhere, McCann is probably the most likely of any Detroit Tigers player to take home a Gold Glove this season.
Ian Kinsler
Position: Second Base
Def: 10.8
DRS: 12
UZR: 8.5
Competition: Boston's Dustin Pedroia and Seattle's Robinson Cano
Since joining the Detroit Tigers in 2014, Ian Kinsler has solidified himself as arguably the best defensive second baseman in baseball. However, he doesn't have a Gold Glove to show for it.
Kinsler leads all second baseman with 51 defensive runs saved since the start of 2014. For reference, Pedroia was the next closest with a 36 DRS. Detroit's second baseman also ranks second in both UZR and Def.
Could this be the year Ian Kinsler finally wins a Gold Glove?
Potentially.
While he won't be robbed by Jose Altuve, who won the award last year despite Kinsler posting superior numbers, Detroit's leadoff hitter will have to go up against Pedroia.
Boston's longtime second baseman has won four of the last nine Gold Gloves at the position, and ranks right up there with Kinsler in a number of statistical categories.
The two are tied for the league lead with 12 defensive runs saved, while Pedroia holds a slight edge in Def, with his 14.8 numbers just beating Kinsler's 10.8 output.
Additionally, the rest of the league's second baseman are looking up at Pedroia and Kinsler, who respectively rank first and second in UZR.
Similar to the situation at catcher, Kinsler would probably be close to a lock if it weren't for Pedroia's strong numbers this season. Time will tell who ends up winning this award as it wouldn't be a shock to see some close voting.
Jose Iglesias
Position: Shortstop
Def: 17.6
DRS: 3
UZR: 11.6
Competition: Anaheim's Andrelton Simmons and Cleveland's Francisco Lindor
In any other scenario, Jose Iglesias would be the Detroit Tigers' best bet to win a fielding award.
The slick-fielding shortstop ranks eighth among all position players in defensive runs above average.
Unfortunately, five of the seven players ranked ahead of Iglesias play the same position. What's more, two of them are in the same league and were also nominated for the American League Gold Glove.
Iglesias also ranks highly among position players in UZR (16th) and UZR/150 (21st).
However, he's been grouped with two other excellent fielding shortstops in Lindor and Simmons. Both rank among baseball's elite defensive players, regardless of position.
In terms of shortstops in the American League, Detroit's starter finished third in Def and UZR. The two players to finish ahead of him? You guessed it, Lindor and Simmons.
Because of a stacked field and a strangely low DRS number from Iglesias, the Tigers shortstop may miss out on his first Gold Glove.
He'll no doubt be back in the running for this award on multiple occasions before he calls it a career, but he's been handed a tough draw this time around.
More from Motor City Bengals
This article originally appeared on