Detroit Tigers:What You Should Know vs Baltimore Orioles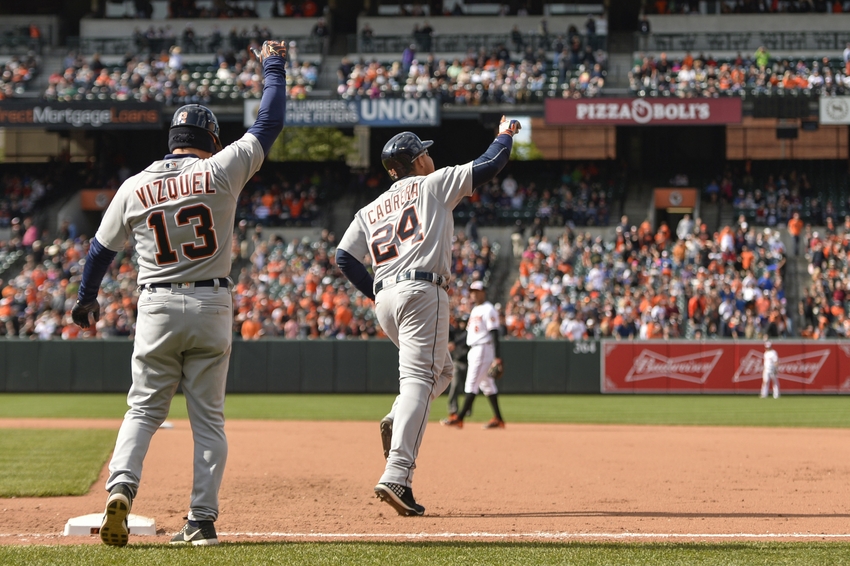 Detroit Tigers players head home after a series loss in Chicago. Miguel Cabrera and company will begin a series against the Baltimore Orioles on Friday. Here's what you should know.
Detroit Tigers fans are once again wrapped up in a pennant race.
After a down year, the Tigers are back in the thick of the playoff race. Thanks to a second-half turnaround, the team is in the thick of things in both the American League Central race and the race for one of the American League Wild Card berths.
With this weekend's series against the Baltimore Orioles kicking off at 7:10 PM ET on Friday at Comerica Park, the Wild Card race will likely come up a lot in discussion.
The O's currently sit in the second Wild Card place and just one game behind Toronto for the first of the two Wild Card places. Detroit, meanwhile, is just a game behind Baltimore.
This is all without mentioning the four teams (New York, Houston, Kansas City and Seattle) that sit within five games of Baltimore.
Suffice to say, there is plenty riding on the series for the Tigers.
Michael Fulmer will kick things off as he takes the mound on Friday night opposite Kevin Gausman. Here's what you should know heading into the series.
Baltimore's Rotation Isn't Very Good
This isn't the place for sugarcoating, the Orioles simply don't have a very good rotation.
Sure, they have plenty of options, like Yovani Gallardo, Gausman, Dylan Bundy, Wade Miley, Ubaldo Jimenez and Chris Tillman, but collectively they don't make a solid rotation.
Baltimore's staff currently owns the fifth-worst ERA in the league, the sixth-worst FIP, the fifth-worst xFIP and the sixth-worst SIERA. They're 18th in WAR.
Want more ugly stats?
You've got them.
Only five team's rotations have posted a higher collective WHIP than Baltimore's. San Diego is the only Major League ball club with a rotation that owns a higher walk per nine innings number than the Orioles. Buck Showalter's staff sits 18th in strikeouts per nine innings.
Essentially, you can make the argument that Atlanta has a better rotation than the Orioles statistically, despite the fact that the National League East team owns 23 more losses and are 173 runs worse in terms of run differential as a team.
On Friday, Detroit will face Baltimore's best starter in Gausman, and while he's pitched well this (9.12 K/9, 3.75 SIERA in 146 innings), he'll have to deal with the Detroit offense.
In four career starts, Gausman is 1-1 with a 4.91 ERA against Detroit. He's been tagged for 12 runs in 22 innings in those four starts. Ian Kinsler could be in for a monster game. The second baseman is 5-for-11 with a home run against the 25-year-old.
The Tigers will also match up with Jimenez and Tillman during the three-game set.
In 106 innings, Jimenez' season stats aren't as favorable as Gausman's. The former Colorado hurler has pitched to a 5.94 ERA. His FIP isn't awful at 4.43, but his 4.87 xFIP and 4.95 SIERA certainly aren't anything to write home about. Jimenez' 1.68 WHIP is the second worst in the league among starters with 100 innings pitched.
Rounding out the trio is Chris Tillman.
Despite a 15-5 record and a 3.76 ERA, the longtime Oriole's 3.41 walks per nine innings is one of the worst numbers of his career. What's more, his 4.57 SIERA and 4.49 xFIP suggest he's been worse than his initial numbers would advertise.
Jimenez will match up with Jordan Zimmermann, while Tillman gets a showdown with Justin Verlander.
Be Wary of Home Runs
While Baltimore's rotation has been far from dominant, the O's lineup has been—at least in terms of hitting the ball out of the ballpark.
The American League East club leads the Majors in home runs with 219. St. Louis is the next closest team with 202.
The O's obviously place a premium on hitting the long ball thanks to their personnel decisions.
Chris Davis is locked into a massive contract, and has responded with 35 home runs this season. Normally, that would a lead a team at this point in the season, but Mark Trumbo has outdone his fellow slugger with 41 long balls.
Manny Machado (34 home runs), Adam Jones (26), Jonathan Schoop (21) and Pedro Alvarez (20) represent four more power threats in Showalter's lineup.
However, all the home runs hasn't necessarily translated into a perfect offense. The O's have scored more than 100 runs less than baseball's leading offense (Boston). Additionally, they have struck out the 11th-most in the league. Chris Davis and company also rank 19th in on-base percentage and 21st in walk percentage.
Lastly, Baltimore is the worst running team in the Majors. They currently have 16 stolen bases as a team. By comparison, Cameron Maybin, in only 73 games, has 14 steals.
More from Motor City Bengals
This article originally appeared on