Detroit Tigers: Verlander and Cabrera – Let the Buyer Beware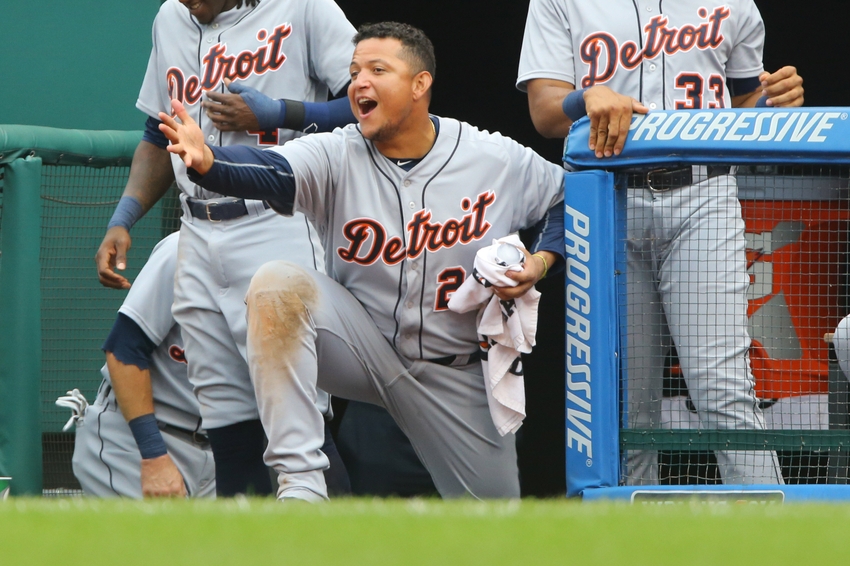 All indications seem to be pointing to the Detroit Tigers cleaning house and moving forward in a new direction. The Hot Stove is rampant with talk of both Miguel Cabrera and Justin Verlander being available via trade. For prospective teams, Cabrera should be met with a caution light and Verlander with a big red light. And here's why.
Pitchers Are Like Hummingbirds
Pitchers are like hummingbirds. They appear on your deck or patio out of nowhere and they create a symphony with wings flapping hundreds of times a second. A wonder of nature. And then, in another fleeting instant they disappear never to be seen again.
Their careers turn on a dime. The other day Joel Hanrahan announced his retirement from baseball following a three-year attempt to recover from Tommy John surgery. He was not the biggest name on the planet, but prior to surgery he did have two consecutive years of 40 or more saves for the Pittsburgh Pirates.
Pitching a baseball is also the most unnatural thing we could ever ask our bodies to do. The torque and the stress on the arm and shoulders when spinning off a 91 mph slider is beyond what our body was intended to do.
Justin Verlander, with the exception of one year in 2015, has never been taken down by injury. In fact, his durability is what has made him so valuable to the the Tigers. But durability means innings and innings mean pitches. And over the course of his 12-year career, Verlander has averaged 200 innings a season, which means that if he averaged 15 pitches per inning (a low estimate), he would throw 3,000 pitches a season and 36,000 to date over his career.
That should give pause to teams that are ready to give up at least two and possibly three major league ready prospects for his services through the year 2020, over which he is due to earn more than $100 million to satisfy his contract. And in 2020 Verlander will be 37 years old.
Oh, and by the way… when Justin Verlander gets home every night, he is greeted by supermodel Kate Upton. How many other players can lay claim to that? Not saying it's true, but is it not possible that he begins to see baseball as a "sidelight " sooner rather than later?
The Tigers Are in the Catbird Seat
More from Call to the Pen
The Tigers are not "dumping" Verlander like the Yankees might want to dump Brett Gardner or Jacoby Ellsbury in deals where the Yankees would have to eat a significant amount of money. Uh-uh, the Tigers want to steal your children. And if you want the services of a potential Cooperstown inductee, you're gonna have to pay for it.
Miguel Cabrera is a bit different. He's a hitter and the wear and tear on the body is not as exaggerated, especially where he has been at first base since moving over from third to prolong his career. So his 33 years of age are not the same as Verlander. But he will be 42 years old when the contract he signed with the Tigers expires and he is still due (I don't know, I stopped counting) around $200 million. How much is a hitting machine worth when measured against the kids in your system that at one time you thought were the greatest thing to come along since the internet?
Sometimes You Win, Sometimes You Lose
These are always hard decisions for a team to make. The Chicago Cubs virtually did give up the farm when they included Gleyber Torres in the deal for Aroldis Chapman, but by all accounts the trade succeeded for the Cubs and a world championship was won. Except that now Chapman could be on the verge of re-signing with the Yankees and the Cubs are right back where they started, minus Torres who is tearing up the Arizona Fall League.
So you never really know. But in the case of both Verlander and Cabrera there should be someone standing in the streets when the Winter Meetings occur in a couple of weeks with a sanity check on all GMs entering the hotel.
This article originally appeared on