Detroit Tigers: Top 10 Prospects Following 2016 Season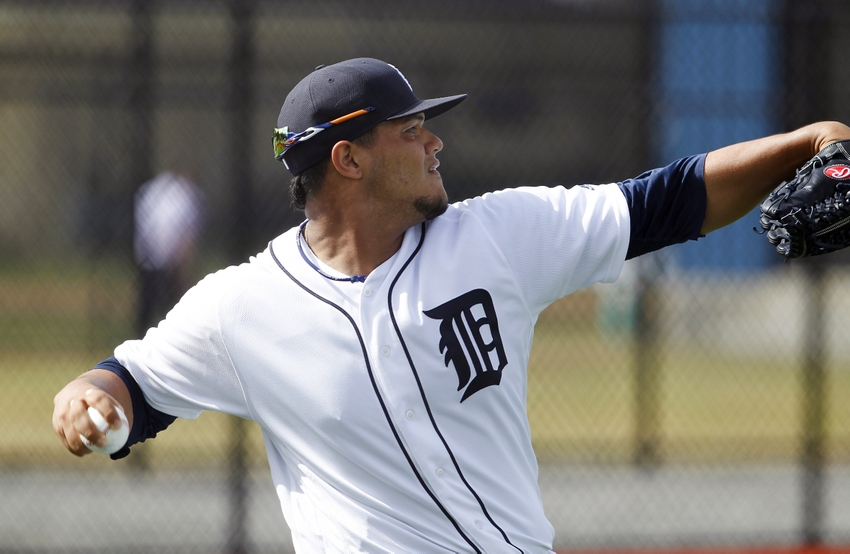 Detroit Tigers fans have routinely seen top prospects dealt for Major League upgrades. From Devon Travis to David Paulino, there have been a number of departures. However, things are different under Al Avila.
Detroit Tigers general manager Al Avila has not only taken on the task of rebuilding the Major League team since becoming the head man in Detroit's front office—he's also gone about rebuilding the team's farm system.
Much of the system was inherited from Dave Dombrowski, but through trades and kept draft picks, Avila has added some exciting talent.
In Michael Fulmer, Matt Manning, Daniel Norris, JaCoby Jones, Kyle Funkhouser and Matt Boyd, the Tigers have an exciting nucleus to build around for the future.
What's more, fellow minor league prospects like Jairo Labourt, Myles Jaye, Kody Eaves and Chad Bell all have a chance to potentially contribute to the Major League team down the road.
Avila has obviously dealt from his minor league system to make past trades, parting with Luis Cessa, Chad Green, Kade Scivicque and Javier Betancourt to help acquire Justin Wilson, Erick Aybar and Francisco Rodriguez.
Despite dealing some prospects, Avila has started to set Detroit up for the long haul with some promising prospects.
Here are the Detroit Tigers top 10 prospects following the 2016 season. All the players ranked have yet to make their Major League debuts—so that means that JaCoby Jones, Dixon Machado and Steven Moya weren't considered for the list.
Position: Starting Pitcher
2016 Affiliate: Erie SeaWolves
The Detroit Tigers first selected Tyler Alexander in the 23 round of the 2013 draft out of Carroll High School in Texas.
The left-hander didn't sign and would go on to pitch for Texas Christian University before Detroit once again selected him in the draft—this time in the second round.
Alexander has gone on to live up to his billing as a high draft pick, excelling at every stop he's made so far. In his first 37 innings for Connecticut in the New York-Penn League, the starter struck out 33 while only allowing five walks and four earned runs.
2016 Stats
As the calendar turned to 2016, the TCU product continued to pitch effectively. In 136.1 innings split between Lakeland and Erie, Alexander posted a stellar 2.44 ERA to go along with 105 strikeouts and just 20 walks.
Numbers aren't everything in the minors, but the fact that Alexander is pitching well with a low walk count bodes well for him in the future.
Future Role
Speaking of which, Alexander could very well end up starting for the Tigers in the future. He may never lead a rotation, but he has the ability and upside to stick in the Majors.
Position: Outfielder
2016 Affiliate: West Michigan Whitecaps
After hitting .234 for the Tigers' Venezuelan Summer League team in 2013, Jose Azocar followed it up with a .340 batting average in the same competition the next year. Since then, he hasn't stopped hitting.
In 58 games split between Detroit's Gulf Coast League and the New York-Penn League affiliates, Azocar batted .325 with a .350 on-base percentage.
The outfielder isn't much of a power threat, with just one home run in his professional career, however his hit tool makes him an intriguing prospect for the future.
2016 Stats
That hit tool was on full display last season for Western Michigan, as Azocar, who turned 20 in May, finished fifth in the league in hits while collecting 56 runs scored, 51 RBI, 14 stolen bases and eight triples.
Future Role
Azocar's hitting and speed combination should help him progress through the Tigers system and eventually make his debut in Detroit. The prospect's ability to handle center field certainly doesn't hurt.
All told, the Tigers have a number of intriguing outfield prospects coming through the system. However, Azocar's upside should allow him to crack Detroit's Major League roster sometime in the future.
Position: Starting Pitcher
2016 Affiliate: Lakeland Tigers
Turnbull missed a significant chunk of 2016 due to injury, but during the 12 starts he did make this season, the 24-year-old showed why he could be a fixture as part of Detroit's pitching staff.
2016 Stats
The starter posted a 3.45 ERA in 12 starts, striking out 39 in 44.1 innings pitched. These numbers were similar to the season he turned in back in 2015. During that campaign, the right-hander pitched to an 11-3 mark while recording a 3.01 ERA. He also fanned 106 batters in 116.2 innings pitched.
Future Role
If he continue to log innings for Detroit's minor league affiliates, he could very well end up in the Tigers rotation in the future. Turnbull's fastball-slider combination would play well as a starter.
The former second-round pick will have plenty of competition for a rotation spot once he reaches the point where he could be potentially called up. Detroit currently has Justin Verlander and Jordan Zimmermann under contract, while Michael Fulmer, Daniel Norris and Matt Boyd figure to be around for the long haul.
This is all without mentioning a handful of other names who will appear on this list who could compete with Turnbull. However, if the right-hander can pitch to his potential, it will be hard to keep him off the Major League roster when the time comes.
Position: Outfielder
2016 Affiliate: Erie SeaWolves
Since joining the Detroit Tigers organization as a 15th-round pick in 2014, all Mike Gerber has done is produce at the plate.
The ultra-productive (sensing a theme?) outfielder hit .298 with a .367 on-bae percentage in his first 65 professional games, stuffing the stat sheet in the process. During that year with Connecticut and Western Michigan, Gerber scored 44 runs while collecting 42 RBI, 19 doubles, nine stolen bases, seven home runs and four triples.
He followed that up with a stellar 2015 season for the Whitecaps. Over 135 games and 583 plate appearances, Gerber drove in 76 runs while scoring 74. He also managed a .355 on-base percentage while collecting 31 doubles, 16 stolen bases, 13 home runs and 10 triples.
2016 Stats
The 2016 campaign saw a promotion to both Lakeland and Erie, and it seemed that the step up in competition didn't faze Gerber. Over 132 and 563 plate appearances games, his stat line very much resembled the one he compiled a season before.
With both minor league affiliates, the 24-year-old hit .276 with a .345 on-base percentage, 80 RBI, 69 runs scored, 30 doubles, 18 home runs, eight stolen bases and six triples.
Future Role
If Gerber can continue to produce at the same rate he has during the last three seasons, he'll be a part of Detroit's active roster for years to come. It doesn't hurt that he can play all three outfield positions.
Position: Outfielder
2016 Affiliate: West Michigan Whitecaps
This very easily could have been Gerber's place in the rankings, but Hill's considerable upside as an elite table setter are hard to ignore.
A first-pick of the Tigers in 2014, Hill initially struggled with the bat, hitting .212, .203 and .238 at his first three stops.
2016 Stats
Despite the struggles, Hill turned in a solid campaign for Western Michigan in 2016. In just 93 games, the center fielder hit .266 with a .312 on-base percentage. In addition, he also chipped in with 31 RBI, 17 doubles, six triples and a home run.
While those numbers won't jump off the page, Hill's run scored and stolen base totals will. In just 93 games, the 20-year-old crossed home 66 times while stealing 35 bases.
Future Role
With that kind of speed, it's easy to imagine Hill hitting atop Detroit's lineup and setting the table for Miguel Cabrera and J.D. Martinez.
The outfielder is still years away from cracking the Major League roster, but when he does, he'll be there to stay. Should Cameron Maybin stick around for a few more years, he'll likely serve as a bridge to Hill, who is the Tigers center fielder and leadoff hitter of the future.
5. Kyle Funkhouser
Position: Starting Pitcher
2016 Affiliate: Connecticut Tigers
While the Detroit Tigers' first round pick in 2016 was protected should they sign any premier free agents, the team's second and third round selections were not.
Thanks to the signings of Jordan Zimmermann and Justin Upton, the Tigers next-highest pick came in the fourth round.
As it stands, Detroit may have come away with a steal in said fourth round.
Kyle Funkhouser, who was a first-round pick of the Los Angeles Dodgers in 2015, was selected by the Tigers.
2016 Stats
After 13 starts for Connecticut, the right-hander's numbers very much resembled those of a first-round pick. Over 37.1 innings, Funkhouser struck out 34 while only allowing eight walks. His ERA came in at 2.65 while in the New York-Penn league.
Future Role
If the Louisville product can regain the form that made him a first-round pick last year, Funkhouser will eventually pitch out of the Tigers rotation.
He joins a future rotation that will also consist of some combination of fellow 2016 draftee Matt Manning, Justin Verlander, Michael Fulmer, Daniel Norris, Matt Boyd and Jordan Zimmermann.
All of a sudden, the future is very bright for the Detroit Tigers.
Position: Starting Pitcher
2016 Affiliate: West Michigan Whitecaps
Yet another starting pitcher who will eventually factor into the rotation is Beau Burrows. A former first-round pick with two plus pitchers (fastball and curveball), Burrows has been nothing short of excellent in his first seasons in professional baseball.
The 20-year-old pitched to a 1.61 ERA in 28 innings as a rookie, striking out 33 while only walking 11 batters.
2016 Stats
The 2016 season brought more success for the Texas native, who registered a 3.15 ERA while walking only 30 batters in 97 innings. His strikeout total dipped to 67, but with a promising fastball-curveball combination, Burrows should see that number rise in the future.
Future Role
With Burrows, Manning and Funkhouser all likely to join Fulmer, Norris and Boyd in the rotation, Detroit will have some excellent starting depth. Expect Burrows to compete for and eventually win a starting job with the Tigers.
However, in the event that the right-hander is temporarily forced to spend time in the bullpen at the Major League level, similar to Drew Smyly a few years back, his pitching arsenal should help him find success there as well.
Detroit may very well have one of the best young pitching staffs in three or four years' time.
Position: Closer
2016 Affiliate: Toledo Mud Hens
The Detroit Tigers closer of the future came very close to pitching out of the Detroit Tigers bullpen last season.
2016 Stats
In what has quickly become the norm, Joe Jimenez dominated opposing hitters in the minor leagues. Over 53.2 innings pitched, the reliever racked up 30 saves while striking out 78 batters. If you're doing the math at home, that's good for 13.1 strikeouts per nine innings.
In addition, the reliever only walked 17 batters and allowed a mere 10 runs.
This run of fine form saw Jimenez reach Triple-A. At this point, it wouldn't surprise anyone to see the top prospect make Detroit's bullpen out of Spring Training.
Future Role
With dominant career numbers in the minors (including 13 strikeouts per nine innings, 52 saves and a 1.59 ERA), Jimenez will eventually close games for Detroit. Just as it is exciting to imagine the Tigers' future rotation, a bullpen pairing of Jimenez and Bruce Rondon holds the same appeal.
Eventually, Detroit will be able to turn to a pair of hard-throwing relievers with excellent off-speed offerings. The two have the potential to be one of the best late-inning combinations in the league.
After years of suffering through faulty bullpens, Tigers fans will eventually get an elite back end of the bullpen.
Position: Outfielder
2016 Affiliate: Erie SeaWolves
While there is plenty of potential in Detroit's pitching prospect, outfielder Christin Stewart has the upside to be a middle-of-the-order bat for the Tigers.
In 71 games spent at two stops in 2015, the 22-year-old hit .285 with 44 RBI, 44 runs scored, 13 doubles, 10 home runs, seven triples and five stolen bases.
2016 Stats
Stewart continued his assault on minor league pitching in 2016 by displaying even more power. The outfielder mashed 30 home runs and 24 doubles while driving in 87 runs. Despite a .255 batting average this past season, the outfielder makes up for it by drawing a healthy number of walks.
For his minor league career, the former first-round has walked 112 times while striking out only 199 times. Stewart's on-base percentage in 542 plate appearances this season was .386. This came on the heels of a 2015 season that saw him register a .372 on-base percentage.
Future Role
With excellent power and the ability to draw walks, Stewart has the ceiling to be a fixture in the middle of Detroit's lineup for a decade, if not more. Even if Justin Upton and J.D. Martinez stick around for the long haul, Stewart's bat will help him force his way into the lineup.
1.  Matt Manning
Position: Starting Pitching
2016 Affiliate: Gulf Coast League Tigers West
There is a very real possibility that the Detroit Tigers could have three ace-level pitchers in the future. Michael Fulmer has already pitched like an ace, while Daniel Norris shows flashes of pitching at the same level.
Detroit's third ace is 2016 first-round pick Matt Manning. Taken ninth overall, the towering right-hander showed extremely well in his first stint in professional baseball.
2016 Stats
The right-hander struck out 46 batters while only walking seven in just 29.1 innings pitched. He also held opposing batters to a .237 batting average over the same span. Manning's 3.99 ERA wasn't as sparkling as his strikeout rate (14.1 per nine innings), but he was making the transition to professional baseball. What's more, stats sometimes don't tell the whole story in terms of prospects.
Armed with a blazing fastball and an excellent power curve, Manning should continue to rack up the strikeouts throughout his minor league career.
Future Role
Should he live up to his outstanding potential, Manning will be a frontline pitcher for the Tigers. He may not be the actual number one due to the presence of Fulmer and Norris, but he has the upside to pitch like one.
This article originally appeared on