Detroit Tigers: Three Trades That Can Help Club Make 2017 World Series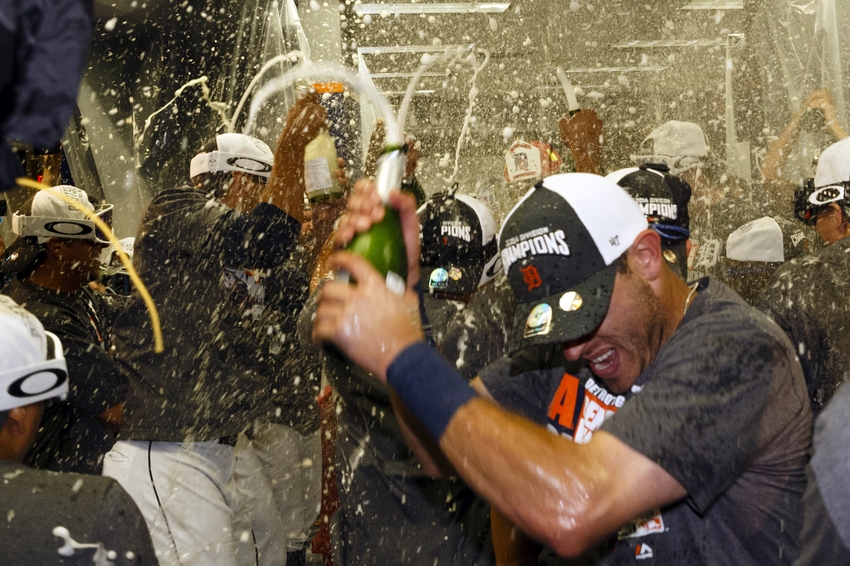 Detroit Tigers general manager Al Avila wants to make the team younger and more financially sustainable. While the strategy includes shedding salary, it's possible for Detroit to make the World Series.
Detroit Tigers fans will see a different team next season. With the days of bloated contracts coming to an end in the Motor City, general manager Al Avila could be busy this offseason.
However, the Tigers still have a chance to reach that coveted World Series next season. This obviously depends on the likes of Justin Verlander, Miguel Cabrera and Ian Kinsler sticking around, but if that happens, anything is possible.
Even if Detroit hangs on to the aforementioned trio, some players will be heading out the door.
J.D. Martinez, Cameron Maybin and Francisco Rodriguez seem the most obvious candidates to be moved, while transactions involving Anibal Sanchez, Mike Pelfrey and Mark Lowe aren't entirely out of the question either.
Should the Tigers shed some payroll, the team will still return an excellent core from which to build around. Michael Fulmer, Daniel Norris, Bruce Rondon, Nick Castellanos, James McCann and Jose Iglesias seem likely to stay given their youth and years remaining under team control.
What's more, key veterans like Verlander, Cabrera and Justin Upton will be difficult to trade given their contracts.
If the Chicago Cubs winning the World Series taught the world anything, it's that young talent can be crucial to a team winning it all.
Here are three trades the Detroit Tigers can make to get younger, cheaper and potentially reach the World Series next season.
The Houston Astros have plenty of depth in the infield and behind the plate, but are lacking in the outfield.
George Springer is the only real offensive threat in the outfield, where he will be joined by some combination of Jake Marisnick, Tony Kemp and Teoscar Hernandez next year.
Of the three, Hernandez had the highest wRC+ at 93, while Kemp and Marisnick came in at 71 and 58 respectively. By comparison, Anthony Gose' wRC+ was 69 last season—so in other words the Astros need help.
Detroit would pick up Maybin's option for next season and deal the veteran and his fellow outfielder J.D. Martinez to Houston.
Combined with the team's excellent infield, a starting outfield consisting of Springer, Maybin and Martinez will establish Houston as division favorites out West.
Speaking of the Astros talented infield, the Tigers would receive an exciting future piece in Bregman.
Drafted second overall in 2015, the infielder reached the Majors in 2016 and logged a 112 wRC+ and a .214 ISO in 49 games for Houston.
Despite his talent and production, Bregman is buried on the Astros depth chart. Fellow infielders Carlos Correa and Jose Altuve won't be moved off shortstop and second base respectively, while Yulieski Gurriel was just handed a hefty contract to handle third base duties.
Elsewhere, Houston employs Marwin Gonzalez at first base. Gonzalez is backed up by a pair of players who could be long-term fits at the position in A.J. Reed and Tyler White.
McCullers
The Astros will return Dallas Keuchel and Collin McHugh at the top of the team's rotation next season.
Additionally, Mike Fiers will provide quality innings, while ace reliever Chris Devenski could make the jump to the rotation after logging five starts last year.
All of this could make Lance McCullers attainable in a trade. The 22-year-old is undoubtedly talented, but the talent of Martinez and Maybin would make Houston a World Series contender.
What's more, the Astros will need to make room for highly-touted prospects Francis Martes and David Paulino.
Should the Detroit Tigers acquire McCullers, he'd join the team's other starters in forming one of baseball's most exciting rotations. With the likes of Verlander, Fulmer, Norris and Matt Boyd already under contract, Avila will be able to set his rotation for the better part of the next decade.
In 81 innings last season, McCullers registered a 3.00 FIP, a 3.06 xFIP and a 3.68 SIERA while striking out 11.78 batters per nine innings. That strikeout rate was helped by a 13 swinging strike percentage that ranked ahead of the likes of Verlander, Corey Kluber and Cole Hamels.
Rounding out the deal is Hoyt. The 29-year-old reliever made his Major League debut last season and missed a ton of bats.
Despite a 4.92 FIP in 22 innings, the rookie struck out 11.5 batters per nine frames while also turning in a 15.2 swinging strike percentage.
All three players are controllable through 2021 at the earliest.
The Boston Red Sox are in need of a designated hitter to replace David Ortiz. As it would happen, Victor Martinez is the perfect replacement.
Detroit's designated hitter is plenty familiar with Boston previously spent the second half of the 2009 season and the 2010 campaign with the club.
While Martinez rebounded nicely from a struggling 2015 campaign, he also showed that he isn't the same hitter who previously garnered MVP votes.
Despite hitting .289 with a .351 on-base percentage, Martinez turned in a 0.9 WAR and a career-high 90 strike outs. Additionally, the veteran's total of 50 walks was one of the lower stats of his career in the category.
Victor Martinez also continued to hurt the Tigers on the base paths, with a career-worst -11.4 BsR that was significantly worse than his 2015 output of -7.2.
What's more, Boston may be one of the few teams able to take on most or all of Martinez' contract.
Ross, Hernandez and Cosart
In return for Martinez, Detroit would receive three intriguing young pieces in Ross, Hernandez and Cosart.
Ross tossed 55.1 innings out of Boston's bullpen last season, compiling a 3.67 SIERA and a 3.27 FIP while logging a 10.7 swinging strike percentage. Controllable through 2018, the 27-year-old would give Brad Ausmus another set up option.
Hernandez, the other player in the trade with Major League experience, made his Major League debut last season. A former Cubs farmhand, the 25-year-old infielder hit .294 with a .357 on-base percentage in 40 games.
Over those 40 games, the rookie saw time at second base, third base and shortstop. He could make an impact off the bench for Detroit.
Rounding out the deal for the Detroit Tigers is Cosart. While still in the low minors, the 22-year-old reliever has intriguing upside and is well worth taking a flier on. Cosart held batters to a .172 batting average while striking out 104 in just 70.2 innings pitched. He has the look of a future rotation piece down the road.
Detroit's Offensive Outlook Following the Deal
While the trade would take away Miguel Cabrera's top protector in the lineup, Justin Upton and the still-developing Nick Castellanos will still be around to provide plenty of pop.
Dealing Victor Martinez also allows Bregman, acquired in the previously-proposed Houston deal, to play every day.
What position the infielder would play remains to be seen, but the rookie has experience at third base, second base and shortstop.
Detroit could rotate Castellanos, Kinsler and Iglesias at designated hitter to keep the infield fresh while Bregman fills in in the field. Miguel Cabrera could also benefit from a few extra games at designated hitter.
This would allow the Tigers to run more and avoid rally-killing double plays that Detroit's designated hitter would (19 GDP last year) often hit into.
Adding Hernandez (1.2 BsR) and Bregman (0.6 BsR) to the mix while subtracting Martinez (-11.7 BsR) would also do wonders for the Tigers on the base paths.
Should the Dodgers lose Kenley Jansen to free agency, they'd be an ideal fit for Francisco Rodriguez.
With the likes of Ross and Hoyt joining Detroit in previously proposed deals, Bruce Rondon or rookie Joe Jimenez could step into the closer's role next season. This would make Rodriguez an ideal trade chip.
The Dodgers have plenty of intriguing pieces to offer the Tigers, and Thompson stands out as a potential fit.
Stuck behind the likes of Joc Pederson, Yasiel Puig, Andre Ethier, Howie Kendrick and Andrew Toles on the depth chart, Thompson could step in right away and contribute.
In 80 games last season, the outfielder only hit .225. This was partly due to a.255 BABIP. However, this didn't stop him from turning in a .212 ISO that ranked ahead of the likes of Corey Seager and Adrian Gonzalez.
Adding Thompson also allows JaCoby Jones to be brought along at slower pace if need be. Detroit can slot the former White Sox player in center field while utilizing a platoon of Tyler Collins and Steven Moya in right field.
Getting full seasons worth of production from the likes of Thompson, Bregman, Collins and Moya will help make up for the loss of both J.D. Martinez and Victor Martinez.
What's more, the Dodgers trade would give the Detroit Tigers an intriguing batch of outfielders for the future.
Young outfielders like Thompson, Jones, Christin Stewart, Mike Gerber, Derek Hill and Jose Azocar all have the potential to make an impact at the Major League level.
More from Motor City Bengals
This article originally appeared on