Detroit Tigers: Three Potential Jose Iglesias Trades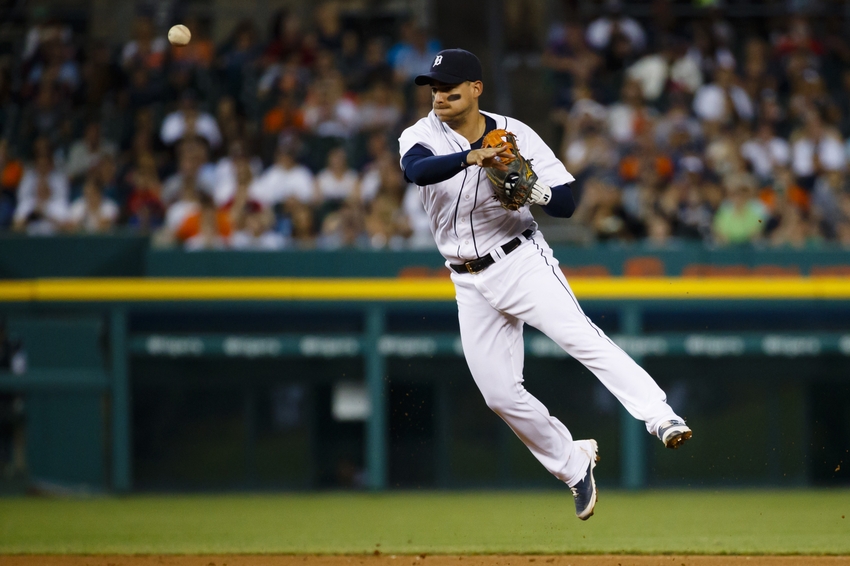 Detroit Tigers fans will see a different team come Opening Day as Al Avila looks to better position the team for the long haul. One player who could bring back intriguing pieces is Jose Iglesias.
Detroit Tigers infielder Jose Iglesias has long enjoyed a reputation as one of baseball's better fielding shortstops.
The player finished 15th among all position players in terms of UZR, and was named a finalist for the Gold Glove at shortstop in the American League.
The 26-year-old was also shows well at the plate, making solid contact at the plate (.303 batting average in 2013, .300 clip in 2015) while also striking out at a low rate.
Iglesias was the hardest hitter to strikeout in the American League last season with a 9.7% punch out rate.
While all this makes the former Red Sox a potential player to build around, Iglesias' talents could net the Tigers some intriguing talent to add to a young nucleus that includes Michael Fulmer, Nick Castellanos and Bruce Rondon.
Unlike many other positions on the roster (the right side of the infield comes to mind), Detroit actually has a ready-made replacement.
In-House Replacement
Dixon Machado's glove has probably been Major-League ready for the last handful of years. He's still developing at the plate, but defensively he has similar defensive upside to that of Iglesias.
The 24-year-old did show promise in 131 games with Triple-A Toledo in 2016, batting .266 with a .349 on-base percentage.
He only struck out 75 times while contributing a 106 wRC+, 59 runs scored, 48 RBI, 17 stolen bases, four home runs and a pair of triples.
Given the at-bats, it wouldn't be too much to ask for Machado to improve on Iglesias' 73 wRC+ from last season. By comparison, Anthony Gose finished with a 69 wRC+.
With Machado waiting in the wings, Detroit could flip Iglesias, who is projected by MLBTradeRumors to earn $3.2 through arbitration, for help in the bullpen or the outfield. There's also the possibility that the shortstop could be moved for prospects.
Here are three potential trades involving Jose Iglesias.
This trade is likely dependent on the Pirates moving Andrew McCutchen, as Pittsburgh's infield is filled out at present. However, if McCutchen is dealt, the team can move Josh Harrison to the outfield and slide Jordy Mercer over to second base.
In this scenario, Iglesias would take over at shortstop, where he provides similar offensive production to Mercer (89 wRC+) while serving as a significant defensive upgrade. Pittsburgh's shortstop's UZR (-8.4) left much to be desired.
Detroit's Side of the Deal
In return for Iglesias, Detroit would actually be taking on some money. However, it shouldn't be an issue in the long run.
Per Spotrac, Jaso will make $4 million next season before hitting free agency. The Tigers can either utilize the first baseman (111 wRC+, 0.6 WAR) as a bench cog, or find a taker for his salary in another trade.
With Josh Bell, the team's first baseman of the future, already finding success at the Major League level, Jaso is expendable.
In addition to the first baseman, Detroit would acquire two pitchers who could contribute right away.
Brault
Brault, a 24-year-old starter, made his Major League debut last season, registering a 4.86 ERA in 33.1 innings pitched. While that number doesn't inspire the most confidence, the former Baltimore farmhand did log a 10.1 swinging strike percentage.
He also owns a 3.91 career ERA and 10.2 strikeouts per nine frames at the Triple-A level.
The young starter could eventually make Jordan Zimmermann expendable if he can replicate his Triple-A numbers at the Major League level. At worse, Brault can be a reliable sixth starter for the Tigers who can provide quality innings when called upon.
Neverauskas
Rounding out the deal is Dovydas Neverauskas.
A hard-throwing reliever, Neverauskas mixes a blazing fastball with two solid off-speed offerings. In 58 innings split between Double-A Altoona and Triple-A Indianapolis, the right-hander posted a 3.10 ERA and 56 strikeouts.
He could slot into Detroit's bullpen as early as Opening Day.
What's perhaps most appealing about the hypothetical deal is the controllability of Brault and Neverauskas. Both could be long-term Major League contributors for the foreseeable future.
As it stands, the San Diego Padres are currently in need of rotation help and a shortstop.
Fortunately (at least in this hypothetical trade scenario), the Tigers have the pieces to help.
The National League West club is counting down the days until top prospect Javier Guerra is ready for the big leagues. However, the 21-year-old only hit .202 in the low minors and may need more years of development.
Adding Iglesias gives San Diego a young, impact shortstop to bridge the gap until Guerra reaches the Majors.
What's more, San Diego's rotation has been decimated by injuries and free agency, leaving Christian Friedrich and Jarred Cosart to head up an unproven group.
There's bounce-back potential in Sanchez, who often thrived in starts for Detroit before being lit up in the following appearance. The former Marlin could rebound in San Diego's spacious ballpark.
Additionally, Buck Farmer would give the Padres another rotation option as Robbie Erlin, Erik Johnson, Tyson Ross and Colin Rea all remain on the shelf.
Detroit's Side of the Deal
In return, the Tigers would receive three potentially useful pieces.
Leading the way is Quackenbush, who owns a 3.50 ERA in 172.1 innings coming out of San Diego's bullpen.
While the reliever—who logged a 3.92 ERA last season—wasn't nearly as effective as Brad Hand or Ryan Butcher, he could pitch in a role similar to Alex Wilson in Detroit.
Jankowski
The only position player heading to the Motor City in the trade, Jankowski helps the Tigers in a number of different ways.
Detroit's overall defense could use some help, as could the team's output on the base paths. With Cameron Maybin in Anaheim, there's also a need for a center fielder.
As it happens, Jankowski is a quality defender (12.9 UZR, 8 DRS in 2016), is an excellent base runner (30 steals and a 3.1 BsR last season) and plays center field.
With Manuel Margot coming through the ranks, San Diego will need to make room in center field. There may not be room for Jankowski with Hunter Renfroe and Alex Dickerson looking like long-term fits in the outfield corners.
In Detroit, the former first-round pick would allow JaCoby Jones to develop in the minors while also helping bridge the gap to the future of the position, Derek Hill.
Allen
While Quackenbush and Jankowski would be able to contribute right away, pitching prospect Logan Allen is a few years away. The left-hander doesn't blow anyone away with his fastball, but he mixes in three different off-speed offerings to keep hitters off balance.
In 62.1 innings spanning three minor league stops, the former Boston farmhand logged a 3.47 ERA and 47 strikeouts. He held opposing hitters to a .242 batting average at the plate.
Allen could eventually factor into the rotation discussion before all is said and done.
Detroit Tigers Acquire: Danny Farquhar and Brandon Koch
Tampa Bay Rays Acquire: Jose Iglesias
Just as with the Pittsburgh trade, this deal only works if Tampa Bay moves Evan Longoria. In this scenario, the team could shift Matt Duffy to third base, while Iglesias would start at his natural position.
In return, the Detroit Tigers would receive two relievers who can provide help now and later.
Detroit's Side of the Deal
Farquhar rebounded in Tampa Bay after struggling with Seattle in 2016. In 35.1 innings for the Rays, the former New York prospect delivered a 3.06 ERA and 11.7 strikeouts per nine innings.
Controllable through 2019, the reliever does have past closing experience in Seattle. With a career 3.41 FIP, he could thrive as a setup reliever in the Motor City.
While Farquhar will likely make Detroit roster before Koch, the former fourth-round pick has significant upside.
Ranked by MLB.com as the Rays' 19th-best prospect, Koch could be an impact reliever for the Tigers.
Koch throws a blazing fastball and a wipeout slider. While his pitching arsenal is limited to just the two pitches, the 22-year-old could join Bruce Rondon, Joe Jimenez and Victor Alcantara at the back end of Detroit's bullpen of the future.
More from Motor City Bengals
This article originally appeared on