Detroit Tigers: Three Potential J.D. Martinez Trades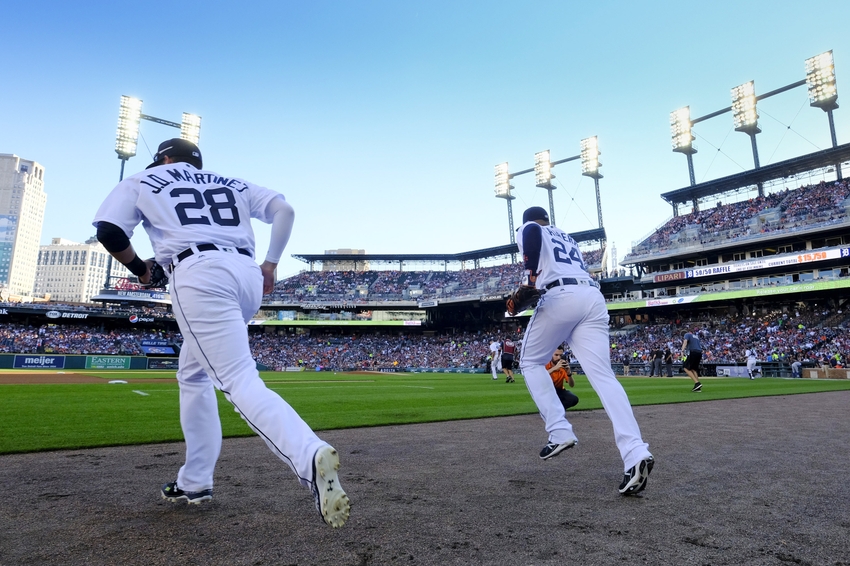 Detroit Tigers fans may not be seeing the same high-salary team for much longer. Here are three J.D. Martinez deals Detroit could make while staying competitive.
Detroit Tigers general manager Al Avila recently spoke with the media about the Tigers and the offseason. Per a tweet from MLive's Evan Woodbery, Avila was quoted as saying "Changes are coming."
Additionally, MLB.com's Jason Beck summed up Avila's meeting with the media in a tweet, writing, "Tigers GM Al Avila just finished end-of-season media session. Overall message: Tigers have to get younger, likely thru trades."
Another note from Avila's time speaking with the media regarded outfielder J.D. Martinez. The Detroit News' Chris McCosky tweeted, "Avila said at this point there were no plans to negotiate long-term extension for J.D. Martinez before 2017 season."
It remains to be seen if Martinez will be traded, but if the Tigers are looking to get younger and shed salary, the outfielder would be a prime candidate to be moved.
Detroit may have trouble moving Miguel Cabrera and Justin Verlander's contracts, while Victor Martinez is another player that could be difficult to deal.
Additionally, per Spotrac, Justin Upton has an annual no-trade list that consists of 20 teams. The same website notes that Jordan Zimmermann has a full no-trade clause through the 2018 season.
Of the remaining veterans, J.D. Martinez and Ian Kinsler are likely the most valuable. Going on that, Martinez is the more tradeable of the two given that he's only 29 years old.
Here are three trade packages the Detroit Tigers could receive in a trade for Martinez, whose contract expires after the 2017 campaign.
Scenario #1 Trade J.D. Martinez, Mark Lowe and a PTBNL to Philadelphia for infielder Cesar Hernandez, reliever Edubray Ramos, outfield prospect Nick Williams and pitching prospect Alberto Tirado
The Phillies are on the verge of contending and could use a veteran bat to anchor the team's lineup.
Enter one J.D. Martinez.
One of the small silver linings to any potential Martinez trade is that the Tigers might be able to get away with tacking on another contract to shed payroll. This means that someone like Lowe, Mike Pelfrey or Anibal Sanchez could be moved in the same transaction.
In return for the two current Tigers in this deal, Detroit would receive an exciting group of young players.
First and foremost is Williams, a consensus top-100 prospect who could serve as Martinez' direct replacement next season. A power hitting outfielder with good speed, Williams has a chance to be a standout player in Detroit. The outfielder hit .258 with 64 RBI and 52 extra-base hits in 125 games for Philadelphia's Triple-A affiliate last season.
In addition to Williams, Detroit would get two other pieces they could immediately slot onto the Major League roster in Hernandez and Ramos.
With top prospect J.P. Crawford knocking on the door, the Phillies could easily deal Hernandez, insert Crawford at shortstop and slide Freddy Galvis to second base.
Hernandez, capable of playing second base, third base and shortstop, is coming off a fine season for the Phillies. The 26-year-old hit .294 with a .371 on-base percentage, chipping in with 39 RBI, 17 stolen bases, 14 doubles, 11 triples, six home runs and a 3.3 WAR.
The infielder also graded out positively at both second and third last season. He'd give Detroit some insurance in the event that Ian Kinsler is moved.
Ramos
Also moving to Detroit in the hypothetical deal is Edubray Ramos. The 23-year-old reliever struck out 40 batters in 40 innings in his rookie season. Ramos also contributed a 3.37 SIERA and an 11% swinging strike percentage.
Both Hernandez and Ramos aren't yet eligible for arbitration.
Rounding out the deal is Tirado, an intriguing pitcher in the lower minors. The 21-year-old recently struck out 102 batters in just 64.2 innings of work. His combination of a blazing fastball and a solid slider has a chance to be effective at the Major League level.
Scenario #2 Tigers Trade J.D. Martinez and Anibal Sanchez to the Los Angeles Dodgers for starting pitcher Alex Wood, reliever Pedro Baez and infield prospect Willie Calhoun
The Los Angeles Dodgers currently employ Josh Reddick in right field, but his contract expires after the conclusion of the World Series. Should Reddick depart, it would leave some combination of Yasiel Puig, Alex Toles, Howie Kendrick, Andre Ethier and Enrique Hernandez as the only corner outfield options.
In other words, J.D. Martinez is a definite upgrade.
Detroit would also send Anibal Sanchez to the Dodgers in the hypothetical deal. If there was ever a team to take back a big contract as part of a trade, it would be Los Angeles. Because of this, Sanchez is added to the deal.
While the potential return is not as great as the proposed Phillies trade, getting out from under Sanchez' contract would be a massive win for the Tigers.
Still there is a lot to like about the three players in this hypothetical trade.
Potential Return
Leading the way is Wood, a starting pitcher with four years of experience in the Majors and a 3.32 FIP to show for it.
The former Atlanta pitcher was excellent when on the field for the Dodgers this season, posting a 3.48 SIERA and 9.8 strikeouts per nine innings. What's perhaps most intriguing about the 25-year-old is controllable through the 2019 campaign.
In addition to Wood, Pedro Baez is another player who can contribute right away. The controllable reliever (through 2020) owns a 3.37 FIP in 149 career innings. Baez seems to be turning a corner where strikeouts are concerned, with 10.3 punch outs per nine innings since the beginning of last year.
He could be a candidate to close if Francisco Rodriguez isn't retained.
Last but not least is infield prospect Willie Calhoun. A fourth-round pick in 2015, the second baseman is coming off a season in 2016 where he hit 27 home runs and 25 doubles at the Double-A level.
Calhoun also plated 88 runs. What is perhaps most encouraging about the power hitting prospect is the fact that he struck out just 65 times in 560 plate appearances. With plenty of pop and a low strikeout rate, Calhoun could find considerable success with the Detroit Tigers.
Scenario #3 Trade J.D. Martinez to St. Louis for pitchers Michael Wacha and Mike Mayers, pitching prospect Dakota Hudson and infield prospect Paul DeJong
The Cardinals got extremely homer-happy in 2016, finishing second behind the Orioles among Major League teams in home runs. With Brandon Moss and Matt Holiday's contracts coming off the books, St. Louis will need another power bat able to play in the outfield corners.
In return for Martinez, the Tigers would get four players with exciting upside.
A former first-round pick, Wacha excelled in the Majors over his first three seasons, posting a 3.48 FIP and a WAR of six. The starter's best campaign came in 2015 when he went 17-7 with a 3.38 ERA in 181.1 innings pitched. That performance helped him earn a place on the All-Star team.
However, things didn't go as smoothly during the 2016 season. Wacha's FIP only rose from 3.87 to 3.91 and he walked the same number of batters (2.9) per nine innings, but his ERA ballooned to 5.09 in 138 innings.
If he can find his pre-2016 form, the Tigers could come away with a steal. Wacha would serve as excellent insurance should Jordan Zimmermann or another veteran starter be dealt.
The only other player in the deal with Major League experience, Mayers allowed 16 runs, 16 hits, three home runs and three walks in just 5.1 frames of work with St. Louis last season.
However, the former third-round pick is only 24 and posted a 3.19 ERA in 144 minor league innings in 2016. He'd be a solid depth piece for Detroit.
The Two Prospects
Rounding out the hypothetical transaction are two high-upside prospects in Hudson and DeJong.
While not the biggest names in St. Louis' system, both could achieve their potential in the Motor City.
A first-round pick in 2016, Hudson throws a blazing fastball and some nasty off-speed offerings. With more than one plus pitch in his arsenal, Hudson has a high ceiling. He could find success in either the rotation or the bullpen.
In DeJong, the Detroit Tigers receive a versatile defender who has the potential to be an above-average contributor at the dish in the Majors.
The 2016 campaign marked DeJong's first full season at Double-A. While there he hit .260 with a .324 on-base percentage, 73 RBI, 62 runs scored, 29 doubles, 22 home runs, three stolen bases and two triples in just 132 games played.
More from Motor City Bengals
This article originally appeared on