Detroit Tigers: Three Potential Ian Kinsler Trades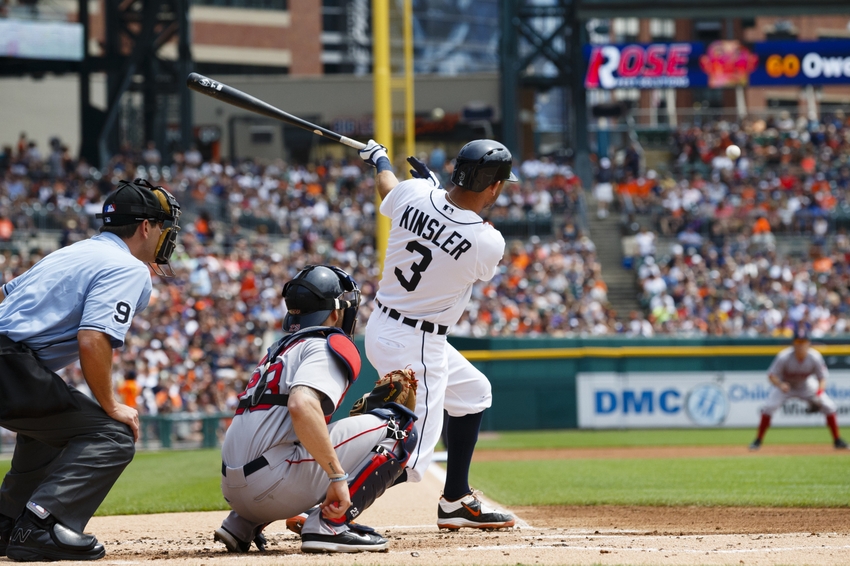 Detroit Tigers general manager Al Avila will be reshaping the team. Avila wants the Tigers to be younger and more cost-efficient. Here are three trades involving Ian Kinsler that would keep Detroit competitive.
Detroit Tigers second baseman Ian Kinsler has been one of baseball's best second baseman since joining the team before the 2014 campaign.
Since moving to Detroit in exchange for Prince Fielder, Kinsler has hit .286 with a .332 on-base percentage. Per season, he's averaged 184 hits, 104 runs scored, 83 RBI, 35 doubles, 19 home runs, 13 stolen bases and five triples.
The veteran's best campaign came in just last year when he mashed 28 home runs while driving in 83 runs. Kinsler also posted a .348 on-base percentage, his highest since 2011.
However, if Avila starts to move expensive contracts, Kinsler could conceivably be moved.
Obviously, the best case scenario would see Kinsler stay in Motown, but his contract makes him much more movable than the likes of Anibal Sanchez, Mike Pelfrey or Mark Lowe. What's more, Tigers could receive a premium haul of players in return for the 34-year-old.
While it still remains to be seen whether the Tigers actually deal Kinsler, here are three possible trade scenarios involving the second baseman. All three hypothetical deals would keep Detroit competitive next season.
Scenario #1 Detroit Tigers trade Ian Kinsler and Mark Lowe to the San Francisco Giants for infielder Joe Panik, pitcher Chris Heston and prospects Steven Duggar and Ray Black
While the San Francisco Giants didn't end up winning the World Series this season, they remain a championship contender heading into next season.
Sporting a payroll that includes a number of marquee names and substantial contracts, the Giants are built to win—and win now.
San Francisco's rotation is loaded with quality, while the team's lineup features standout performers like Buster Posey, Hunter Pence and Brandon Crawford.
However, one area where the Giants are in need of an upgrade is at second base. Joe Panik hit just .239 while posting an 89 wRC+. It was a definite down year for the 25-year-old, who hit .309 over his first two seasons. During those two campaigns, he fared much better in terms of wRC+, registering a 106 and a 136 in the statistical category.
In exchange for Kinsler and Lowe's contract, the Tigers would receive a package centered on Panik.
While San Francisco's second baseman isn't eligible for arbitration until after 2017, the Giants do have top prospect Christian Arroyo coming through the system.
The rest of the National League West club's infield is set with Eduardo Nunez, Brandon Crawford and Brandon Belt, so Kinsler could serve as a bridge to Arroyo while also providing an upgrade.
Additionally, Detroit would receive a potential rotation piece in Heston. Like Panik, he isn't yet arbitration eligible. The starter didn't pitch much in the Majors this season, but showcased how he can contribute to a team back in 2015.
Heston pitched to a 3.95 ERA and a 4.02 FIP in 177.2 innings while also logging a 1.5 WAR and a 12-11 record. He'd be a controllable swingman or starter with the Tigers.
The Prospects
In Steven Duggar and Ray Black, Detroit receives two prospects with the upside to be impact performers down the line.
While neither is among San Francisco's best prospects, the potential remains.
Duggar has the potential to make an impact with his both his speed and power, despite collecting just 15 stolen bases and 10 home runs last season. Already at Double-A, he could reach the Major Leagues by 2018.
The former sixth-round pick would give Detroit another outfield option to potentially replace J.D. Martinez or Justin Upton down the line. In his first full minor league season, Duggar hit .302 with a .368 on-base percentage 78 runs scored, 72 walks, 54 RBI, 28 doubles, 15 stolen bases, 10 home runs and eight triples.
Similar to Jairo Labourt in the David Price deal, Black is the lottery-ticket prospect here.
Despite a significant injury history, the right-hander has the upside to make his inclusion in the deal worth it for Detroit. Able to throw a baseball as fast as 104 mph, Black struck out 53 batters in 31.1 minor league innings last season.
The 26-year-old reliever also held batters to just a .159 batting average at Double-A. He could make his Major League debut sometime in the next two seasons.
Scenario #2 Detroit Tigers Trade Ian Kinsler to the Los Angeles Dodgers for outfielder Trayce Thompson, pitcher Alex Wood and prospects Austin Barnes and Mitchell White
Like their division rivals, the Los Angeles Dodgers have a top infield prospect close to the Majors in Willie Calhoun. Also like the Giants, Los Angeles' second baseman weren't exactly the gold standard at the position.
The Dodgers' group of second baseman finished 24th in the league in wOBA, 22nd in wRC+ and 21st in WAR. They also finished with the ninth-highest strikeout percentage in the league.
In other words, Ian Kinsler would be a fit to serve as both an upgrade over the team's incumbents and a bridge to Calhoun.
With starting second baseman Chase Utley scheduled to hit free agency following the World Series, the Dodgers need for a second baseman could be even greater.
The Trade
In exchange for Kinsler, Detroit would receive two controllable, young talents and a pair of intriguing prospects.
Thompson only appeared in 80 games for the Dodgers, but the outfielder flashed his immense upside. Able to play all three positions, the 25-year-old collected 32 RBI, 31 runs scored, 13 home runs, 11 doubles and five stolen bases.
He also slugged .436 and finished fourth on Los Angeles roster with a .212 ISO that ranked ahead of Corey Seager, Adrian Gonzalez and Yasiel Puig.
The former White Sox player could step in as Detroit's everyday center fielder before moving to a corner spot if J.D. Martinez or Justin Upton departs. In the event that Martinez and Upton aren't long-term fits in the Motor City, a future outfield of Thompson, JaCoby Jones and Christin Stewart sounds extremely intriguing.
Mentioned in a previous article as a player the Tigers could receive in a deal for Martinez, Wood owns a 3.29 xFIP and a 3.48 SIERA in his career.
Thompson is controllable through 2021, and isn't arbitration eligible until after the 2018 season. The 25-year-old Wood is controllable through 2019.
The Prospects
At 26-years-old and with 41 games of Major League experience under his belt, Austin Barnes isn't the exact definition of a prospect. However, he brings fascinating upside.
The former ninth-round pick is the rare backup catcher who can also play second and third base. That ability to play a multitude of positions could make him—at the very least—a utility option in Detroit for the next eight years. Barnes is a .299 career hitter in the minors.
Mitchell White is more of the traditional prospect.
Recently drafted in the second round of the 2016 draft, White has yet to allow a run as a professional. The pitcher has given up just seven hits, six walks and no runs while striking out 30 over his first 22 innings.
With a fastball that can hit the mid-90s, not to mention two promising off-speed offerings, White could make an impact as either a starter or reliever at the Major League level.
Scenario #3 Detroit Tigers Trade Ian Kinsler and Mark Lowe to the St. Louis Cardinals for Kolten Wong and prospects Zac Gallen and Corey Littrell
Somewhat similar to the San Francisco Giants, the St. Louis Cardinals' starting second baseman struggled last season. Kolten Wong hit just .240 with 23 RBI, a .115 ISO and an 85 wRC+.
While Jedd Gyorko stepped up with 30 home runs and a 111 wRC+ at second, St. Louis may need him to shift to third base, where Jhonny Peralta turned in a -0.5 WAR and a .305 wOBA.
Adding Kinsler would give the team a much improved infield that could propel the Cardinals to a deep postseason run.
In return, the Tigers would receive Wong, who despite the struggles has plenty of upside. From 2014 to 2015 the 26-year-old hit .257. Over the same span, he averaged 62 runs scored, 52 RBI, 21 doubles, 18 stolen bases, 12 home runs and four triples in 132 games per season.
Additionally, per to Spotrac, the infielder is on an extremely team-friendly contract. Wong is slated to make just $2.5 million in 2017.
Following that, he'll make $4 million in 2018, $6.5 million in 2019 and $10.25 million in 2020. His employers have a $12.5 million club option for the 2021 season that also comes with a $1 million buyout.
The Prospects
Heading to Detroit with Wong are two pitchers with the upside to contribute to the Major League roster.
A third-round pick in 2016, Gallen showed well in his professional debut this season. The right-hander allowed just seven hits in 9.2 innings while striking out 15 in rookie ball. He also posted a 1.86 ERA and has the look of a future starter in the majors.
While Gallen is a few years away from reaching the Majors, Littrell could pitch out of Detroit's bullpen next season. The reliever owns a 3.95 ERA in the minors. The former Red Sox prospect also fanned 8.5 batters per nine innings combined at Double-A and Triple-A last season.
More from Motor City Bengals
This article originally appeared on