Detroit Tigers: Three Ideal, Hypothetical J.D. Martinez Trades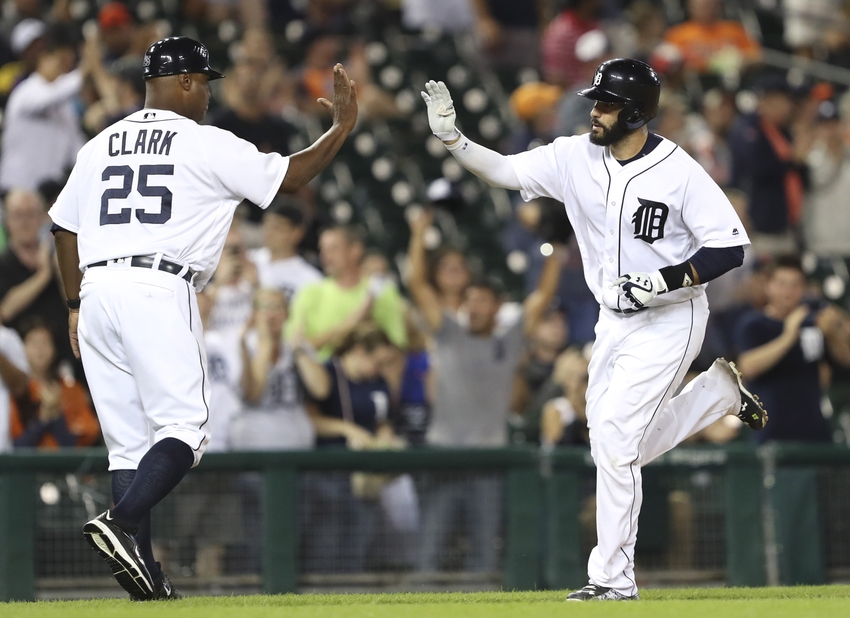 Detroit Tigers general manager Al Avila is changing how the team does business. The Tigers are looking to set up for a more financially-sustainable future, and that means hefty contracts could be dealt.
Detroit Tigers fans could see a new starting right fielder next season. J.D. Martinez is one of the team's best trade chips and could be moved to better position Detroit for the future.
In a perfect world, Avila and the rest of the Tigers front office would be able to unload Anibal Sanchez, Mike Pelfrey and Mark Lowe to save cash. However, the likelihood of all those moves happening is somewhat unlikely.
What is more likely is Detroit trading more movable veterans like J.D. Martinez, Ian Kinsler and Francisco Rodriguez.
It remains to be seen just what exactly the Tigers will do this offseason in terms of trades, but trading an impact player like Martinez could pay dividends.
There is no denying the slugger's impact. In just 120 games last year, the outfielder posted a 142 wRC+, a .384 wOBA and a .228 ISO. What's more, he collected 22 home runs and 68 RBI while hitting .307. His slugging percentage sat at .535.
While Martinez' power will certainly help Detroit if he stays, that same power will appeal to other teams.
Given the slugger's relatively affordable salary ($11.75 million next season, per Spotrac), Avila and company could bring in a premium return for the free-agent-to-be in 2017.
Teams could conceivably find Martinez a more appealing long-term fit than the current crop of free agents. With Yoenis Cespedes off the board, Jose Bautista (36) and Mark Trumbo (31) remain as the best outfield sluggers on the market.
Here are three ideal, hypothetical trades involving J.D. Martinez.
Speaking of Jose Bautista, the Toronto Blue Jays may have to find a replacement for the team's longtime slugger. The same can potentially be said of Edwin Encarnacion, who is also a free agent.
The Jays previously added Kendrys Morales, but the need for another bat remains.
With Michael Saunders also entering the free agent market, a corner outfielder with power is a definite need for Toronto. As it stands, Melvin Upton Jr. and Ezequiel Carrera are slated to flank Kevin Pillar in the outfield.
In other words, J.D. Martinez is a perfect fit.
Breaking Down the Trade
In addition to J.D. Martinez, the Blue Jays would also acquire Victor Martinez in this hypothetical deal.
Toronto can shift Morales to first base, install Victor Martinez at designated hitter and put the younger Martinez in right field.
All told, it would give the Jays two like-for-like replacements for Bautista and Encarnacion in Detroit's two sluggers.
Detroit's Side of the Deal
The Tigers would acquire just two Major League pieces in return, but the prospects could make a serious impact down the road.
Leading the way in terms of Major League players is Tepera, who notched a 13.8 swinging strike percentage in 18.1 innings for the Jays last season.
The reliever also posted a 3.69 FIP in the Majors and a 3.04 FIP in the minors last season. Based on those numbers alone, he could immediately step in to Detroit's bullpen.
Additionally, the Tigers would also bring back Smoak in the deal. The first baseman would be blocked in Toronto, and could be a bench cog in Detroit.
Per Spotrac, the ex-Mariner is owed $4.125 million each of the next two seasons with a $6 million club option for 2019. Avila could find it much easier to deal Smoak if he isn't a fit behind Miguel Cabrera.
The Prospects
The real upside in the deal comes in relief, where Detroit picks up four players with the potential to make an impact over the long haul.
Ramirez possess the most upside of the group, and could reach the Majors in the next few seasons.
A former top-100 prospect back when he was in the Pirates organization, the 22-year-old shows promising upside at the plate. Since beginning his professional career in 2012, the outfielder is a .306 hitter with a .364 on-base percentage.
What's more, his lack of strikeouts (just 66 in 99 games last year) should also help him reach the Majors.
Tellez
Like Ramirez, Tellez could reach the Major Leagues in the upcoming seasons.
The 21-year-old first baseman is coming off a 2016 campaign that saw him tear the cover off the ball.
In just 124 games four Double-A New Hampshire, the former 30th-round pick mashed 29 doubles and 23 home runs while plating 81 runs. He also added two triples while adding a .297 batting average and a .387 on-base percentage. His slugging percentage finished at a robust .530.
Tellez could be a long-term solution at either first base or designated hitter for the Tigers given his power.
Harris
A first-round pick of the Jays in 2015, Harris may not have the upside of former Jays and current Tigers Daniel Norris and Matt Boyd, but he has a chance to be a Major League starter down the road.
After going 0-5 with a 6.75 ERA and a 1.917 WHIP in 2015, the starter turned in an excellent 2016 campaign for low-minors teams in Lansing and Dunedin.
Over 24 starts spanning 129.2 innings pitched, the 23-year-old notched a 2.71 ERA. He won't strike out too many batters (7.1 career punch outs per nine frames), but he won't walk many either.
Last season, the starter walked just 38 totals batters, and has allowed just 59 free passes as a professional.
Fields
Not the most conventional prospect, the 26-year-old Fields still possess intriguing upside. A speed merchant who can wreak havoc on opposing pitchers and catchers, the outfielder stole 44 bases in 130 games four Double-A New Hampshire.
At worst, the Seattle native could make an impact and win games as a pinch-running threat for the Detroit Tigers.
J.D. Martinez began his career in the Houston Astros organization and spent parts of three seasons with the club before departing for Detroit.
Now, with the Astros going all-in, a return makes sense.
Houston has acted quickly this offseason, supplementing the team's already-talented roster with Josh Reddick, Brian McCann and Charlie Morton.
Adding Martinez to the mix would not only give Houston one of the league's best lineups, but also set the team up to win the American League West.
Breaking Down the Trade
The centerpiece of this deal would be Bregman.
A third baseman selected with the second-overall pick in 2015, the 22-year-old made his Major League debut last season. By and large, he didn't disappoint.
Also able to play second base and shortstop, Bregman hit .264 while collecting 34 RBI, 31 runs scored, 13 doubles, eight home runs and three triples in only 49 games. The former top prospect also posted a .313 on-base percentage to go along with a .214 ISO and a 112 wRC+.
The LSU product isn't close to being eligible for arbitration and would be a franchise cornerstone for Detroit.
Peacock and Rodgers
In addition to Bregman, Detroit would also acquire two potential rotation pieces in Brad Peacock and Brady Rodgers.
Neither will blow anyone away with a blazing fastball, but both have shown that they can effectively record outs.
Peacock turned in a 3.69 ERA in limited work as a swingman last year. At 28, he's more of a depth option. However, teams can never have enough quality depth.
The former Nationals farmhand is controllable through 2019 and has thrown 263.2 innings at the Major League level.
Elsewhere in the deal, Rodgers is yet another potential rotation piece. The 26-year-old put up a sparkling 2.86 ERA and a 12-4 record in 22 starts for Triple-A Fresno. He only walked 1.6 batters per nine innings over the same span, while totaling 132 innings pitched.
If he can continue to limit walks, Rodgers will have a future in the Majors.
Stubbs
James McCann will catch games in Detroit for the foreseeable future. However, after him the team's catching outlook isn't as clear.
John Hicks looks like a potential backup, but he's logged just 26 plate appearances at the Major League level.
Elsewhere, prospect Arvicent Perez is at Single-A Western Michigan, while Grayson Greiner only reached Triple-A for the first time late in 2016.
It remains to be seen if any of the three are long-term fits behind McCann, but Detroit could acquire a future deputy catcher in Garrett Stubbs.
An eighth-round pick in 2015, Stubbs is a .293 career hitter in the minor leagues. What's more, he's also a strong defensive presence. In 102 games, the backstop has thrown out a staggering 51% of would-be base stealers.
To top it all off, Stubbs, who also owns a lifetime .385 on-base percentage, is the rare catcher who can steal a base. In 86 games split between Advanced-A and Double-A, the USC product stole 15 bases.
Tucker
Rounding out the deal is Tucker, who is buried on Houston's depth chart behind the likes of Reddick, George Springer, Nori Aoki and Teoscar Hernandez.
He hit just .164 in 48 games for the Astros last season, but gives Detroit another potential option in the outfield.
Tucker showed more promise as a fourth outfield in 2015, when he delivered 35 runs scored, 33 RBI and 32 extra-base hits in 98 games. The 26-year-old is controllable through 2021.
This deal probably isn't going to happen if the Nats acquire Andrew McCutchen. However, the move makes sense for a Washington team looking to win now.
In the proposed deal, Trea Turner would shift from center field to shortstop while Bryce Harper moves to center field. Martinez would then slot in as the team's right fielder.
Breaking Down the Trade
Just as with the proposed Houston deal, this hypothetical transaction revolves around one key centerpiece. This time, it is starting pitcher Joe Ross.
The younger brother of San Diego's Tyson Ross, Joe is just 23 and has an extremely promising future ahead of him.
In 181.2 Major League innings split over the last two seasons, the right-hander owns a 3.52 ERA, a 3.46 FIP, a 3.76 xFIP and a 3.89 SIERA. Ross has struck out 8.03 batters per nine innings while posting an 11.4 swinging strike percentage.
Adding him to a rotation that already features Justin Verlander, Michael Fulmer, Daniel Norris and Matt Boyd sets Detroit up nicely for the future.
Gott
Joining Ross in the hypothetical trade is Gott, who owns a 2.85 ERA in 53.2 innings of work as a reliever. While he made just six appearances for Washington last season, the 24-year-old did compile a 3.02 ERA in 47.2 innings of work for Anaheim in 2015.
He'd likely fill a similar bullpen role to that of Blaine Hardy or Kyle Ryan in the sense that he would come in to pitch during the sixth or seventh inning of games.
Both Ross and Gott are controllable through 2021 and aren't arbitration eligible until after the 2018 season.
Baez
Joan Baez is still a ways off from contributing at the Major League level, but he has intriguing upside. A starter at Single-A, Baez used his blazing fastball and a solid curveball to post a 3.94 ERA and 199 strikeouts in 125.2 innings pitched.
Whether the 21-year-old ends up as a starter or a reliever, he has the potential to make an impact at the Major League level.
Revere and Lowe
With Mark Melancon currently on the free agent market, the Nationals could use some added relief depth. While Lowe isn't exactly a closer, his presence could allow another of Dusty Baker's relief pitchers to potentially step into a closing role.
Additionally, the Detroit Tigers may end up needing a center fielder to man the position JaCoby Jones continues to develop.
Revere, who has one year left on his contract, could fit the bill. The former Phillies player led the league in hits in 2014, and compiled a .303 batting average from 2012 to 2015.
However, similar to Lowe, Revere struggled in new surroundings last season.
The veteran batted .217 with a .260 on-base percentage—not to mention a paltry 47 wRC+.
A trade sending Martinez to Washington for Ross, Gott and Baez could work for both sides. However, the addition of two change-of-scenery candidates in Revere and Lowe could benefit both parties.
More from Motor City Bengals
This article originally appeared on