Detroit Tigers: Should They Buy or Rebuild for 2017?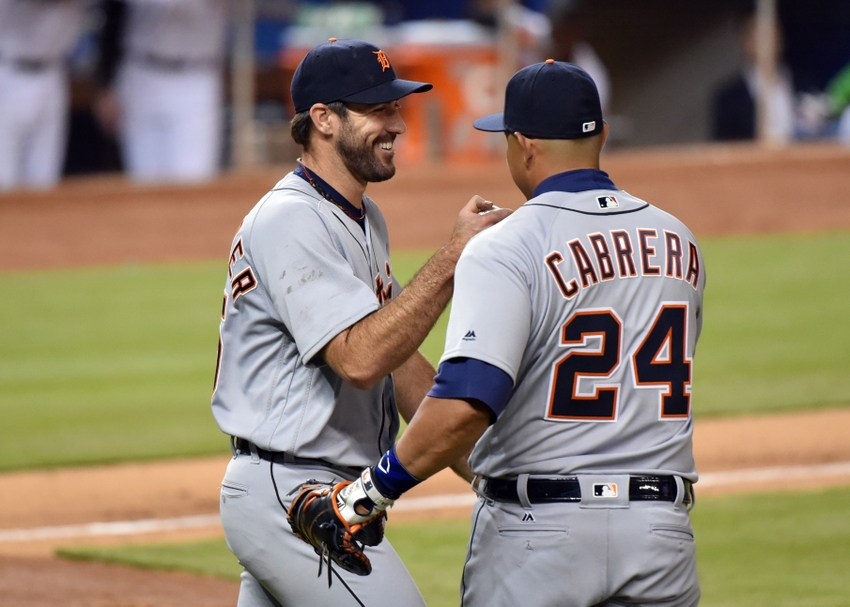 The Detroit Tigers could become one of the most interesting teams in Major League Baseball this off-season as they decide whether to go for it again, or deal stars and rebuild.
For most of the last 11 seasons, the Detroit Tigers have been a legitimate contending team in the American League Central Division.
In those years the Tigers have registered eight winning campaigns and one .500 season. They have been to the MLB postseason five times, including the World Series twice and the ALCS on two other occasions.
The 2016 Tigers finished 86-75, good for second place in the division to the eventual AL champion Cleveland Indians. The club finished just 2.5 games out of an AL Wildcard playoff berth.
The Tigers may, however, have a looming problem on their hands. More than a handful of their key players are now on the wrong side of 30 years of age, many approaching or in their mid-30's.
Team management is not approaching a crossroads with the franchise.
Do they tweak the roster a bit and try to squeeze another winning, possibly contending, season out of this core of players? Or should they take a more difficult course, one that might result in a couple of losing seasons? Deal away a number of these veterans for strong prospects who could become the core of the next generation of Tigers contenders?
In a recent Fangraphs piece "Grading the Trade Value of Miguel Cabarera, Justin Verlander" this very question was visited by Craig Edwards.
"If they aren't going all in next year — and it appears they aren't — the quickest route to the playoffs is to tear it all down. To do that, the team needs to move Miguel Cabrera, and that might best be done by packaging him with Justin Verlander."
Edwards reported that the Tigers are committed to approximately $175 million in contract obligations for the 2017 season.
He also notes that ESPN's MLB insider Buster Olney has reported that the Tigers do not want to completely tear down their roster, instead preferring to contend once again next year.
Is that reality? Can the Tigers contend once again in 2017 in what should again be one of the toughest divisions in baseball?
Verlander had a strong bounce-back season this year, one that has made him a very legitimate contender for a second Cy Young Award.
But in the two previous seasons, Verlander seemed to be in decline. He will be 34-years old as spring training opens.
For a possible recent comparison, that was the age at which Philadelphia Phillies aces Roy Halladay and Cliff Lee each experienced their final strong seasons.
Miguel Cabrera turns that same 34 years of age just two weeks into the regular season. He stayed healthy this past season, continuing a phenomenal career of consistent production that is sure to culminate with a Hall of Fame induction sometime in the next decade.
Ian Kinsler experienced a power spike, but will turn 35 years old next June. Victor Martinez continued as one of the AL's best hitters, but will turn 38 years old next month.
Anibal Sanchez slipped in performance for a third consecutive season. He turns 34 years of age in February. During his first season in Detroit, Mike Pelfrey was terrible. He turns 33 in January.
Closer Francisco Rodriguez will turn 34 years of age in January. "KRod" just had his contract picked up, so he'll be back. But his performance slipped slightly from back-to-back AL All-Star campaigns.
Jordan Zimmermann will be 31 years old in May. In his first season in Detroit after signing a big free agent contract last off-season, Zimmermann lost most of the final three months to injury.
Is everybody old? No. Talented third baseman Nick Castellanos will play at 25 next year.
Right fielder J.D. Martinez will be 28 for most of the year, and catcher James McCann turns 27 halfway through the season.
More from Call to the Pen
Still in his prime, left fielder Justin Upton will play almost the entire season at age 28 years.
Aside from Miggy, he has the second-longest contract coming from the team, owed more than $110 million over the next five years.
On the mound, righty starter Michael Fulmer is perhaps the leading AL Rookie of the Year contender.
Fulmer will turn 24 in spring training. His young lefty counterpart, Daniel Norris, turns that same 24 years old a month later.
In the bullpen, Bruce Rondon turns 26 years of age next month. The fireballer has closer-of-the-future written all over him.
The Tigers top prospects are not likely to help next year. Pitchers Beau Burrows and Matt Manning will be 20 and 19 respectively.
Outfielders Christin Stewart and Derek Hill, the club's top position player prospects, will be turn 23 and 21 respectively next month.
Detroit has already made an early move this off-season to lop off some salary. This past week, the club dealt outfielder Cameron Maybin to the Los Angeles Angels in exchange for prospect pitcher Victor Alcantara.
The Tigers could have paid Maybin $9 million to return, or paid him a $1 million buyout and said goodbye.
By dealing him away they get the best of both worlds, shedding salary while actually getting a potential future piece in return.
The contracts of Kinsler, Sanchez and Pelfrey will all run their final years in 2017, not counting modest buyouts for the first two.
Losing those salaries will more than off-set increases elsewhere over the ensuing couple of seasons.
There is a valid argument to be made that the trade value on the stars will never be higher than it is right now. Deep pocketed teams with plenty of young talent could step up with nice packages.
However, if the Tigers really believe that they can get two more strong seasons out of Verlander and Cabrera, then I say they are better served keeping them.
The Tigers can still go for it in the 2017 season, and continue building more young talent through the draft and through lesser yet astute trades.
The decision on which way to go makes the Detroit Tigers one of the most compelling organizations this winter. Their own fans and all of baseball will be watching to see how they choose to move forward.
This article originally appeared on