Detroit Tigers Rumors: Ian Kinsler Deal Reportedly Being Discussed with Dodgers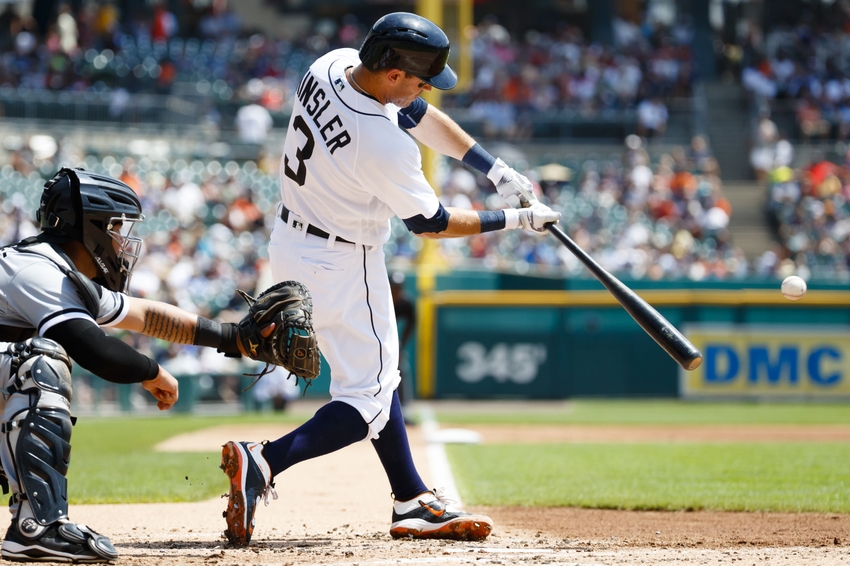 Detroit Tigers rumors season is back with the offseason in full swing. According to the latest report, second baseman Ian Kinsler is drawing trade interest from the Los Angeles Dodgers.
Detroit Tigers rumors are already swirling with the Winter Meetings on the horizon. Per the latest from veteran insider Jon Morosi, Ian Kinsler's name has reportedly come up in trade discussions.
The Fox Sports reporter tweeted, "Sources: #Dodgers, #Tigers have been in contact regarding possible Ian Kinsler trade. Kinsler has partial no-trade clause. @MLB @MLBNetwork."
Morosi would also go on to tweet, "#Tigers have interest in #Dodgers prospect Cody Bellinger, sources say. Has 1.012 OPS in AFL and is what they want: young LHH with power."
Considering Tigers general manager Al Avila is aiming to make the team younger and cheaper, it's no surprise that Kinsler is drawing interest.
The veteran second finished up another outstanding year in the Motor City, pacing all position players with a 5.8 WAR while turning in a 123 wRC+ and a .356 wOBA.
Kinsler also collected 117 runs scored, 83 RBI, 29 doubles, 28 home runs, 14 stolen bases and four triples in 153 games. Over those same 153 games, he also hit .288 with a .348 on-base percentage.
Bellinger
If the 34-year-old is dealt, it wouldn't be a shock to see the Tigers receive a premium return.
Bellinger would certainly represent that. The first baseman has evolved into one of baseball's best offensive prospects. In 117 games last season split between Double-A and Triple-A, the 21-year-old hit .271 with a .365 on-base percentage.
He also added 71 RBI, 66 runs scored, 26 doubles and 17 doubles. What's more, the slugger only struck out 84 times while drawing 60 walks.
If any potential trade comes to fruition with Bellinger involved, the Tigers would benefit significantly.
This would make Victor Martinez expendable in the sense that Detroit can shift Miguel Cabrera to designated hitter while letting Belling take over at first.
According to MLB.com, "Bellinger is more athletic than most first baseman." The website also wrote, "He's a quality defender at first base with soft hands, agility and good instincts."
The first baseman has the upside to be a franchise cornerstone. Dealing Kinsler would be extremely difficult. However, if Bellinger was involved, it would do wonders for the Tigers in the long run.
Purely from a speculative standpoint, other notable names from Los Angeles that are potential fits with Detroit include top prospects Jose De Leon, Alex Verdugo and Willie Calhoun.
On the Dodgers' active roster, the likes of Pedro Baez, Trayce Thompson, Alex Wood and Julio Urias are all other possible fits.
This article originally appeared on