Detroit Tigers: Ranking Padres Trade Fits in Event of a Jose Iglesias Trade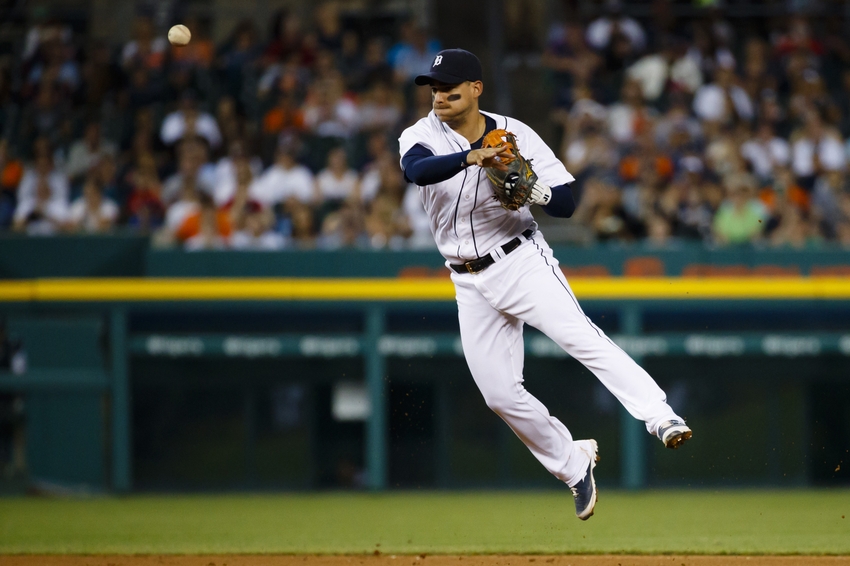 Detroit Tigers general manager Al Avila didn't make any trades at the Winter Meetings. However, that didn't stop rumors from dominating the headlines. The Padres were reportedly linked with Jose Iglesias.
Detroit Tigers shortstop Jose Iglesias may not hold the same trade appeal as J.D. Martinez or Ian Kinsler, but there is plenty of appeal in acquiring the player.
An elite defender with the ability to hit for contact, Iglesias would make sense for most any team looking for a shortstop.
He's coming of a solid 2016 campaign.
Iglesias turned in a 2.1 WAR last season. Despite a .255 batting average, a .306 on-base percentage and a 73 wRC+, the former Boston standout contributed an 11.6 UZR and was the most difficult batter to strike out in the American League.
The player's defense helped him finish as a finalist for the American League Gold Glove at shortstop. In fact, Iglesias ranked 15th in terms of all position players where UZR was concerned.
It remains to be seen if the Detroit Tigers will in fact trade Jose Iglesias as he is just 26 and controllable through 2018.
However, both his age and controllability will also make him appealing to other franchises as a solution at shortstop.
One team that has already been linked with Iglesias is the San Diego Padres. MLB.com's Padres beat reporter AJ Cassavell tweeted on Thursday morning, "The Padres have checked in with just about every team that may have a SS available. Interest in Jose Iglesias, Hanser Alberto among others."
San Diego certainly has a need, as Luis Sardinas represents their only option at the position at the moment.
Here are the Padres' best trade chips in the event of any potential trade.
Name: Travis Jankowski
Age: 25
Position: Center Field
Controllable Through: 2021
2016 Stat of Note: 3.1 BsR
Right off the bat, Travis Jankowski stands out as a logical fit.
The center fielder is coming off his first full season in the Majors. While he only hit .245, there were definite positives to be had.
In 131 games, the 25-year-old turned in a 2.1 WAR, mainly contributing on the base paths and on defense.
Jankowski logged a 3.1 BsR and a 1.7 UBR, not to mention 30 stolen bases. Of the outfielder's 30 stolen bases, two involved stealing home plate.
Eventually, San Diego will need to make room for Manuel Margot, so a trade could make sense for both parties.
Potential Fit in Detroit
Regardless of where he hits in the lineup, Jankowski could make a significant impact on the bases. It isn't hard to imagine him pushing 40 stolen bases in a Detroit Tigers uniform.
What's more, the former first-round pick would also give the Tigers time to let JaCoby Jones develop. Jones could spend the year in Triple-A while Jankowski holds down center field.
Long term, Detroit could always shift Jones to an outfield corner, or utilize the current Padre as a pinch-running threat similar to how Kansas City have used Jarrod Dyson and Terrance Gore.
Jankowski also gives the Tigers an outfield option to bridge the gap to Christin Stewart and Mike Gerber should one or both of Justin Upton and J.D. Martinez depart.
Name: Brad Hand
Age: 26
Position: Relief Pitcher
Controllable Through: 2019
2016 Stat of Note: 11.14 K/9
Ryan Butcher is another name to watch in terms of Padres relief pitchers, but Hand may be more attainable.
The reliever is coming off an excellent campaign after switching to the bullpen full time. The 26-year-old led the league with 82 appearances last season, his first in San Diego.
Dating back to the days of Heath Bell and Luke Gregerson, the Padres have had a tendency to produce some excellent relievers, and Hand is no different.
In 89.1 innings pitched last season, the left-hander turned in some stellar numbers. Hand logged a 1.6 WAR while also striking out 11.14 batters per nine frames. He also added a 2.92 ERA, a 3.07 FIP, a 3.34 xFIP and a 3.09 SIERA.
Potential Fit with the Detroit Tigers
Given Hand's ability to strike out batters at a high rate, there's potential for him to close games. He'd make for an intriguing, eventual replacement to Francisco Rodriguez, as well a bridge to Bruce Rondon or Joe Jimenez.
However, at worst, Hand is a top setup reliever. A combination of Hand, Rondon, Jimenez and Justin Wilson setting up Rodriguez would give the Tigers an extremely dangerous bullpen to throw at opposing hitters.
Name: Luis Sardinas
Age: 23
Position: Infielder
Controllable Through: 2021
2016 Stat of Note: .356 Slugging Percentage
Currently San Diego's best option at shortstop, Sardinas likely wouldn't represent the entire trade package in any hypothetical deal for Iglesias. However, he could be an intriguing depth addition.
The former top prospect, who is still only 23, struggled mightily with Seattle to begin the season. In 32 games (72 at-bats), the former Ranger batted just .181 with a .203 on-base percentage. What's more, he only managed five RBI.
After a mid-season move to San Diego, things changed for Sardinas.
The infielder, who was once the centerpiece of the Yovani Gallardo deal, batted .287 with a .353 on-base percentage. He turned in a 0.5 War for the National League West franchise despite appearing in just 34 games.
Potential Fit with the Detroit Tigers
Sardinas makes sense as a utility option, or perhaps a complement to Dixon Machado. While he hasn't played much of the outfield, the former Brewer could become Andrew Romine's long-term successor on the bench.
What is perhaps most intriguing about Sardinas as a bench option is the pop he brings.
The 23-year-old turned in a .356 slugging percentage on the season, including a .417 number with the Padres.
While those numbers don't exactly paint Sardinas as the next Miguel Cabrera, the infielder would provide an upgrade on Detroit's bench.
By comparison, Iglesias, Erick Aybar, Jarrod Saltalamacchia, Romine, Casey McGehee and JaCoby Jones all turned in lower slugging percentages last season than Sardinas.
A deal sending Hand, Sardinas and a low-level prospect to Detroit for Iglesias could make sense for all parties.
Name: Jarred Cosart
Age: 26
Position: Starting Pitcher
Controllable Through: 2020
2016 Stat of Note:
Jarred Cosart has pitched in parts of four seasons in the Major Leagues. Despite the experience, the starting pitcher isn't yet eligible for arbitration.
The ex-Marlin will reach arbitration following next season. After that, he's controllable for three more seasons.
Despite some up-and-down years, Cosart's controllability makes him an appealing trade target.
Since bursting onto the scene with the Houston Astros in 2013 when he posted a 1.95 ERA in 10 starts, Cosart has gone on to pitch 367 innings in the Majors. Over that span, he's logged a 3.92 ERA and a 2.1 WAR.
Never one to rack up strikeouts (5.7 career punch outs per nine frames), Cosart has showed the ability to post quality numbers at the back of a rotation.
During the 2014 season with Houston, the 26-year-old went 13-11 with a 3.77 FIP in 30 starts. The 2015 campaign saw him make just 13 starts, but he still pitched to a respectable 4.52 ERA.
Like Sardinas, Cosart wouldn't be the centerpiece of any hypothetical Iglesias trade. However, he's worth a look given his past success.
Potential Fit with the Detroit Tigers
Jarred Cosart would likely compete for a rotation spot in Detroit. He seems unlikely to jump Jordan Zimmermann, Daniel Norris and Matt Boyd in the rotation pecking order, but he could still make an impact.
Norris, Boyd and Michael Fulmer are still developing and probably need to have their innings somewhat monitored. Cosart would be able to make the occasional start while serving as a more reliable depth option than Anibal Sanchez or Mike Pelfrey.
Top Prospects of Note
A starting pitcher currently at Double-A, Paddack has a chance to be successful in the Major Leagues.
Armed with some excellent off-speed offerings and a solid fastball, the 20-year-old owns a 1.54 ERA in stops at Rookie-ball and Single-A. What is perhaps most intriguing about the right-hander is his ability to miss bats without an overpowering fastball.
Paddack struck out 15.1 batters per nine frames last season.
A teammate of Paddack's at Single-A Fort Wayne, Allen pitched to a 3.33 ERA in 54 innings for the minor league affiliate.
With a career 8.8 rate in terms of strikeouts per nine innings, the 19-year-old could be a Major League starter in the future.
Another starting prospect, Lamet should make his Major League debut long before Paddack or Allen.
The 24-year-old recently reached Triple-A for the first time last season, and could conceivably reach the Majors in 2017 with a solid showing at the minors' highest level.
Featuring a mid-90s fastball, Lamet owns a 2.95 ERA and 9.9 strikeouts per nine innings in his minor league career.
A second baseman by trade, Asuaje made his big league debut with the Padres last season after an excellent season at Triple-A.
The former Red Sox farmhand batted .321 with a .378 on-base percentage over 134 games.
All told, he only struck out 82 times while collecting 172 hits, 98 runs scored, 69 RBI, 32 doubles, 11 triples and nine home runs.
More from Motor City Bengals
This article originally appeared on