Detroit Tigers: Identifying Three Ideal Trade Partners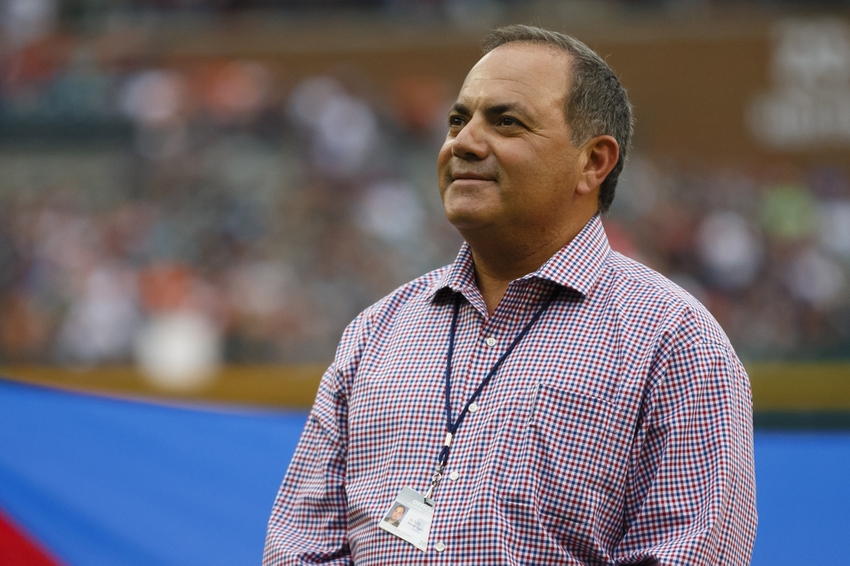 Detroit Tigers general manager Al Avila is looking to make the team more financially sustainable and younger. With marquee free agent signings a thing of the past, trades are more likely.
Detroit Tigers fans will likely see the team announce a few trades before all is said and done this offseason.
Al Avila is in the midst of paring down the team's payroll while also injecting youth. The general manager has already made one trade so far, dealing center fielder Cameron Maybin to Anaheim for hard-throwing pitching prospect Victor Alcantara.
However, that isn't likely to be the end of it.
J.D. Martinez, Francisco Rodriguez, Mike Pelfrey, Mark Lowe, Victor Martinez and Anibal Sanchez could all conceivably be moved this offseason.
In other words, change is in the air.
While key veterans like Justin Verlander and Miguel Cabrera seem unlikely to move, there will be some new faces on Detroit's roster next season.
The team does need the youth that Avila is actively seeking, so next season will represent a new chapter for the Tigers.
Change can often be a good thing, especially if Detroit acquires some exciting young talent in trades for the likes of Martinez and Rodriguez.
In terms of prospects and respective needs, here are the ideal trading partners for the Detroit Tigers.
#1 Los Angeles Dodgers
Potential Positions of Need: Outfield, Second Base, Closer, Third Base
The Los Angeles Dodgers pretty much check all the boxes in terms of ideal trade partners.
As it is, the National League West club could use another outfield bat to team with Joc Pederson. What's more, an upgrade over Chase Utley and second base would also improve the club.
Los Angeles could be in the market for either a closer, third baseman or both depending on the free agent situations of Kenley Jansen and Justin Turner.
While Nick Castellanos isn't going anywhere, the Tigers could match up with the Dodgers on trades at the other three positions. The additions of J.D. Martinez or Ian Kinsler would put Los Angeles' lineup over the top, while Francisco Rodriguez would be a solid source of save sin the ninth inning.
Of the group, Martinez and Rodriguez are still the most likely to be traded, but Detroit could receive a premium return nonetheless from their National League counterparts.
Notable Dodgers Players and Prospects Who Could Appeal to the Detroit Tigers
A 25-year-old starting pitcher with a career 3.32 FIP, Wood is controllable through 2019. Detroit would be able to immediately plug him into the rotation, making Jordan Zimmermann and his salary expendable.
Another young pitcher with an excellent career FIP (3.37), Baez has struck out 10.3 batters per nine frames over the last two seasons. He's controllable through 2020 and would be a long-term piece at the back end of the bullpen.
Despite playing in just 80 games, Thompson ranked as one of the better offensive performers in both wRC+ and ISO. The outfielder finished eighth in wRC+, while registering the fourth-highest ISO. He's controllable through the 2021 campaign.
One of Los Angeles' finest prospects, Calhoun is an impact hitter waiting to happen at the Major League level. Last season at Double-A, the prospect drove in 88 runs while mashing 27 home runs and 25 doubles. He also went down on strikes just 65 times in 560 plate appearances.
Trade Partner #2 San Francisco Giants
Potential Positions of Need: Closer, Outfield
Like their National League West rivals, the San Francisco Giants could be a fit for a few current Tigers.
With Sergio Romo, Santiago Casilla and Javier Lopez all becoming free agents, the Giants suddenly have a need at closer. Rodriguez would make sense in a potential move given San Francisco's win-now strategy.
Elsewhere, Angel Pagan and Gregor Blanco are also free agents, leaving a vacant outfield spot opposite Hunter Pence and Denard Span. J.D. Martinez is once again a fit.
Notable Giants Players and Prospects Who Could Appeal to the Detroit Tigers
Baseball's most difficult batter to strike out last season, Panik owns a career .280 batting average and .343 on-base percentage despite putting up a .239 average and a .315 on-base percentage in 2016. The 26-year-old is controllable through 2021 and is an ideal long-term replacement for Kinsler.
A former seventh-round pick currently at Double-A, Black has the upside to be an excellent. With a blazing fastball that hits triple digits, the reliever also mixes in a solid slider. He struck out 53 batters in just 31.1 innings while also holding opposing hitters to a .159 batting average.
Another prospect at Double-A, Shaw collected 85 RBI, 73 runs scored, 38 doubles, 21 home runs and four triples in just 132 minor league games last season. He just reached Double-A last year, so he's a few years away from making a Major League impact. However, Shaw's power makes him an ideal long-term replacement for Miguel Cabrera.
Heston logged 177.2 innings in 2015, posting a 3.95 ERA and a 1.4 WAR. While he only appeared in four games in 2016, the pitcher is controllable through 2020 and could function in Detroit as a swingman or a starter at the back end of the rotation.
Trade Partner #3 Houston Astros
Potential Positions of Need: Center Field, Left Field
Stop me if you've heard this before, but another team is a potential trade fit for J.D. Martinez. That team would be the Houston Astros, who (incidentally) used to employ the outfielder before he moved to Detroit.
The Astros would've been a fit for Cameron Maybin as well, prior to the veteran's trade to Anaheim, as there are few proven commodities outside of George Springer in Houston's outfield mix.
While Houston's depth doesn't make them a trade fit for the likes of Kinsler, Rodriguez or any of Detroit's other trade chips, that same depth could benefit the Tigers.
Notable Astros Players and Prospects Who Could Appeal to the Detroit Tigers
The second-overall pick in the 2015 draft, Bregman is currently blocked in the infield by the likes of Jose Altuve, Carlos Correa, Yulieski Gurriel, A.J. Reed, Marwin Gonzalez and Tyler White. Detroit's infield is similarly crowded, but Bregman could play a Ben Zobrist-type role before taking over as Ian Kinsler's long term successor at second. In just 49 games last year, the rookie turned in a 1.0 WAR, a .214 ISO and a 112 wRC+.
Adding McCullers to the mix along with Verlander, Michael Fulmer, Daniel Norris and Matt Boyd would give the Detroit Tigers one of the league's best rotations for the next decade. In two seasons in the Majors, the 22-year-old has accumulated a 4.8 WAR and a 3.60 SIERA. He turned in a swinging strike percentage of 13 last season.
Tyler White, Corner Infielder
A potentially useful contributing piece, White wouldn't be the centerpiece of any deal, but he could still provide value as a long-term bench cog. Able to play first and third base, White put up a .161 ISO in 2016.
A 23-year-old reliever with strikeout stuff, Feliz is controllable through 2021. The kind of reliever that fits into any bullpen, Feliz struck out 13.15 batters per nine frames while also racking up a 13.6 swinging strike percentage. He'd be a long-term closing option for the Tigers.
More from Motor City Bengals
This article originally appeared on