Detroit Tigers: Five Non-Tendered Players Who Are Potential Fits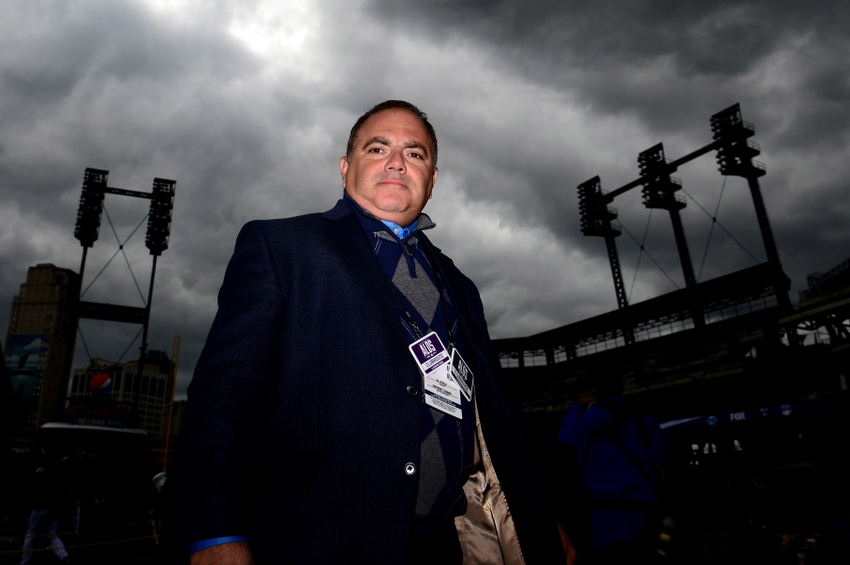 Detroit Tigers general manager Al Avila went without non-tendering any players this offseason. However, Avila could find value in players recently non-tendered by other clubs.
Detroit Tigers fans could see a somewhat different team take the field next season.
Already, the likes of Casey McGehee, Jarrod Saltalamacchia, Joe Mantiply and Erick Aybar have departed the team via  free agency and waivers. Meanwhile, center fielder Cameron Maybin was traded to the Los Angeles Angels of Anaheim.
While there's always the possibility that more moves happen at the winter meetings, it could be that the Tigers field a similar roster next season.
The New York Post's Joel Sherman tweeted on Sunday about Detroit's offseason, "#Tigers exec said talk that $ "must" be unloaded overstated. Said will make good deals or not at all. Plan to contend in '17."
As of now, that leaves the bench, center field as key areas where Detroit could see change.
Avila and company could turn to the free agent market to fill the needs on the bench and in the bullpen. The Tigers front office could find some cost-efficient depth options from the group of players recently non-tendered by other Major League franchises.
Here are five recently non-tendered players who could fit on the Detroit Tigers roster.
Name: Vance Worley
Position: Pitcher
2016 WAR: 0.1
Stats of Note
Operating primarily as a swingman for the Baltimore Orioles, Vance Worley quietly turned in a solid 2016 campaign.
Over 86.2 innings pitched for the American League East club, Worley posted a 3.53 ERA. His 56 total strikeouts (or 5.8 per nine frames) weren't ideal, but the 29-year-old didn't walk many batters either.
The one-time Minnesota Twins starter handed out just 35 free passes, or 3.6 per nine innings.
Why Vance Worley is a Fit for the Detroit Tigers
Despite low strikeout numbers and some additional run prevention stats that aren't easy on the eyes (4.79 SIERA, 4.92 xFIP), Worley's real value comes in his versatility.
The right-hander made four starts for the O's in his 35 appearances. What's more, he finished 13 games. Worley turned in similar numbers for the Pittsburgh Pirates in 2015, starting eight contests and finishing six.
Potential Role in Detroit
Worley's experience as a swingman is just what the Detroit Tigers need. Michael Fulmer, Daniel Norris and Matt Boyd are still developing, and as such, their inning counts may be watched.
Having the ex-Pirate on hand to make a spot start every now and again could do wonders for the Tigers.
Additionally, Worley could also make an impact eating innings in a relief role. The pitcher owned a 3.20 in his work as a reliever last season.
Name: Jeff Manship
Position: Relief Pitcher
2016 WAR: -0.3
Stats of Note
Despite a -0.3 WAR and a SIERA—4.53—halfway to five, Jeff Manship is the perfect fit as a buy-low relief candidate.
The former Cleveland pitcher logged 82.2 innings for Detroit's division rivals over the last two seasons. Over that span, the 31-year-old pitched to a 2.07 ERA and a 3.93 FIP.
While he doesn't rack up strikeout numbers akin to Andrew Miller or Aroldis Chapman, Manship did punch out 7.5 batters per nine frames. That rate finished ahead of incumbent Tigers relievers Blaine Hardy, Alex Wilson and Kyle Ryan last season.
Why Manship is a Fit for the Detroit Tigers
Major League Baseball teams can never have enough pitching depth, especially where the bullpen is concerned.
The right-handed pitcher would give Brad Ausmus yet another relief option to throw at opposing hitters.
Potential Role in Detroit
Manship would unlikely vault immediately into consideration for late-inning work given the upside of the likes of Bruce Rondon, Justin Wilson and Shane Greene. However, the ex-Cleveland reliever could pitch a similar to Alex Wilson or Blaine Hardy in that he pitches earlier in games.
Last season, the veteran posted ERAs of 2.25, 1.29 and 1.93 in the fifth, sixth and seventh innings respectively.
Name: Matt Carasiti
Position: Relief Pitcher
2016 WAR: 0.0
Stats of Note
A first glance at Matt Carasiti' Major League stats don't exactly inspire much confidence. The rookie reliever posted a 9.19 ERA in 15.2 innings for Colorado last season.
However, a closer look reveals that the reliever may be worth a flier as a depth option.
The reliever's 4.49 FIP and 4.71 SIERA suggest he's much better than his ERA would initially suggest. Carasiti also logged a 1.96 ERA over 46 innings split between Double-A and Triple-A in 2016.
In other words, he's shown that he can be effective in getting batters out.
Additionally, the 25-year-old used a mid-90s fastball to help strike out 9.8 batters per nine innings at the Major League level. During his work for Double-A Hartford and Triple-A Albuquerque, that number sat at 9.4.
Why Carasiti is a Fit for the Detroit Tigers
Last season, the Tigers signed the likes of Bobby Parnell, Dustin Molleken and Logan Kensing as minor league depth.
All three saw action in the Majors, but turned in mixed results. Carasiti would provide a young option for Detroit, one who could potentially develop into a long-term piece.
Potential Role in Detroit
As a depth piece, Carasiti is worth a flier. If for nothing more than as a reliever for Toledo, the former Rockies pitcher would give Detroit a different look where depth is concerned.
Name: Chris Withrow
Position: Reliever
2016 WAR: -0.3
Stats of Note
Another reliever coming off a solid season, Withrow provided Atlanta with some quality relief work.
In 37.2 innings, the former Dodger logged a 3.58 ERA in 37.2 innings pitched.
These kinds of numbers are nothing new for the right-hander, who posted a 2.73 ERA and a 3.65 FIP in 56 relief frames for Los Angeles from 2013 to 2014. That stretch in Southern California also included 11.4 strikeouts per nine innings.
Why Withrow is a Fit for the Detroit Tigers
If Withrow can regain the strikeout form he showcased with the Dodgers, he could be an intriguing addition to Detroit's bullpen.
A return to form certainly isn't out of the question for the 27-year-old. In his two seasons with Los Angeles, Withrow logged swinging strike percentages of 11.6 and 13.0.
During his time with the Braves, the Texas native turned in an 11.2 swinging strike percentage. He also punched out 10.80 batters per nine innings in a small sample size at Triple-A last season.
Potential Role in Detroit
Similar to Manship, Withrow likely wouldn't vault himself into the discussion for late-inning duties. However, given his tendency to post above-average strikeout numbers, the former Atlanta pitcher could develop into a bullpen cog for the Detroit Tigers.
Stats of Note
One of the more surprising players to be non-tendered, Welington Castillo would significantly upgrade the Detroit Tigers bench.
In 113 games last season for the Arizona Diamondbacks, the backstop batted .264 with 14 home runs, 68 RBI and 41 runs scored. He also posted a 92 wRC+ and a .319 wOBA en route to a 1.7 WAR.
All told, the former Chicago Cub posted a .322 on-base percentage and a .423 slugging percentage.
Why Castillo is a Fit for the Detroit Tigers
As of now, John Hicks is Detroit's only viable catching option outside of James McCann. Adding Castillo would give the Tigers an excellent offensive complement to McCann.
Potential Role in Detroit
As a potential bench cog, Castillo brings plenty of ability and upside. Since the beginning of the 2014 campaign, the 29-year-old has averaged 57 RBI, 37 runs scored, 19 doubles and 15 home runs per season.
The veteran backstop would also greatly improve the catching outlook behind McCann.
Outside of Hicks, Detroit's next best catcher is Grayson Greiner. The prospect only reached Triple-A for the first time at the tail end of last season.
In the event of any Victor Martinez trade, Castillo could bring value by logging at-bats at designated hitter.
More from Motor City Bengals
This article originally appeared on