Detroit Tigers Five Free Agent Pitchers Team Should Sign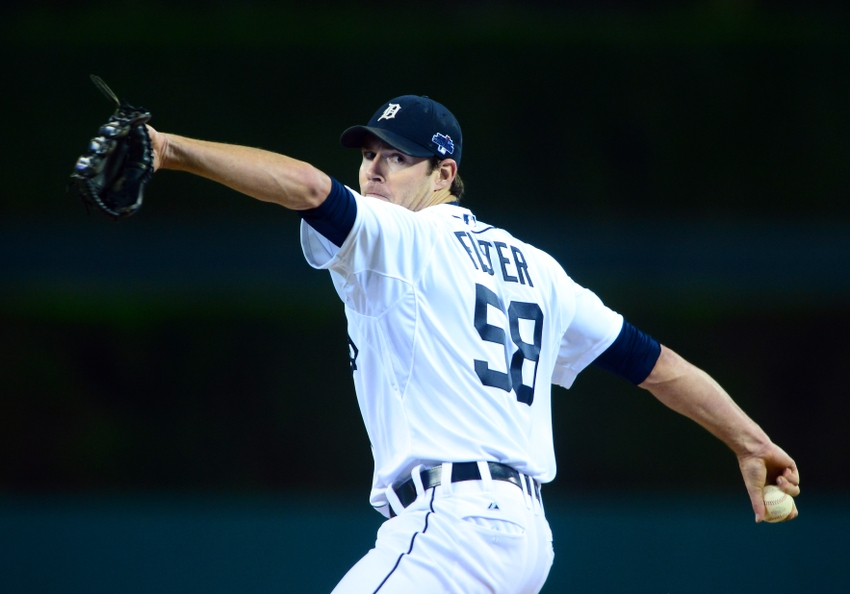 Detroit Tigers fans will see some change this offseason, potentially in the pitching staff. With Detroit reportedly attending Greg Holland's showcase, here are five other pitchers the team should take fliers on.
Detroit Tigers general manager Al Avila is looking to make the team younger and more financially sustainable—stop me if you've heard that before.
While this means the team won't be in on major free agents, there are a number of other free agents worth looking into as potentially low-risk, high-reward pieces.
Detroit's pitching staff featured some obvious bright spots.
Justin Verlander pitched like a Cy Young contender, while Michael Fulmer also showed he can headline a rotation.
What's more, Bruce Rondon, Matt Boyd and Daniel Norris all took significant steps forward in their development as Major League pitchers.
However, there were also some less-than encouraging developments.
The likes of Rondon, Francisco Rodriguez and Justin Wilson will continue to pitch late in games, but filling out the rest of the bullpen was a struggle.
Outside of the aforementioned trio, Kyle Ryan, Alex Wilson and Blaine Hardy, there was plenty of mixing and matching to find the right group.
Not counting utility man Andrew Romine, the team used 22 different pitchers last season. These included Warwick Saupold, Dustin Molleken, Bobby Parnell, Logan Kensing and Joe Mantiply.
While the likes of Molleken, Parnell and Kensing—who were signed in relatively minor deals over the offseason—didn't pan out, that shouldn't stop Detroit from looking into other buy-low free agents.
Here are five intriguing options.
2016 Team: Houston Astros
2016 Stats: 1.1 WAR, 4.75 FIP, 4.97 SIERA, 5.9 swinging strike percentage, 5.74 K/9, .299 BABIP
Doug Fister was excellent on the mound as a member of the Detroit Tigers . Beginning with a 2011 stretch run that saw him post an 8-1 record and a 1.79 ERA, the former Mariner excelled in the Motor City.
The right-hander was part of that superb rotation that also included, Verlander, Max Scherzer, Rick Porcello and Anibal Sanchez.
While Fister finished eighth in the Cy Young voting in 2014 after a trade to Washington, his numbers have suffered.
Never a strikeout-heavy pitcher, the veteran saw his ERA balloon to a career-worse 4.64 last year. Despite the relatively-poor run prevention stats, Fister did manage to accumulate a 1.1 WAR and 12 wins for Houston, showing he can make an impact with a solid team behind him.
Previous Numbers of Note
A return to Detroit could be exactly what Fister needs at this point in his career. The 32-year-old owns a 3.18 ERA and a 1.164 WHIP in 232 innings at Comerica Park.
Potential Role in Detroit
Fister would likely be a swingman with the Tigers, making occasional starts and eating innings out of the bullpen. Should any kind of injury or trade happen, the ex-Detroit pitcher would be the first replacement option.
2016 Teams: Minnesota Twins and Los Angeles Dodgers
2016 Stats: -0.8 WAR, 6.43 FIP, 3.86 SIERA, 12.3 swinging strike percentage, 8.1 K/9, .288 BABIP
Another former Tiger on the free agent market, Casey Fien was drafted by the Tigers in the 20th-round of the 2006 draft. He would only make 11 appearances in a Detroit uniform, but found considerable success elsewhere.
From 2012 to 2015, the right-hander notched a 3.54 ERA and a 3.33 FIP in 223.2 relief innings for the Twins.
After struggling in 13.2 innings for Minnesota early last season, the Dodgers took a flier on the reliever. While Fien didn't post numbers similar to his earlier days in the Twin Cities, he did turn in a 3.73 SIERA and a swinging strike percentage of 13.
Relievers with the ability to put up those kinds of numbers are exactly what the Detroit Tigers need at this point. Outside of Bruce Rondon, Shane Greene and Justin Wilson, there aren't many pitchers with in the bullpen with the ability to rack up strikeouts.
Potential Role in Detroit
Given his past success and strikeout tendencies, Fien would slot in as a seventh inning option for the Tigers. He wouldn't initially challenge the likes of Rondon or Justin Wilson for late-inning work, but he could eventually take on a set-up role if he can find success early.
2016 Team: Texas Rangers
2016 Stats: -0.3 WAR, 5.24 FIP, 3.77 SIERA, 8.7 swinging strike percentage, 7.18 K/9, .372 BABIP
Shawn Tolleson's numbers from the 2016 season aren't much to write home about, however his SIERA and BABIP outputs suggest he's much better than his gaudy FIP would indicate.
The struggles were relatively new for the veteran reliever, who was coming off a strong two-year run from 2014 to 2015. Over the span, the right-hander struck out 9.1 batters per nine frames while accumulating a 2.88 ERA, a 3.83 FIP and 35 saves in 144 innings.
In fact, Tolleson even finished 10th in the voting for the American League Cy Young just a season ago. The reliever finished ahead of both Carlos Carrasco and Dellin Betances in the voting for the American League's best pitcher.
Potential Role in Detroit
If he can regain his previous form, Tolleson is a reliable late-inning arm. Just as with any potential signing of Greg Holland, the Tigers could deal from a position of depth and flip Francisco Rodriguez for younger pieces.
Either way, the former Ranger and Dodger would be an excellent fit as either Rodriguez' setup man, or his short-term successor.
2016 Team: Texas Rangers
2016 Stats: 0.9 WAR, 4.75 FIP, 5.10 SIERA, 7.8 swinging strike percentage, 5.62 K/9, .295 BABIP
Derek Holland didn't have the best 2016 season.
After being limited to 16 starts (15 appearances) in 2014 and 2015, the 30-year-old returned to toss 107.1 frames last year.
Across the board, Holland's numbers have declined in the past two seasons. However, he could still be a solid Major League starter with the potential to make an impact.
Previous Numbers of Note
From the start of the 2011 season to 2014, Holland threw 623.1 innings. Over those 623.1 innings, the left-hander posted a 3.83 ERA, a 3.89 FIP and a 9.8 WAR.
At the height of his powers, the starter turned in WAR numbers somewhere in the 3.0 to 4.0 neighborhood. He may not reach those same stats again, but there's potential as a back-of-the-rotation arm.
Potential Role in Detroit
The Detroit Tigers are in need of a swingman and Holland could be a potential fit. As of now, the team's options are Anibal Sanchez, Mike Pelfrey, Buck Farmer, Myles Jaye and Chad Bell.
Of the group, Sanchez and Pelfrey were simply too ineffective last season, while Jaye and Bell will be rookies next season.
Adding a veteran starter like Holland (14 career playoff appearances) would certainly give the team more options to work, and potentially succeed, with.
2016 Team: Los Angeles Angels of Anaheim
2016 Stats: Wilson missed 2016 due to injury
If healthy, C.J. Wilson is well worth the gamble. The former Rangers and Angels hurler logged a 3.60 ERA and a 3.74 FIP in 1149.2 innings for the two clubs from 2010 to 2015.
He didn't pitch in 2016, but Wilson turned in some encouraging numbers during the previous season. In 132 innings, the 35-year-old logged a 4.02 FIP in 2015. What's more, his 8.6 swinging strike percentage that was his highest output in the category since 2009.
Potential Role in Detroit
Wilson may not be the frontline starter that he was in his prime, but if he's able to pitcher, he could find success as a back-end starter.
With Fulmer, Boyd and Norris still developing as Major League pitchers, the Tigers could use another starting option to occasionally fill in to keep the trio's innings limit down.
It's purely speculative, but return to the bullpen could also be an option for Wilson. The pitcher put up a 2.95 SIERA in 73.2 innings out of Texas' bullpen back in 2009.
While he has started every game since, Wilson could still find success in relief.
The veteran could also pitch multiple innings coming out of the bullpen, which could prove to be extremely valuable.
More from Motor City Bengals
This article originally appeared on