Detroit Tigers: Breaking Down Mikie Mahtook Acquisition, Potential Impact
Detroit Tigers general manager Al Avila made a move on Wednesday to add another option in center field. The team acquired outfielder Mikie Mahtook from the Rays. Here's more on the newest Tiger.
Detroit Tigers fans have seen the team make relatively few moves this offseason.
During an offseason when the names of Justin Verlander, Miguel Cabrera and Ian Kinsler surfaced in trade rumors, there was plenty of uncertainty as to what Detroit's roster would like come Opening Day.
However, as of now, things have stayed very much the same.
Veteran catcher and former Tiger Alex Avila has rejoined the organization to backup James McCann. Elsewhere, the likes of Jarrod Saltalamacchia, Erick Aybar and Casey McGehee have departed via free agency.
Avila will obviously take Saltalamacchia's place on the bench, while the departures of Aybar and McGehee pave the way for younger players like Dixon Machado, JaCoby Jones, Tyler Collins and Steven Moya to claim bench roles.
The one significant difference from last year's roster will be in center field.
Detroit's primary center fielder in 2016, Cameron Maybin, was dealt to the Los Angeles Angels of Anaheim in a cost-cutting move.
Collins and Jones were the most obvious incumbent candidates to take Maybin's spot. However, the team has now brought in a new face to add to the mix.
The Tigers announced in a tweet on Wednesday that they acquired Mikie Mahtook in a trade with the Rays.
Detroit's official Twitter account tweeted, "The #Tigers announced today that the club has acquired OF Mikie Mahtook from Tampa Bay in exchange for a PTBNL or cash considerations."
Additionally, the team would later add in another tweet, "To create room on the 40-man roster for Mahtook, the #Tigers have designated for assignment the contract of outfielder Anthony Gose."
Gose would have been in the mix with Collins and Jones in center field. With Mahtook taking his place, here's more about the potential impact the former Ray could have in the Motor City.
Offense
Career OPS: .685
Career wRC+: 87
Total WAR: 1.0
A former top prospect, Mikie Mahtook was drafted by the Rays with the 31st-overall pick of the 2011 draft.
The first-round pick showed a blend of pop, speed and on-base skills early in his minor league career.
During the 2012 campaign in stops at Advanced-A Charlotte and Double-A Montgomery, the outfielder batted .277 with a .342 on-base percentage and a .415 slugging percentage.
He also added 62 RBI, 61 runs scored, 25 doubles, 23 stolen bases, nine home runs and eight triples.
A first-round pick is obviously expected to produce in the lower minors, but Mahtook has continued to provide solid offensive production at each stop.
In 2014 with Triple-A Durham, the 27-year-old played in 132 games and tallied 68 RBI, 56 runs scored, 33 doubles, 18 stolen bases, 12 home runs and six triples.
All told, he is a .277 hitter at the minors' highest level. The ex-Rays prospect also owns a .762 OPS, 120 RBI and 107 runs scored in 257 Triple-A games.
Major League Debut
In 2015, the outfielder made his Major League debut and was largely impressive in a 41-game stint.
Mahtook hit .295 with a .970 OPS, a 167 wRC+, 22 runs scored, 19 RBI, nine home runs, five doubles, four stolen bases, a triple and a 1.8 WAR.
2016 Season
While the 27-year-old impressed in his first season, 2016 was more of a struggle at the plate. His batting average dropped .100 points to .195, while his OPS fell to .523.
Additionally, the player's wRC+ (39) and WAR (-0.8) numbers checked in well below his previous stats.
Potential Impact with the Detroit Tigers
Considering JaCoby Jones' still-developing game and the fact that Tyler Collins is better suited for the corners, Mahtook gives Detroit an all-around bat in the middle of the outfield.
He may not have the same raw power that Jones does, but the fellow LSU product should produce in a number of different offensive categories for the Tigers.
Given a full season's worth of at-bats, it wouldn't be a surprise to see Mahtook post double digits in home runs, doubles and steals.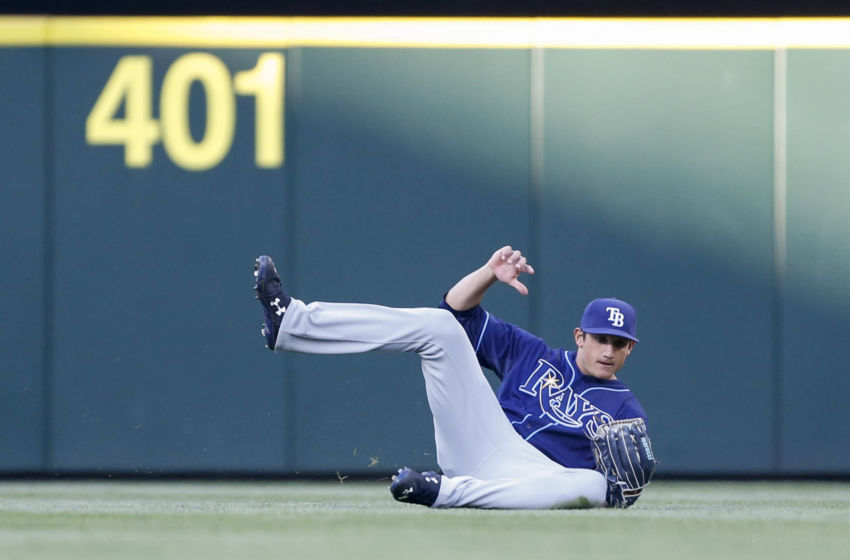 Defense
Left Field Career UZR/150: 17.8
Center Field Career UZR/150: 11.5
Right Field Career UZR/150: 25.2
Blocked by defensive wizard Kevin Kiermaier in center field in Tampa Bay, Mahtook could have center field all to himself in the Motor City until Jones is ready.
The 27-year-old was solid defensively in center field last season for the Rays. In 164 innings, the outfielder posted a DRS of 2 to go along with a 1.3 UZR and a 10.5 UZR/150.
Should he continue to post encouraging defensive stats, Mahtook would give Detroit a strong defense up the middle.
Jose Iglesias and Ian Kinsler remains one of baseball's best double-play duos. Elsewhere, James McCann is developing into one of the elite defensive backstops in the league.
It is also worth pointing out that, according to Spotrac, Mahtook is controllable through 2021. He isn't arbitration eligible for two more seasons.
Defensive Flexibility
His ability to play all three outfield positions could help him stick in Detroit long-term, even if he isn't a full-time starter in center field.
With Jones likely to start regularly in the Majors sooner rather than later, Mahtook could eventually transition into a role as the team's fourth outfielder.
Considering his ability to contribute on offensively, defensively and on the base paths, the Detroit Tigers may have added a potential long-term contributor.
More from Motor City Bengals
This article originally appeared on