Detroit Tigers: Assessing Team's Center Field Options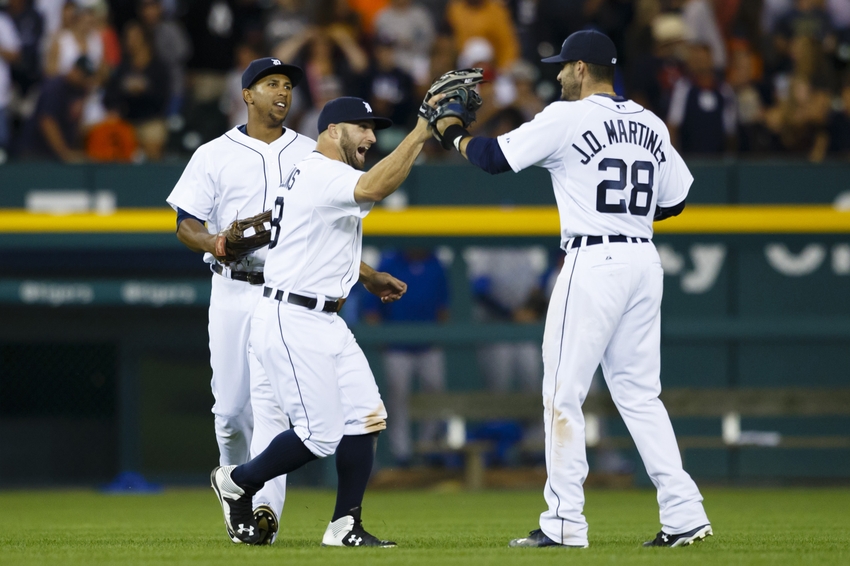 Detroit Tigers general manager Al Avila is instituting change this offseason, as the Tigers look to shed payroll. Seeing as Avila already dealt  Cameron Maybin to save cash, here are Detroit's center field options.
Detroit Tigers fans will see a different center fielder come Opening Day. With Cameron Maybin now a Los Angeles Angels of Anaheim player, the Tigers are in need of a replacement.
That won't be an easy task, considering Maybin posted the fourth-highest WAR on the team, with a 2.0 mark that surpassed that of Nick Castellanos, J.D. Martinez, Justin Upton and Victor Martinez.
What's more, the now-former Tiger turned in a stellar .383 on-base percentage while contributing a 120 wRC+.
Overall, the center fielder hit .315 with a .418 slugging percentage. Maybin also added 65 runs scored, 43 RBI, 15 stolen bases, 14 doubles, five triples and four home runs. His OPS sat at .801.
Outside of the ex-Marlin, Tigers center fielders combined for a WAR of 0.1.
While Maybin didn't post the most eye-catching defensive numbers from a defensive standpoint, his ability to cover significant ground certainly made an impact in Detroit.
Here's a breakdown of the Detroit Tigers options to replace Cameron Maybin in center field.
Age: 24
Bats: Right-Handed
Since moving to Detroit in the Joakim Soria deal, JaCoby Jones has quickly established himself as one of the more intriguing young talents in the entire system.
An excellent athlete with the ability to make an impact with his speed and power, Jones has plenty of upside.
He made his Major League debut down the stretch in 2016, contributing three doubles, three runs scored and a pair of RBI in 28 at-bats.
Why He'll Start in Center Field for the Detroit Tigers
There are relatively few players in either the Majors or minors with Jones' skill set. Given a full season of at-bats, it's not hard to imagine him registering 15-20 home runs and a similar number of stolen bases.
Inserting the former Pittsburgh farmhand into the lineup will certainly help from a base-running standpoint. In just 13 games, Jones' 0.6 UBR ranked sixth on the team. What's more, his 0.7 BsR checked in at seventh on Detroit's roster.
If Jones can hit somewhere in the .250 neighborhood while reaching double digits in home runs and stolen bases, he'd represent the Tigers best option in center field.
Why He Won't Start in Center Field for the Detroit Tigers
While Jones has the potential to one day be an All-Star caliber player, his game is still very much developing.
The 24-year-old didn't draw a walk in his 13-game stint with the Tigers. Additionally, he struck out 12 times.
Somewhat similar to Steven Moya, strikeouts have been a slight problem. In 99 games split between Double-A and Triple-A, Jones went down on strikes 120 times while drawing just 35 walks.
If JaCoby Jones can cut down on his strikeouts, the sky is the limit.
Age: 26
Bats: Left-Handed
After appearing in 18 games in 2014, Tyler Collins has seen somewhat consistent work as a fourth outfielder for the Tigers, appearing in 116 games since the beginning of the 2015 campaign.
Collins saw action in 56 contests this past season, batting .235 with a .305 on-base percentage. He also added 15 RBI, 14 runs scored, four home runs, three triples, two doubles and a stolen base in 136 at-bats.
The outfielder also turned in a 0.1 WAR, a 84 wRC+ and a .147 ISO.
Why He'll Start in Center Field for the Detroit Tigers
Despite posting overall numbers that don't exactly jump off the page, Collins has flashed potential before, largely in stints at the end of the past two seasons. From September 1st, 2015 through the end of the 2015 campaign, the outfielder hit .293 with a .376 on-base percentage.
Additionally, over the 2016 season's final 16 contests, the former sixth-round pick batted .303 with a .400 on-base percentage.
Obviously if Collins can bat .300 over an entire season, the Tigers will benefit. However, if the outfielder can hit anywhere in the .260 or .270 neighborhood, he stands a good chance to see extended playing time.
There's also the fact that the 26-year-old bats left-handed, which could come in handy considering Detroit's lineup is comprised mostly of right-handed batters.
Why He Won't Start in Center Field for the Detroit Tigers
A corner outfielder by trade, Collins saw his first extended action in center field last season.
While his numbers weren't the best (-4 DRS, -11.4 UZR/150) they don't seem as poor when you consider that before the year Collins had only played 33 games at the position in his professional career.
Still, if those numbers don't improve, Detroit won't want to carry a poor-fielding center fielder throughout the course of next season.
Age: 26
Bats: Left-Handed
It's probably safe to say that Anthony Gose struggled at the plate in his fifth season in the Majors.
The outfielder batted just .209 in 30 games for Detroit, posting a sub-par .287 on-base percentage along the way. In addition, the speedy outfielder didn't steal any bases, while crossing home just 11 times.
All told, Gose two home runs, two triples and two doubles. Despite hitting in a potent Tigers lineup, the veteran collected just seven RBI.
The former top prospect would go onto appear in 90 games split between Triple-A and Double-A following a demotion from the Majors.
Over those contests, he hit just .224 with a .301 on-base percentage and 21 extra-base hits.
Why He'll Start in Center Field for the Detroit Tigers
Outside of Jones, Gose is Detroit's best internal option in terms of adding much-needed speed to the lineup.
The 26-year-old previously swiped 23 bases for the Tigers in 2015, and has stolen at least 70 bases twice in a season in his minor league career.
Like Collins, the fact that he hits from the left side will help add some balance to Detroit's lineup.
Why He Won't Start in Center Field for the Detroit Tigers
Despite the speed and some quietly solid defense last year (1.3 UZR, 7.0 UZR/150), Gose simply struggled at the plate.
A return to the form he showed in 2015, when he hit .254 with a .321 on-base percentage, could help him carve out more at-bats.
After an offseason that could conceivably see one or more of J.D. Martinez, Ian Kinsler or Victor Martinez dealt, Detroit can't afford to field a .200 batter anywhere in the team's lineup. They'll potentially be losing enough fire power as it is.
Other Internal Options
An outfielder with solid on-base skills, the 26-year-old made his Triple-A debut last season before ultimately finishing the campaign out at Erie.
Overall, he hit .279 with a .344 on-base percentage. Bernard also chipped in with 56 runs scored, 33 RBI, 23 stolen bases, 13 doubles, seven home runs and five triples.
If he can handle Major League pitching, his skillset, which somewhat resembles Maybin's, could make for an intriguing addition to Detroit's roster.
In 130.2 defensive innings as a center fielder, Romine quietly turned in a 1.3 UZR and a 10.2 UZR/150. Both of those numbers led Tigers center fielders last season.
However, Romine's defensive flexibility will likely provide more value in his usual utility role.
A relative long shot given that Gerber just reached Double-A for the first time last season. However, crazier things have happened.
It's also hard to ignore the prospect's production so far. In just three minor league seasons, Gerber has stuffed the stat sheet with 198 RBI, 187 runs scored, 80 doubles, 38 home runs, 33 stolen bases and 20 triples.
In 132 games split between Lakeland and Erie, the outfielder batted .276 with a .345 on-base percentage. He also added 80 RBI, 69 runs scored, 30 doubles, 18 home runs, eight stolen bases and six triples.
Potential Free Agent Fits
Given the Detroit Tigers current goal to shed money, the team is unlikely to sign top free agent options like Ian Desmond or Dexter Fowler. This probably also means players like Jon Jay and Rajai Davis are out of Detroit's price range.
Still, there's some potential depth options on the market who could appeal to the Tigers.
The first player selected after Stephen Strasburg in the 2009 draft, Ackley initially showed promise with Seattle as a rookie. In 90 games with the M's, Ackley hit .273 while posting 36 RBI, 16 doubles, seven triples, six home runs and six stolen bases.
He hasn't been able to replicate similar numbers since, but could turn things around in Detroit.
While he isn't a threat to post stolen base totals that push 70 anymore, Bourn can still contribute on the base paths. In 113 game split between Arizona and Baltimore, the veteran turned in a 3.0 BsR and 15 steals.
He'd help replace Maybin's speed in the Motor City.
Old friend Austin Jackson could be the perfect fit for the Tigers considering his skillset and past production in Detroit.
The 29-year-old is a prime bounce-back candidate after registering just 18 RB and 14 extra-base hits—not to mention a .661 OPS—in 54 games for the White Sox.
Jennings is an obvious fit in Detroit as a bounce-back candidate given blend of speed and pop.
However, like Gose he'll need to improve his batting splits. In 65 games for the Rays last season, Jennings batted just .200. His on-base percentage ended up at .281.
Other potential free agent options include Peter Bourjos, Justin Ruggiano, Drew Stubbs, Sam Fuld, Logan Schafer and former Tiger Alex Presley.
More from Motor City Bengals
This article originally appeared on