Detroit Tigers 2016 Review: Anibal Sanchez' Up and Down Season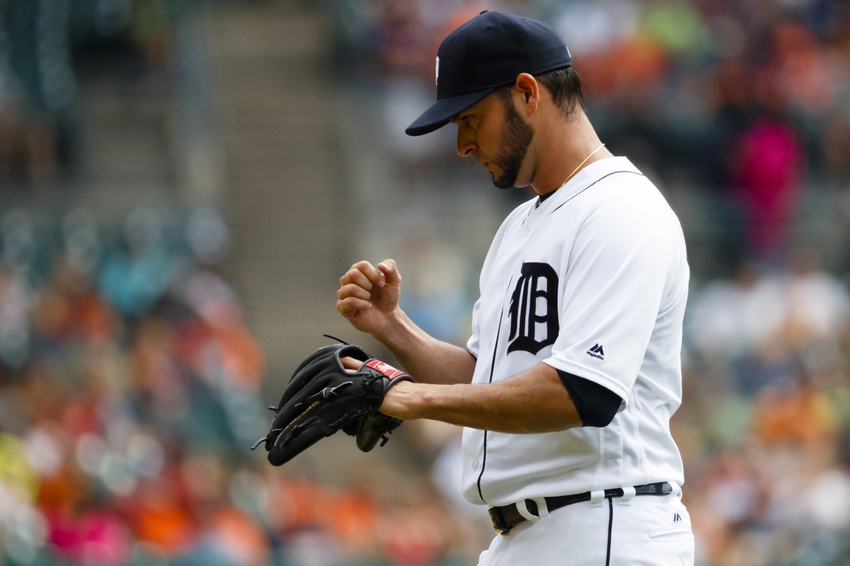 Detroit Tigers witnessed an up and down season from pitcher Anibal Sanchez in 2016. The veteran starter also spent time in relief as he struggled to find consistency.
Detroit Tigers starting pitcher Anibal Sanchez didn't have the best season in 2016.
The veteran starter struggled, often following up an excellent start by getting blown out the next time around.
Sanchez previously joined the Tigers in a trade deadline deal in 2012. Then general manager Dave Dombrowski acquired the starter, along with Omar Infante, from his former employers.
Dombrowski and the rest of the Detroit front office sent catcher Rob Brantly and pitchers Jacob Turner and Brian Flynn to the Marlins in the transactions.
At first, the move paid immediate dividends for the Tigers.
Sanchez logged a 3.68 FIP down the stretch and turned in three excellent playoff starts.
To follow that up, the ex-Marlin finished fourth in the American League Cy Young voting in 2013, taking home the ERA crown and a 6.0 WAR in the process.
The 2014 season also brought success, in the form of an excellent 2.71 FIP. However, the success seemed to stop there.
Sanchez allowed more home runs than any other pitcher en route to a 4.99 ERA and a 4.73 FIP in 2015. While the starter didn't lead the league in long balls allowed, he was still tagged for 30 home runs.
Here's a review of his 2016 season.
Stats of Note
Relief Success
Despite struggling in the rotation, Sanchez was actually solid in his brief turn as a reliever.
Over 14.2 innings spanning nine relief outings, the 32-year-old logged a 4.30 ERA. Much of that was marred by a late relief outing in Kansas City when Sanchez allowed four hits, three runs and two home runs in just two innings of work.
Taking away that outing, the pitcher only surrendered four runs in 12.2 innings pitched. That equates to a compact 2.98 ERA.
Struggles vs Right-Handed Hitters
Should Sanchez in fact switch to a relief role, he may find more success as a specialist against left-handed batters.
Hitters batting from the right side of the plate hit .310 with a .347 on-base percentage and a robust .541 slugging percentage versus the right-hander.
Run Support Needed
In terms of splits, Sanchez struggled when receiving little run support. The starter was a combined 0-12 when receiving five runs or fewer of support.
Those numbers included a 6.39 ERA when getting two runs or fewer of support and a 7.33 ERA when Detroit scored three to five runs. As it would happen, Sanchez was 5-0 when receiving six or more runs of support.
Potential Role in 2016
Anibal Sanchez role on the 2017 Detroit Tigers pitching staff remains to be seen.
The rotation is likely full, with Justin Verlander, Michael Fulmer, Matt Boyd, Daniel Norris and Jordan Zimmermann leading the way. Elsewhere, Buck Farmer, Chad Bell and Myles Jaye can all provide starting depth.
Obviously, this is all without mentioning another veteran starter who struggled last season in Mike Pelfrey. Pelfrey could also step in and start if need be.
Due to the rotation depth, Sanchez' struggles and a hefty contract that will see him make $16.8 million next season (per Sportac), the pitcher could conceivably be expendable.
His name has already come up in trade rumors, and it would do wonders for Detroit's payroll if the ex-Marlin is dealt.
Relief Role?
Should Sanchez pitch for the Detroit Tigers next season, he could fit in as a reliever.
The veteran found success there last season. He'd give manager Brad Ausmus a pitcher to utilize who can eat multiple innings out of the bullpen.
In the same role, Sanchez could also make the occasional spot start. The likes of Fulmer, Boyd and Norris are still developing, and the team may not want to saddle them too heavily with substantial workloads.
Detroit could utilize the former Florida pitcher to help in that regard.
This article originally appeared on