Detroit Tigers: 10 Players Least Likely to be Traded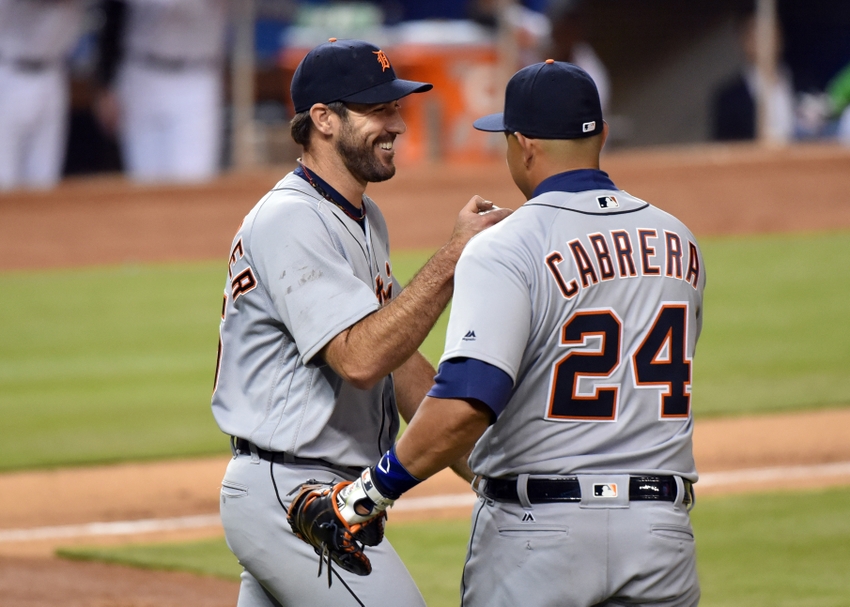 Detroit Tigers general manager Al Avila is bringing change to the team this offseason. So far, Avila has already dealt Cameron Maybin. Despite the change, here are the 10 Tigers least likely to be traded.
Detroit Tigers fans will see a different team next season.
Cameron Maybin has already moved on, having been dealt to Anaheim for pitching prospect Victor Alcantara, the change has already begun.
As it stands, some combination of JaCoby Jones, Tyler Collins, Wynton Bernard and Anthony Gose will patrol center field.
Additionally, center field may not be the only position of change.
J.D. Martinez is a conceivable trade candidate given his relatively affordable contract and excellent production. The same can be said of Ian Kinsler.
What's more, it wouldn't be a shock to see Francisco Rodriguez, Anibal Sanchez and Victor Martinez moved in offseason deals.
All said, Detroit could field new starters in right field and at second base, closer and designated hitter.
However, for as many players who could leave via trade, there are just as many who are likely to stay in the Motor City.
Here are the 10 Detroit Tigers players least likely to be traded. The players are ranked from 10 to one.
Age: 29
Position: Left Fielder
Controllable Through: 2021* (Upton can opt out of his contract after 2017)
2016 Stat of Note: .219 ISO
Signed last season to beef up Detroit's offense, Justin Upton initially struggled to do just that.
Over his first 99 games in a Tigers uniform, the slugger batted just. 236 with a below-par .296 on-base percentage. What's more, Upton only collected 46 RBI, 20 doubles and 13 home runs while striking out 124 times.
While the outfielder's strikeout total left much to be desired, Upton recovered with a torrid stretch run.
The former first-overall pick mashed 18 home runs to go along with 41 RBI over his final 37 games of the season. That stretch saw Detroit post a 22-15 record.
Why the Detroit Tigers Won't Trade Upton
Upton's contract may simply be too much of a burden to move.
It may have been different story in terms of a potential trade had the ex-Padre not struggled so mightily to begin the year. However the reality is that Upton may be sticking around in Detroit.
What's more, Upton's contract also includes some trade protection.
Per Spotrac, the veteran also has a no-trade clause that includes 20 teams each season.
Age: 30
Position: Starting Pitcher
Controllable Through: 2020
2016 Stat of Note: 1.3 WAR
Similar to Justin Upton, Jordan Zimmermann was signed last offseason to beef up an area of need. While the former National also garnered a hefty contract, he turned in a season that was more or less the opposite of Upton from a production standpoint.
While Upton's struggled early and came alive down the stretch, Zimmermann got off to a flying start.
The veteran starter didn't allow a run (earned or otherwise) in his first 19.1 innings with Detroit. Fast forward to early June and the former National's ERA sat at a sparkling 2.58.
However, from that point forward, Zimmermann was limited by ineffectiveness and injures. The veteran pitched to an 8.77 ERA in 39 innings.
Why the Detroit Tigers Won't Trade Zimmermann
Also like Upton, the value of Zimmermann's deal would impact any potential trade. Additionally, according to Spotrac, the starter has a full no-trade clause in his contract through the 2018 season.
Zimmermann's contract may prohibit a deal, but it may be in the Detroit Tigers best interest to keep him around.
Michael Fulmer, Matt Boyd and Daniel Norris all showed incredible promise last season. However, all three just wrapped up their first full seasons in the Majors.
Outside of Justin Verlander, Detroit's only other veteran starters are Anibal Sanchez and Mike Pelfrey. The duo hardly did much to inspire confidence last year with ugly starts happening far too often.
Using Zimmermann, who showed improvement late in the season as the Tigers fifth starter may be the most prudent route.
Age: 26
Position: Catcher
Controllable Through: 2020
2016 Stat of Note: 9 DRS
One of Detroit core players, James McCann seems settled in as the team's catcher for the better part of the next decade.
Despite seeing his batting average drop from .264 to .221 and posting an on-base percentage (.272) .025 points lower than his rookie season, McCann improved.
The backstop turned in significantly better numbers in terms of wOBA (.297 compared to .255) and ISO (.137 compared to .122).
However, the most significant improvement came on defense.
Living up to his reputation as a defensive backstop, McCann threw out 45% of would-be base stealers. What's more, the 26-year-old turned in a nine DRS number in 843.2 innings.
The "McCannon" finished as a finalist for the Gold Glove at the catcher position. He ultimately lost out to Kansas City's Salvador Perez.
Why the Detroit Tigers Won't Trade McCann
With Jarrod Saltalamacchia currently a free agent, John Hicks remains as Detroit's only other backstop on the 40-man roster.
In the pipeline, Grayson Greiner is Detroit's closest catching prospect in terms of making it to the Majors. Greiner has only played one game at the Triple-A level.
McCann isn't going anywhere. However, in the off chance that he's dealt, Detroit would need to bring in another starting catcher. There simply isn't enough depth.
Age: 25
Position: Relief Pitcher
Controllable Through: 2019
2016 Stat of Note: 15.8 Swinging Strike Percentage
Much has (rightfully) been made about Joe Jimenez being an elite relief pitching prospect. However, Rondon will provide the prospect with competition for the role of closer in the future.
In what amounted to a breakout season, the reliever led all Detroit relievers in strikeouts per nine innings, swinging strike percentage, WHIP and SIERA.
Whenever Francisco Rodriguez departs, whether it be this offseason or in the future, Rondon will be one of the first pitchers in line to replace the veteran.
Even if K-Rod stays in a Detroit uniform next season, Rondon figures to pitch in the late innings for Brad Ausmus' team. A set up role could beckon.
Why the Detroit Tigers Won't Trade Rondon
Along with Jimenez, Victor Alcantara and Adam Ravenelle, the Tigers have plenty of bullpen talent coming through the system.
However, Rondon is already in the Majors. He may have just as much, if not more upside as the aforementioned group.
With his ability to rack up strikeouts and swings-and-misses, Rondon should make a significant impact for the Detroit Tigers next season.
It doesn't hurt that the reliever is controllable through the 2019 season.
#6 Justin Verlander
Age: 33
Position: Starting Pitcher
Controllable Through: 2020
2016 Stat of Note: 5.2 WAR
Justin Verlander doesn't look to be slowing down, at least not any time soon.
Finally healthy after being limited by injuries, the future Hall of Famer dominated last season.
Verlander returned to ace-like status, leading the American League in WHIP and strikeouts while finishing tied for the lead in WAR. He also ranked second in innings pitched, SIERA and ERA.
Detroit's ace also finished among the league's elite in strikeouts per nine innings (third), swinging strike percentage (sixth), and 11th in both xFIP and walks per nine innings.
Why the Detroit Tigers Won't Trade Verlander
If the Detroit Tigers are going to stay competitive, they'll need to hang on to Verlander. Not only is the veteran Detroit's best starter, but it would be an extremely difficult sell to the fans.
Michael Fulmer is very much the future of the rotation, but Verlander showed in 2016 that he's still among the league's best starters.
What's more, any potential trade market will be limited to teams that can afford Verlander and offer a premium return. There aren't many teams in the league that tick both of those boxes.
Age: 33
Position: First Baseman
Controllable Through: 2025* (Per Spotrac, Cabrera has two mutual options on his contract for the 2024 and 2025 seasons).
2016 Stat of Note: 152 wRC+
Miguel Cabrera's situation is similar to Justin Verlander in a number of ways.
Both players are franchise icons bound for the Hall of Fame. What's more, the two veterans are on hefty contracts that eat up significant salaries. It also would be difficult to sell it to the fans if either standout was dealt.
Lastly, just like Verlander, Cabrera proved that he isn't slowing down. The slugger finished among the league's elite in slugging percentage (fifth), wRC+ (sixth), wOBA (seventh), RBI (ninth), batting average (ninth), on-base percentage (10th), home runs (11th) and ISO (19th).
Why the Detroit Tigers Won't Trade Cabrera
Even in the off chance that Verlander is dealt, the Detroit Tigers are set for the future in the rotation with Fulmer, Boyd and Norris.
It is a slightly different story in terms of the batting order.
J.D. Martinez is slated to hit free agency following 2017, while Justin Upton can opt out of his deal following the same season.
What's more, Victor Martinez will be 38 by the time Opening Day rolls around. Second baseman Ian Kinsler, who is 34, isn't getting younger either.
In other words, Detroit really only has Cabrera Nick Castellanos as sure things in the future where the lineup is concerned.
#4 & #3 Matt Boyd and Daniel Norris
Age: 25 (Boyd) and 23 (Norris)
Positions: Starting Pitchers
Controllable Through: 2021 (Both)
2016 Stats of Note: 1.29 WHIP (Boyd) 10.5 swinging strike percentage (Norris)
While Michael Fulmer's emergence was one of the top storyline's of Detroit's season, Matt Boyd and Daniel Norris burst on to the scene as well.
Boyd logged the most innings of the pair, racking up 97.1 innings for the Tigers. The Washington native posted a 6-5 record and a 0.9 WAR while striking out 7.58 batters per nine frames.
In 56.1 innings from July 9th to September 6th, the right-hander pitched to a 2.56 ERA and 52 strikeouts.
His performances, as well as those of Norris, helped make up for the struggles of veterans Mike Pelfrey and Anibal Sanchez.
Speaking of Norris, the former Blue Jay posted turned in another season complete with a sub-four ERA. In 69.1 innings, the left-hander posted a 3.38 ERA while striking out 71. That was good for 9.22 punch outs per nine frames.
Norris' strikeout numbers are even more impressive considering he only walked 22 batters.
Why the Detroit Tigers Won't Trade Boyd and Norris
Simply put, the duo are the future of Detroit's rotation. Along with Fulmer, the Tigers young starters will only get better.
Over time, the likes of Beau Burrows, Kyle Funkhouser, Matt Manning and Tyler Alexander will also join Boyd, Norris and Fulmer in the rotation.
With so much team control and upside, Boyd and Norris aren't going anywhere.
#2 Nick Castellanos
Age: 24
Position: Third Baseman
Controllable Through: 2019
2016 Stat of Note: 119 wRC+
It may seem like he's been in the league for years, but Nick Castellanos is just 24. He'll enter his fourth season as a Major League regular next year.
After hitting .257 and averaging 70 RBI, 46 runs scored, 32 doubles, 13 home runs and five triples per year in 2014 and 2015, Castellanos enjoyed a breakout year in 2016.
The third baseman's campaign was limited by injury to just 110 games, but he set a career high with 18 home runs and 54 runs. Castellanos also contributed 58 RBI, 25 doubles, four triples and a stolen base.
Why the Detroit Tigers Won't Trade Castellanos
Along with Miguel Cabrera, Nick Castellanos is the future of the Detroit Tigers lineup—at least where current starters are concerned. Christin Stewart will eventually bat in the middle of the order, but the team could stand to lose a number of impact bats over the coming seasons.
J.D. Martinez, Justin Upton, Ian Kinsler and Victor Martinez could all conceivably leave via free agency or retire in the next handful of years.
The Tigers will need Castellanos to help do the heavy lifting in future years.
#1 Michael Fulmer
Age: 23
Position: Starting Pitcher
Controllable Through: 2021
2016 Stat of Note: 3.0 WAR
The 2016 American League Rookie of the Year, Michael Fulmer is the kind of young player teams envision acquiring as the centerpiece of a blockbuster.
Detroit brought in the starter in just that—a blockbuster.
Fulmer came to Detroit in the Yoenis Cespedes trade and looks to headline the Tigers rotation for years to come.
In 159 innings, the former Mets farmhand turned in a stellar 3.0 WAR while striking out 7.47 batters per nine innings. Fulmer also contributed a 10.4 swinging strike percentage while allowing just 0.91 home runs per nine frames.
All in all, the 23-year-old posted a sparkling 3.06 ERA.
In winning the award for the American League's top rookie, Fulmer beat out New York Yankees backstop Gary Sanchez and Cleveland center fielder Tyler Naquin.
Why the Detroit Tigers Won't Trade Fulmer
A future, and current, ace, Fulmer simply won't be dealt.
The potential return for Fulmer in any trade would be unquestionably high, but given the young starter's upside, he won't be changing uniforms any time soon.
Looking to the future, its exciting to imagine a future Detroit rotation featuring Fulmer, Verlander and Manning. The Tigers could potentially have three aces to throw at opposing teams.
This article originally appeared on