David Ortiz's dominance at 40 goes against all the retirement tour rules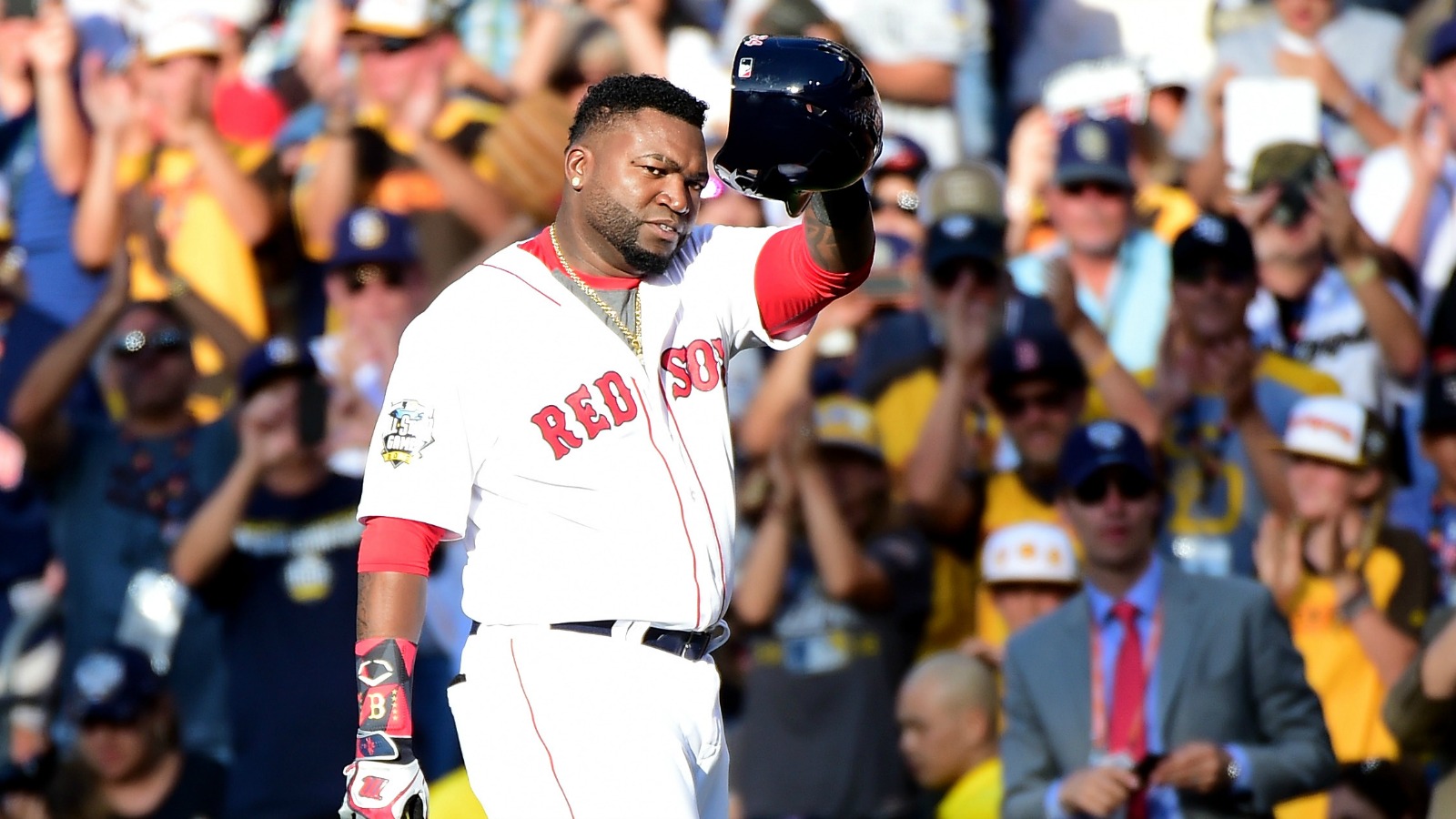 It was supposed to be a fastball.
That's what Jose Fernandez had promised, after all. He'd deadpanned to reporters on Tuesday about his plans to sling straight steak to Big Papi in honor of his 10th and final MLB All-Star game.
In private, however, Fernandez gave his friend and role model the real news.
"My boy told me he was going to throw me nothing but fastballs & the 1st pitch was a changeup."- David Ortizhttps://t.co/tbztKbujcd

— FOX Sports: MLB (@MLBONFOX) July 13, 2016
"He said 'Be ready,'" Ortiz said after the game. "'I'm gonna come with my best fastball, and I want to see if you really hit fastballs.'"
This would explain the look on Ortiz's face when Fernandez's first offering floated by like a snowball, barely scraping 80 mph.
"He throw me changeup, first pitch" Ortiz laughed. "I'm looking at it like…and he look at me like…'It's the catcher's fault. He calls it…what you want me to do?'"
And therein lies the rub of David Ortiz's retirement tour: as much everyone would like to humor Big Papi's farewell tour with belt-high meatballs and balloons, some of them can't afford to.
Because unlike most aging stars in their final season, Ortiz is contending for a title and whooping ass by the barrel.
All it takes is a brief look at the offensive leader boards to see that the 40-year-old designated hitter's last hurrah is on a completely different trajectory than the typical post-"RE2PECT" send-off. Usually, a player of Ortiz's age is a shell of his former self, and is treated like a blind Golden Retriever before he's taken to a farm in the country with "room to run." Not Papi.
David Ortiz leads the league in doubles. Are we going to discuss this? pic.twitter.com/2oMb3uyMgp

— Josh Odson (@OddSon2) July 12, 2016
Halfway through his sunset voyage, Ortiz is leading the MLB in doubles (34), slugging percentage (.682) and on-base plus slugging (1.108). With another half of ball left to play, he's already hit more RBIs (72) than any 40-year-old in league history. If the season were to end today, Ortiz would match his best batting average since 2007 (.332).
And all of this could be explained away easily if teams were easing off the gas a bit in honor of the big man's last year. Except they aren't. At all.
On the contrary, opposing pitchers are mixing it up more and more against Papi as the season wears on, throwing more heat and switching with increasing frequency between breaking balls and off-speed stuff.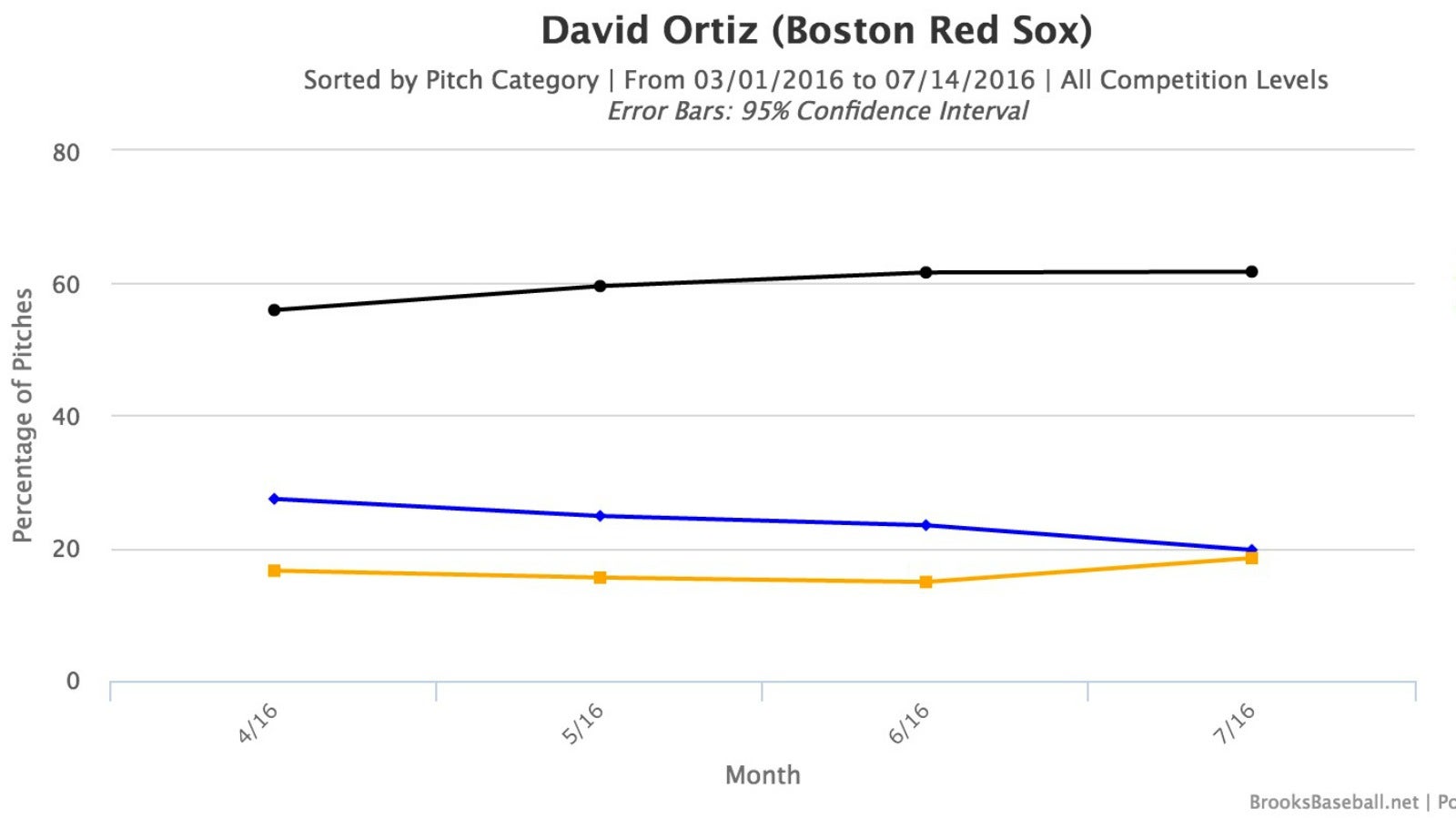 For perspective, here are the three predominant pitches pitchers threw at Derek Jeter during his farewell tour: 74.5 percent were fastballs–a solid diet of meatballs by any standard, and one that in comparison makes Ortiz look like he's swinging at mystery bags.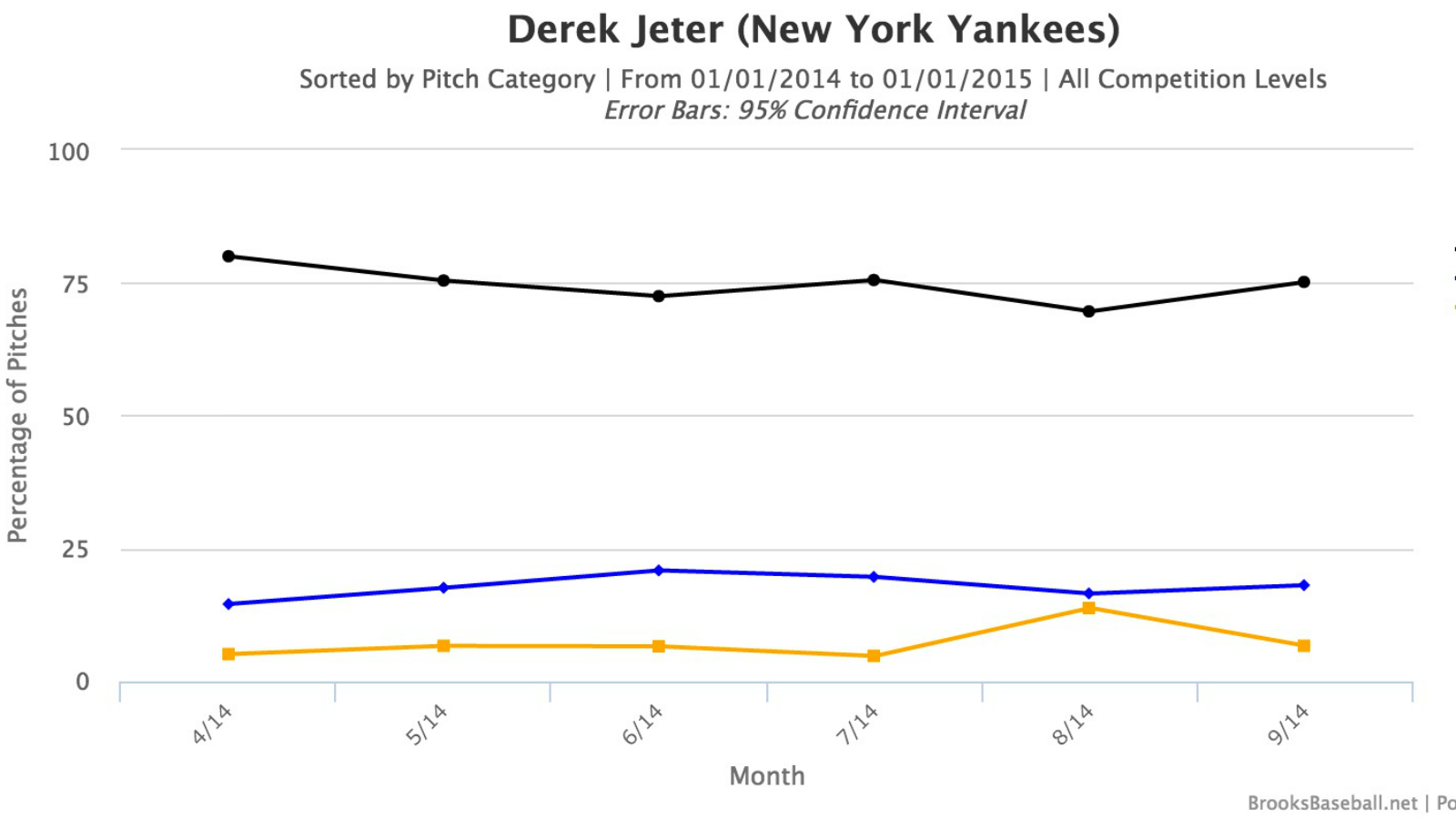 And that's fine. It's just not…normal...then again, there's not much normal about a husky quadragenarian batting circles around 26-year-old Roman god-sculptures like Giancarlo Stanton.
But that's what latter-day Papi has done these last three months–whoop ass on a galactic level and at a time in his career when most would be busy finding storage space for their new collection of bat-chairs, Ortiz, on the other hand, is doing everything in his power to make sure no dongs remain are left un-dinged before he finally hangs them up.
And that moment might not come until after the World Series. As Ortiz told his American League teammates in his pre-All-Star game speech, he's here for the long haul and home field advantage."
"Tonight, let's go out there and whoop some ass" Ortiz said. "Because play at home, you know there's nothing like play at home."
Please don't leave, Papi.
Dan is on Twitter. Big Papi: the Socrates of getting pissed off for victory.