Cubs President Theo Epstein literally ate a goat to celebrate World Series victory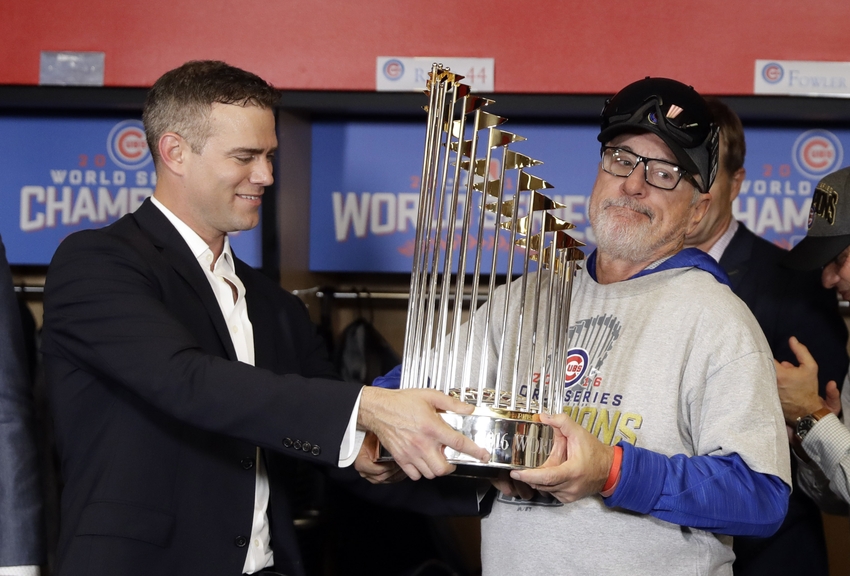 Chicago Cubs President of Baseball Operations Theo Epstein celebrated his team's World Series triumph by eating a goat.
The 42-year-old mad scientist behind the World Series champion Chicago Cubs is certainly a strange entity in the sport of professional baseball. I am talking, of course, about the Cubs' President of Baseball Operations Theo Epstein.
Per the Chicago Sun Times, Epstein actually ate a goat to put an exclamation point at the end of breaking the teams 71-year long curse of the billy goat. Epstein's entire executive team took part in feasting on the 9.5 pound roasted goat, which was prepared by Stephanie Izard. Izard is a former Top Chef winner, and she is the owner of a goat dish themed restaurant called The Girl and the Goat.
The dreaded curse of the billy goat was put in place in 1945 by Billy Goat Tavern owner William Sianis. Sianis placed the curse after him and his goat were kicked out of Wrigley Field due to the pungent smell of the animal. From that moment, the Cubs entered into a World Series berth drought so long it will live in infamy forever.
This extremely strange, but comical act should not surprise anyone familiar with Theo's resume, however. Back in 2004, Epstein played a key role in breaking the dreaded curse of the Bambino that was plaguing the Boston Red Sox. Boston won their first World Series championship in 86 years with Epstein as the then-youngest team president in MLB history.
12 years removed from shattering one of the most infamous curses in professional sports folklore, Epstein put an end to the only other title drought that could overshadow that of the Red Sox. In just five short years, Theo Epstein molded a 100-loss team into World Series champions.
Given Epstein's tremendous knack for shattering curses, it seems only appropriate to put the proverbial cherry on top of this near-week long celebration in Chicago. Theo and his executive crew enjoyed the roasted goat feast inside the Friendly Confines of Wrigley Field, officially putting to rest the 71-year old curse of the billy goat, as well as the legendary tale itself.
This article originally appeared on