Cubs fan explains why he rushed field after Arrieta's no-hitter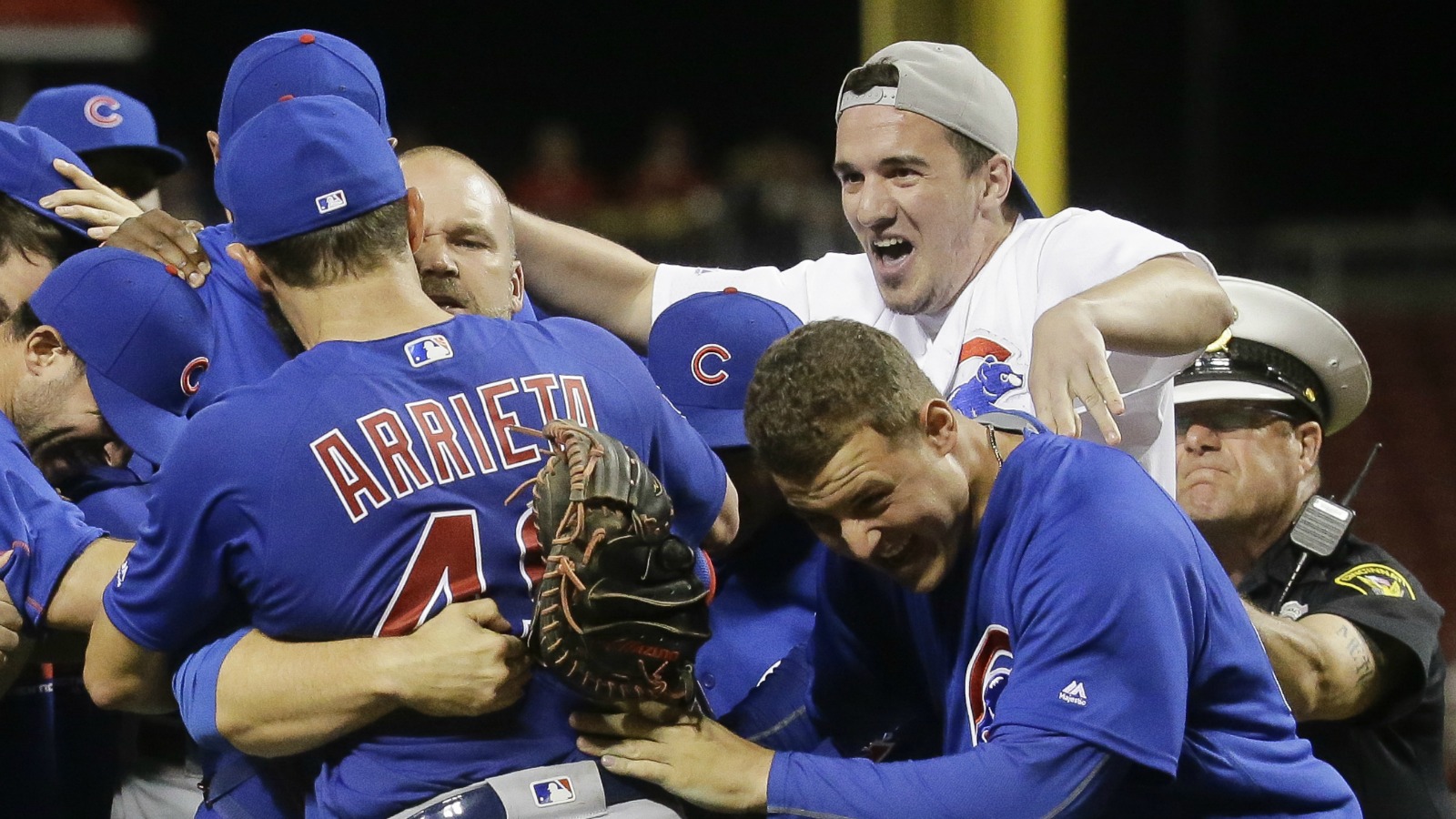 Dylan Cressy realized he'd be going to jail sometime after the seventh inning.
Chicago Cubs pitcher Jake Arrieta was on course to no-hit the Reds last Thursday night, torching Cincinnati on its home turf while Chicago's bats got out to a 13-0 lead through seven innings at the Great American Ballpark.
When the eighth inning began, Arrieta remained hitless, and Cressy—a 22-year-old Cubs fan—made the call.
"I handed my keys, phone and wallet to my roommate, knowing that this thing was actually about to happen," Cressy told FOX Sports in a phone interview.
A frame later, Arrieta teased the game-ending out off Eugenio Suarez and Cressy was jumping the fence along the first base line, using an unsuspecting security guard like a human spring board.
"I just used his shoulder as leverage to propel myself over the wall," Cressy. "I had planned the jump without the bouncer standing right in front of the exit. I guess he anticipated something like that and blocked the way."
After that, getting to Arrieta was easy money. Cressy juked a single, oblivious groundskeeper and was off to the races.
"I had to hit him with a mean cutback," Cressy says. "From there it was just a bee-line to the mound."
To give you an idea of how quickly this all happened, Cressy made it to the celebration circle before second baseman Ben Zobrist and right fielder Jason Heyward, who were, you know, on the field. By the time either arrived at the infield mosh pit, Cressy was already celebrating with the team.
"I made eye contact with Kris Bryant and we shared a moment," Cressy said, recalling his first moments in the scrum. "We shared a moment and a cheek-to-cheek grin. It was just pure joy and jumping around."
Things became even more surreal when Cressy came face-to-face with Arrieta.
I said 'You're the man, Jake.' And he mouthed 'Thanks, man.'
Dylan Cressy
"I made my way toward Arrieta and I said 'You're the man, Jake,'" Cressy says. "And he mouthed 'Thanks, man.'"
"That was my last memory before I got my arm shoved behind my back and cuffed."
This was not the evening Cressy expected when he woke up Thursday morning.
A native of South Bend, Indiana, Cressy is finishing a bachelor's degree in healthcare management and policy at Indiana University. With finals looming, he hadn't planned on being in Cincinnati that night. But on the day of the game, a friend approached him with cheap tickets close to the field.
Arrieta would be on the hill, and as a lifelong Cubs fan, Cressy couldn't say no.
"Right down the first base line," Cressy said. "Best seat I ever had at a baseball game. Besides the bleachers at Wrigley, of course."
So he and his roommate made the two-and-a-half hour drive from Bloomington to Cincinnati to watch the 2015 NL Cy Young winner's fourth start of the season. Some hours later, Cressy was being hauled off the field by the authorities.
"[The police officer] had my left arm, so I used my right arm to give three or four fist pumps to the Cubs fans standing up in the stands," Cressy said. "I yelled 'Go Cubbies!'"
By the time they separated him from the celebration, Cressy had become a national trending topic and a Cubs folk hero. He was also in big trouble.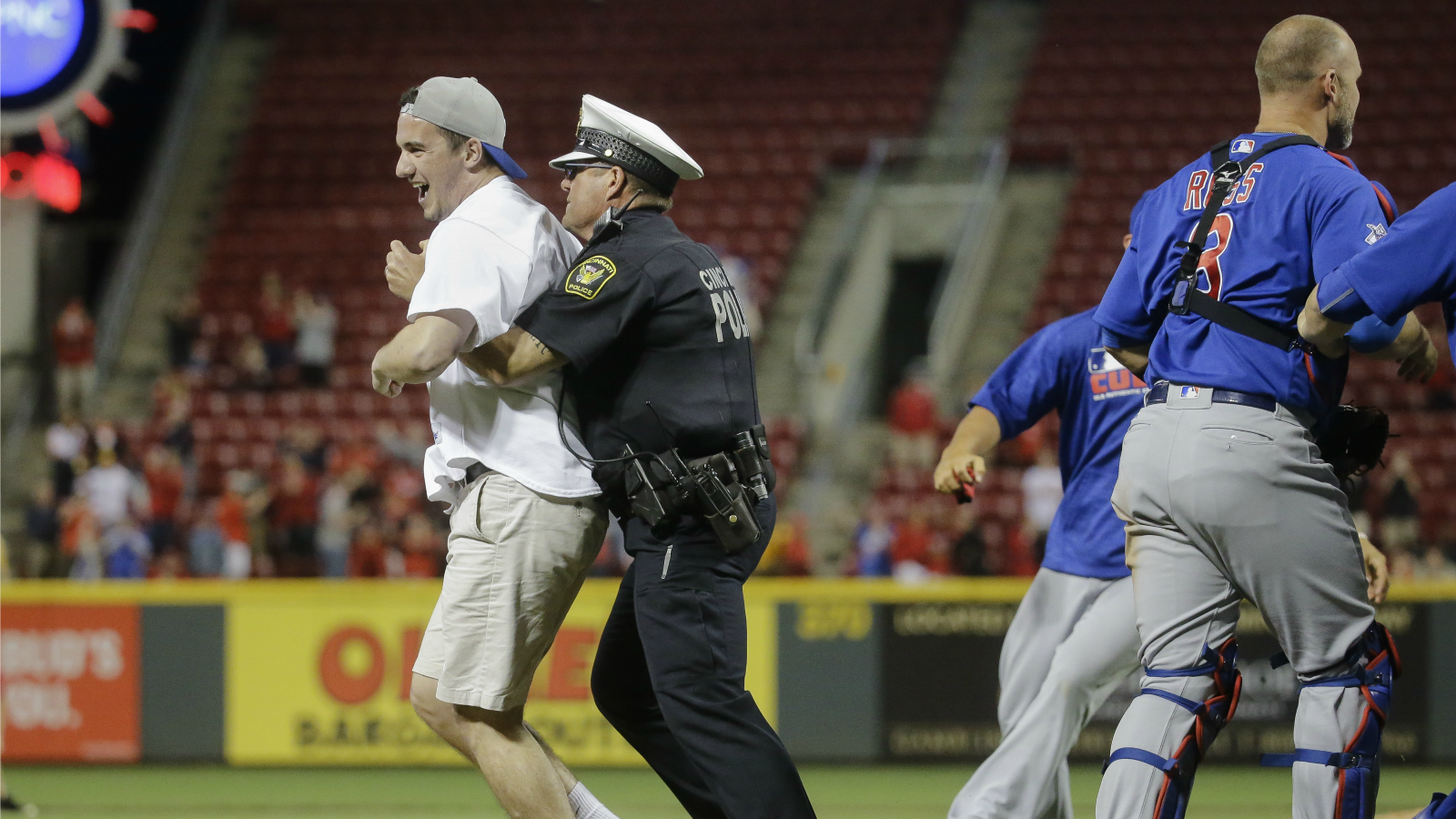 "I got escorted into the tunnel and into this makeshift holding cell," Cressy said. "And then I just waited for my cop car limousine—my chauffeur."
This "chauffeur" delivered Cressy to the Hamilton Country Correctional Justice Center, where he was charged with criminal trespassing and spent the night chatting with staff before being issued a fine and released in the morning.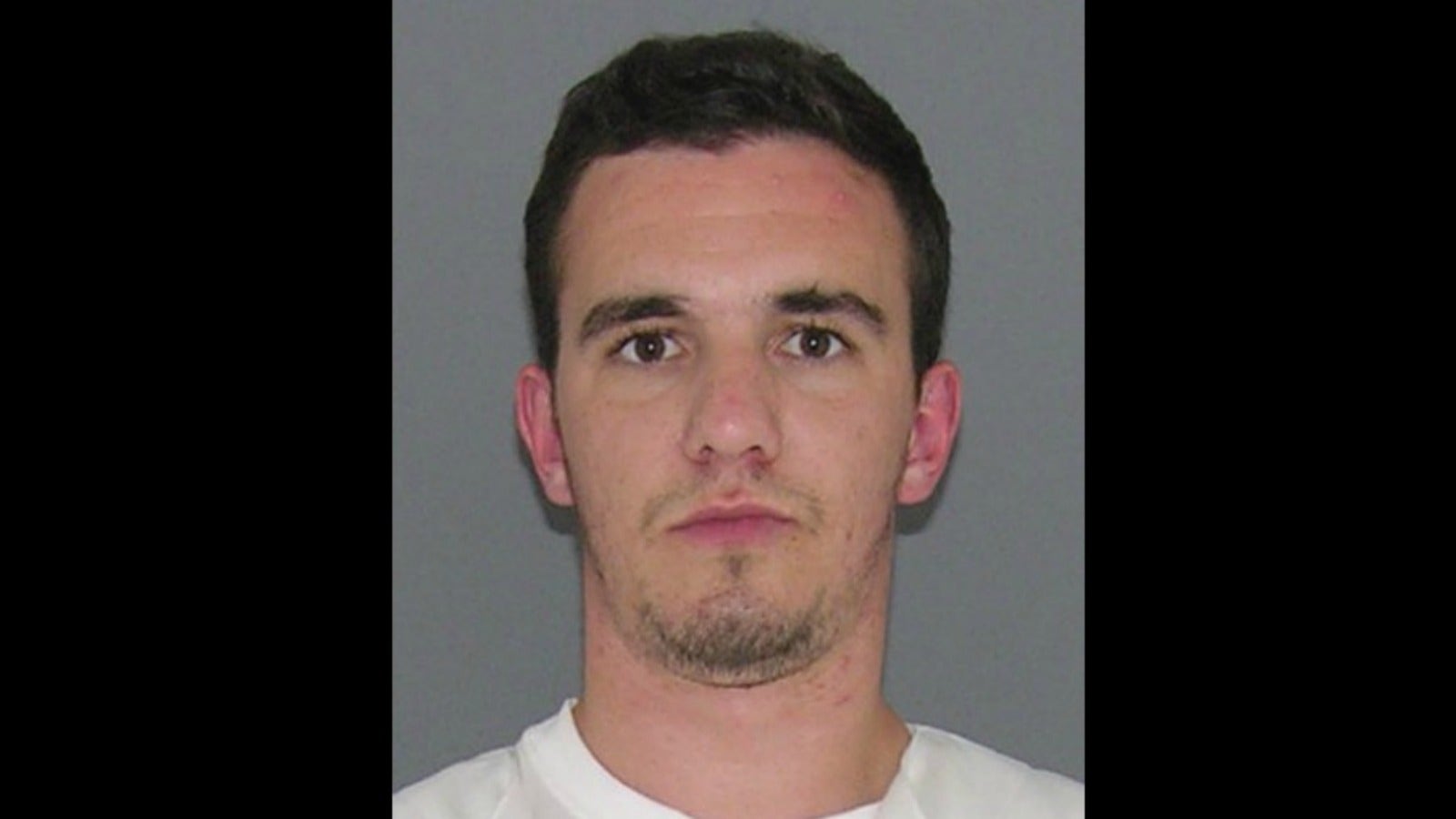 "I knew how 'real' it was going to be when I decided to commit the act," Cressy said. "And I'm not going to describe jail as 'fun,' but I tried to view it as…'the most fun you never want to have again.' I was cracking the cops up. Making jokes. I was pretty well-liked in the slammer."
The most anxious moment for Cressy was making his call from jail to another Cubs lifer—his father, Michael Cressy.
The next morning, Cressy's roommate and another friend drove back to Cincinnati to retrieve him. Now, he's juggling media requests, studying and the obligatory trip to the Kilroy's patio (an essential IU watering hole for procrastinating on a fine spring day).
One thing Cressy isn't doing is disclosing the amount of the fine he received, but one Cubs fan has already started a GoFundMe looking to raise $2,000 to cover any legal fees he incurred.
Whatever the cost, Cressy considers it a bargain.
"It was worth every penny," Cressy says. "I had to ring in the no-no the right way."
As for his post-grad summer plans? Cressy's got an internship lined up, and more pressingly—
"Definitely some more Cubs games."
Dan is on Twitter. He doesn't always support field rushes, but when he does, it's for no-hitter noogies.