Could fight with Yankees cost Blue Jays a postseason berth?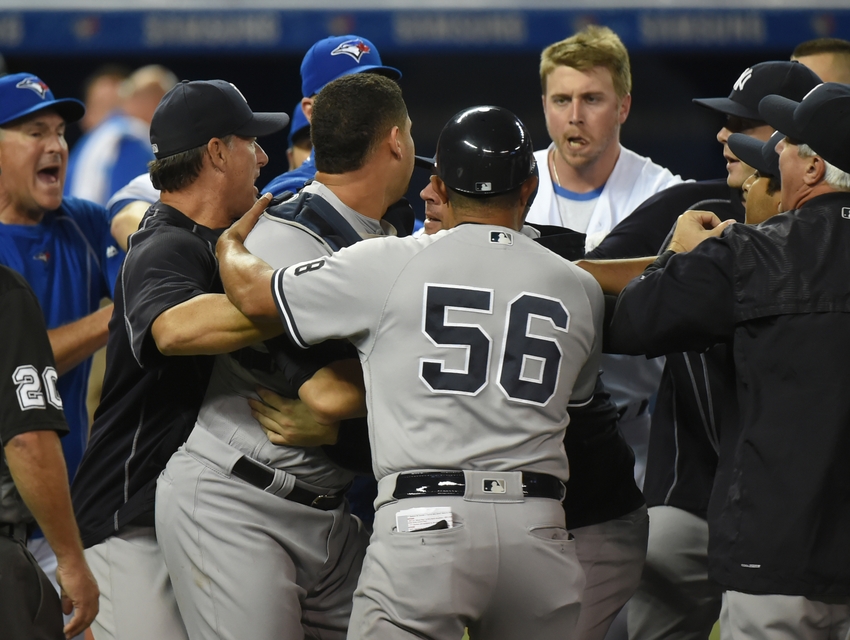 Reliever Joaquin Benoit is out indefinitely while second baseman Devon Travis' status is uncertain after hurting shoulder.
The Toronto Blue Jays have lost a pair of players that are keys to helping them hold on to a Wild Card spot in the American League after a brawl with the Yankees Monday night. Suspensions are likely to be handed down, but Toronto is trying to figure out how the loss of Joaquin Benoit and Devon Travis will affect them in the remaining games of the regular season.
According to a report in The Star, Benoit suffered a torn calf while trying to sprint in from the bullpen to join the fracas. After being acquired from the Mariners a few days before the trade deadline on Aug. 1, the 39-year-old has played a pivotal role as the seventh inning setup man. In 25 games he has won both of his decisions and is pitching to a minuscule 0.38 ERA allowing just one run in 23.2 innings.
More MLB from FanSided: 
Mets Steven Matz to have elbow surgery next week
Nationals' catcher Wilson Ramos has torn right ACL
MLB Playoffs: 3 reasons the Cardinals will make it
Travis injured the same shoulder that sidelined him last year when he got caught up in the brawl. He was out most of 2015 and started this season on the disabled list following surgery. A 25-year-old former pick of the Tigers in 2012, he was acquired from Detroit for Anthony Gose in November 2014. He had .299/.331/.447 splits in 97 games with 10 homers and 49 RBI this year.
Tests on Travis' shoulder showed no damage, and while he is listed as day-to-day, he will be reevaluated daily before he is allowed to return to the lineup. Should he miss the rest of the season, the impact on the lineup will be felt.
Things got out of hand after Josh Donaldson was hit by a pitch that few believed was intentional, however, Toronto retaliated, which kicked tensions up a bit, then New York did the same thing and the fight was on.
The Blue Jays entered play on Tuesday holding a slim one-game advantage over the second Wild Card team, the Orioles, while the Tigers are just outside trailing Baltimore by two. Toronto opens a critical four-game series with Baltimore Tuesday night.
This article originally appeared on