Colorado Rockies Still Need to Make a Couple Moves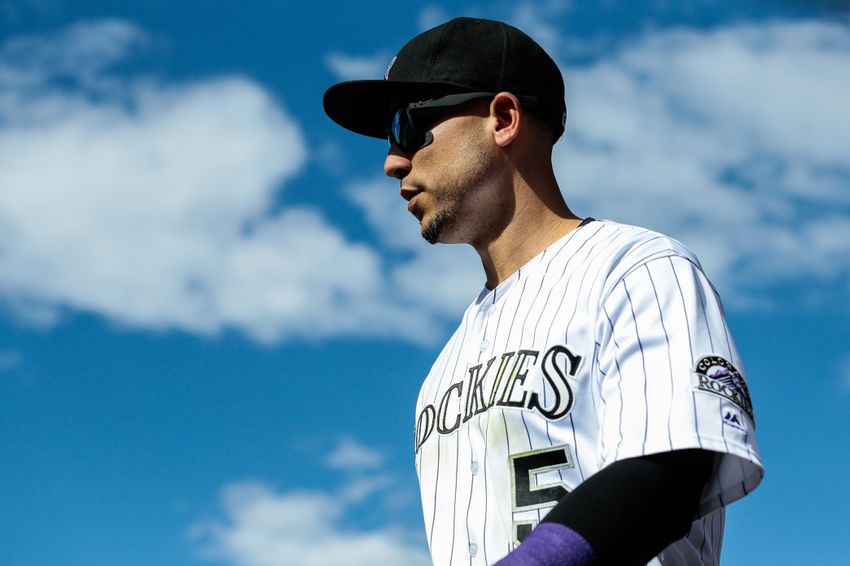 Last week the Colorado Rockies signed Ian Desmond to a five year, $70M deal. Lots of internet and newspaper people have been scratching their heads over this move, but it still has some room to make sense if it's the first move in a series.
I'm on the Colorado Rockies bandwagon. I'm not quite sure why, but I am. Their window is starting to open more and more each year, and while the announcement of the Desmond signing makes it sound as though the window has opened even further, at the moment he is likely signed to play first base, a spot he has never played at the big league level.
Last season with the Texas Rangers Desmond roamed the outfield and performed fairly well defensively given that he had accumulated 7 1/3 innings in the outfield since 2009. His best position was left field where he played in 251 innings, saved two runs and held a UZR of 3.5. Most of his playing time came in center, however, and he was below average at the position. He gave up six runs defensively and held a UZR of -4.9. The bright side here is that the Rockies have Charlie Blackmon and David Dahl to cover those two spots on a regular basis.
Which brings us to right field, where Carlos Gonzalez is currently entrenched. With one year left on his deal, CarGo would make a solid trade candidate, especially for a team that isn't quite ready to compete with the Cubs and Red Sox. Gonzalez should fetch a decent return, setting the club up for when their window officially opens.
The Giants could be interested in a deal, although they're looking for a left fielder and his $20M salary is likely a bit too rich for them considering that they're already going to be over the luxury tax. The Toronto Blue Jays could make a pitch, but for that kind of money and the lack of certainty that he'd re-sign, they could just make a push towards Jose Bautista. If he signs elsewhere, this certainly becomes a possibility.
More from Call to the Pen
The Orioles, Mariners and Rangers could all be looking for upgrades in right as well. Being able to trade Gonzalez isn't a slam dunk by any means, but it's something that the Rockies should at least try to accomplish if the return is right.
If they are able to do so, then calling up the Chicago White Sox and asking what the price tag for Jose Abreu is would make a lot of sense.
Abreu is set to hit arbitration but is signed for another three seasons. He has launched at least 25 homers in each of his three big league seasons, and would see that number climb dramatically playing half of his games at Coors Field.
Last season Rockies first basemen ranked 26th in wRC+ at 83, while Abreu, in a down year, put up a 118. The upgrade would be dramatic and would give Colorado's young pitching staff just a little extra cushion. If you average Desmond's and Gonzalez's wRC+ from the last three seasons, Desmond comes in with a 99 (just below average) while CarGo holds a 101. The offensive drop-off wouldn't be dramatic at all.
To get the a upgrade at first base, a spot has to be cleared for Desmond in the outfield. The Rockies have the minor league depth to meet the price of the White Sox for Abreu, and adding him for a reasonable price would be a solid move. Flipping Gonzalez while recouping some of that prospect loss and adding an extra two seasons of veteran production at a lower cost seems like a reasonable thing to ask for if you're a fan. Or a bandwagoner.
This article originally appeared on